| Year | Population |
| --- | --- |
| 1970 | 3,135 |
| 1980 | 5,775 |
| 1990 | 6,494 |
| 2000 | 7,452 |
| 2010 | 8,034 |
Geographic Data
N. Latitude
43:38:53
W. Latitude
70:32:08
Maine House
Dist 16,22
Maine Senate
Dist 30,31
Congress
District 1
Area sq. mi.
(total) 41.2
Area sq. mi.
(land) 40.5
Population/sq.mi.
(land) 198.9
County: York

Total=land+water; Land=land only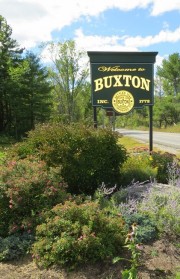 [BUX-tun] was settled by men who were survivors of King Philip's War having been granted allotments of land in what was then Narragansett, Number One.
The first permanent settlers arrived in 1750, following others who did not stay.
The town, named for Buxton in Norfolk, England, was incorporated on July 14, 1762. It is located in York County and includes the locations of Bar Mills, Buxton Center. In 1824 it ceded some of its land to Standish.
Continuing its rapid growth, the town more than doubled its population from 1970 to 2000, and increased by 15 percent in the 1990-2000 decade, adding almost 600 residents by 2010.
The Buxton Powder House, one of only three War of 1812 powder houses to survive in Maine, was erected as a result of the vote of local citizens on March 12, 1812.
Thomas Elwell, the lowest bidder, took the contract at the munificent price of $59 and completed the job in the fall of 1813. Powder, lead balls, flints and camp kettles were stored in this official arsenal the following spring under the custody of Captain Samuel Dunnell.
The 1929 Berry Memorial Library is located on Main Street in Bar Mills. Across the street is the Buxton-Hollis Historical Society.
Two other cultural facilities hug the Saco River's left bank in Bar Mills. The former grange hall is now the Saco River Theater, featuring a full slate of performances and concerts.  Nearby the "Old White Church" hosts cultural events such as art exhibitions and concerts.
The First Congregational Church is also known as the Tory Hill Meetinghouse. Located at Buxton Lower Corner, the intersection of U.S. Route 202 and Maine Routes 4 and 112, the Church is across the street from the Royal Brewster House.
In 1840, at a Methodist camp meeting in Buxton, Ellen G. H. White "gave her heart to God" beginning a lifelong commitment to advocate with speeches and writing as a Seventh Day Adventist and an avid opponent of slavery.
Author Kate Douglas Wiggin (1859-1923) summered in nearby Hollis and wrote a play, The Old Peabody Pew, based on events in the town's Tory Hill Meeting House. In 1911 she edited A Book Of Dorcas Dishes: Family Recipes contributed By The Dorcas Society Of Hollis and Buxton.
According to the plaque at the site, the Rogers Fiber Mill "played a major role in the Buxton economy from 1917 to 1980 providing employment that contributed to the economy of the Bar Mill section of Buxton."
Form of Government: Town Meeting-Select Board.
Additional resources
Bicentennial 1772-1972 Historical Souvenir Book, Buxton, Maine: August 10, 11, 12 and 13, 1972. Edited by Kathryn B. Curtis. Buxton, Me. Buxton Bicentennial Committee. 1972.
Buxton (Me.) A Report of the Proceedings at the Celebration of the First Centennial Anniversary of the Incorporation of the Town of Buxton, Maine, held at Buxton, Aug. 14, 1872 … by J. M. Marshall. [Maine State Library]
Cousens, Alice C. Recollections of Old Buxton, Maine. Maine S.J. Bentley and T.S. Henley. 1998. [Maine State Library; University of Maine, Raymond H. Fogler Library, Special Collections]
Deering, Dana. Daniel Dennett and the Mapping of Buxton. Buxton-Hollis Historical Society. 1999.
Harmon, William. William Harmon Account Book, 1815 Oct. 15-1822 Sept. 10. [Maine State Archives]
Industry in Old Buxton and Hollis. (compiled by Lucille Emery) Buxton-Hollis Historical Society. 1999? [University of Maine, Raymond H. Fogler Library, Special Collections]
Libby, J. D. Buxton. Charleston, SC Arcadia Publishing. c2009.
Maine Historic Preservation Commission. National Register of Historic Places files for historical background of Buxton historic places.
One Hundred and Fiftieth Anniversary of the Incorporation of the Town of Buxton, Maine: held at Buxton lower corner, August 16, 1922: with additional history. Portland, Me. Southworth Press. 1926.
Scamman, James. Day Book, 1793-1794. Cataloger Note: James Scamman was a retailer of liquor in Buxton, Maine, during the years 1793-1799. Day book of a liquor retailer in Buxton, Maine. Included are sales principally of rum, but also of tobacco, coffee, chocolate and some grocery items like molasses and fish. A few of the pages have newspaper clippings pasted on them. [University of Maine, Raymond H. Fogler Library, Special Collections]
Williams, Nathaniel West. An Address, delivered at Buxton, Maine, in the Congregational meeting-house : being the first centennial celebration of the settlement of this town. Buxton, Me. James D. Libby. 1998.
National Register of Historic Places – Listings
Brewster, Royal, House, Buxton Lower Corner
Buxton Powder House, Maine Route 22, Buxton Center
Elden's Store, Maine Route 22
First Congregational Church of Buxton, Maine Route 112
Proprietors Meeting House and Parish House, junction of Maine Route 22 and Old County Road.
The Proprietors Meeting House was built in 1839 at what was known as Coolbroth Corner. Residents traveled as far as six miles to attend meetings and worship services.
The Universalist Parish of Scarborough and South Buxton was organized in 1891 and, by the late 1800s, a Sunday school was established at the church. The hall next to the church was built in 1914 to provide space for meetings and suppers.*
In June 2012, the church was sold to become a temple for the Hindu community in the area.
Salmon Falls (East) Historic District, portions of Maine Route 117 and Simpson Road
*Graham, Gillian. Portland Press Herald. June 16, 2012. http://www.bing.com/images/search?q=church+buxton+maine&view=detail&id=983943D8AD9C5A67126CF3F668E6C7A19D2284CE (accessed October 3, 2012) [condensed]