Butterflies in Maine
Monarchs

The colorful and common Monarchs range throughout the United States, including all of Maine, especially in rural areas with fields thick with milkweed. Wingspan ranges from 3½ to 4 inches.
As forests reclaim abandoned farms and the remaining cropland displaces milkweed and similar plants, this butterfly has become less abundant in Maine. Those that remain head for Mexico before winter.  By the next spring, several generations of the original butterfly have hatched a reproduced on their way north.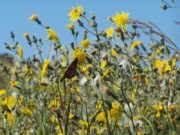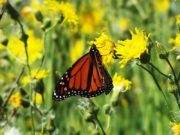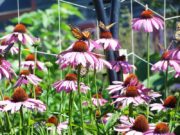 Monhegan Island, where cone flowers are plentiful, is awash in Monarchs in late summer as they prepare for the long trip south. Thistle seed, considered by some to be an undesirable invasive pest, is a gift to the hungry butterflies.
---
Eastern Tiger Swallowtails

These black and yellow tiger striped fliers outsize the Monarchs with a 4″ to almost 6″ wingspan. "Eastern" means "east of the Rocky Mountains"in the U.S.  Not often found in evergreen forests, they prefer mixed or hardwood forests. The Eastern Tiger prefers open areas, including towns and suburbs, such as Harpswell in midcoast Maine..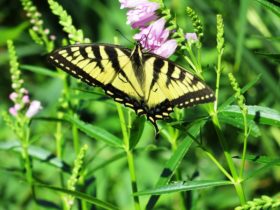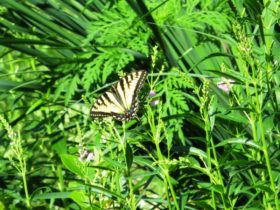 ---
Eastern Black Swallowtails
With a preference for open meadows, this specimen was photographed in a field that once grew potatoes now harvested for hay in Sherman. Relatively small with a wingspan of 2¾ to 3½ inches, it stands out in a field with its jet black and bright yellow markings. As evidenced below, this butterfly prefers clovers and cultivated flowers.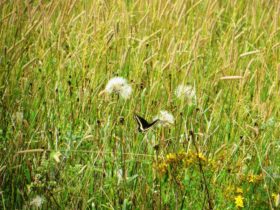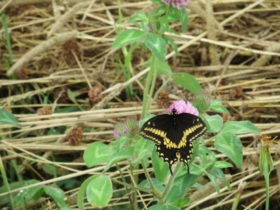 ---
Red Admirals
Even smaller that the Eastern Black Swallowtail at a 2″ to 2 1/8" wingspan, Red Admiral butterflies are distinctive with their circular orange band on mostly black wings. They prefer the edges of hardwood forests and open meadows.  Their caterpillars feed on leaves of hops (brewers beware!), nettles and false nettles.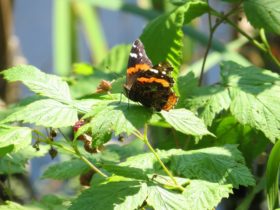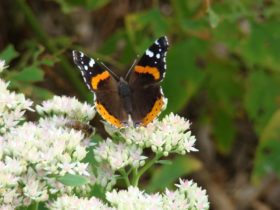 ---
Pearl Crescents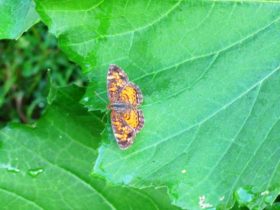 Pearl Crescents are one of the smallest multi-colored butterflies with a wingspan of 11/4 to 13/4 inches.  They are also one of the most common butterflies, seen in open spaces, along roadsides and mud puddles.
Butterfly weed and orange milk weed are favorites. This one was feeding on a leaf in Harpswell.
---
Cabbage White Butterflies
The adult of the cabbage worm is an off-white butterfly with one or two grayish-black spots per wing and a wing span of about 2 inches. The cabbage white, introduced to Quebec in 1860, is found across North America everywhere except the deep woods. It typically feeds on cabbage and radish plants. Its flight period is April to October.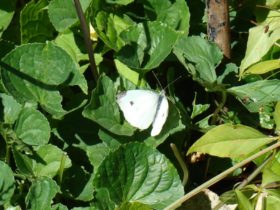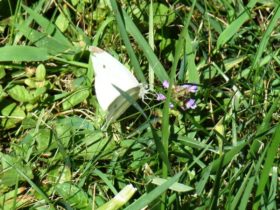 ---
Additional resources
Maine. Department of Agriculture, Conservation and Forestry. "Got Pests?" http://www.maine.gov/dacf/php/gotpests/bugs/cabbage-worms.htm (accessed January 15, 2017)
Maine. Department of Inland Fisheries and Wildlife. "Rare Butterflies." http://www.maine.gov/ifw/wildlife/species/invertebrates/rare_butterflies.html (accessed January 15, 2017)
Milne, Loris and Margaret Milne. National field Guide to North American Insects and Spiders. New York. Alfred A. Knopf. 1980.