| Year | Population |
| --- | --- |
| 1970 | 3,756 |
| 1980 | 4,345 |
| 1990 | 4,825 |
| 2000 | 4,908 |
| 2010 | 4,924 |
Geographic Data
N. Latitude
44:38:32
W. Latitude
68:44:56
Maine House
District 130
Maine Senate
District 8
Congress
District 2
Area sq. mi.
(total) 56.5
Area sq. mi.
(land) 51.6
Population/sq.mi.
(land) 95.4
County: Hancock

Total=land+water; Land=land only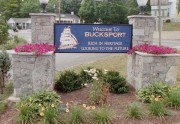 [BUKS-port] is a town in Hancock County, settled in 1762 and incorporated on June 27, 1792 as the town of Buckstown from Buckstown Plantation.
Its name was changed to Bucksport on June 12, 1817.
The picturesque 1860 East Bucksport Methodist Church is nestled among trees on Church Road off Maine Route 46.
A grange hall, Floral Grange #158, is just north of Bucksport village on the River Road, Route 15 to Orrington and Bangor.
Rural East Bucksport is far removed from the main village near U.S. Route 1.
The small church, the grange, and the farms on Route 46 reflect its rural origins.
Northeast Historic Film is a moving image archives and research and education center. It is located in the restored historic 1916 Alamo Theater on Main Street in downtown Bucksport.
NHF, a nationally recognized institution, maintains Maine's earliest television material, home movies produced in the early 1900's, silent films and other archival moving images of northern New England.
Colonel Jonathan Buck, namesake of the town, brought with him a legend and a tourist attraction.
Allegedly charged with executing a woman condemned as a witch, Buck, so the story goes, was on the receiving end of a curse that would be a reminder of the injustice he perpetrated.
The Buck hex, some claimed, was responsible for a leg appearing on his granite monument after his death. Several efforts to erase the image have been to no avail since it reappears thereafter, apparently a defect in the stone.
Jed Prouty's Tavern and Inn, still in operation in the early 21st century but no longer, was a stage stop for the Bangor to Castine route in the summer. The local paper mill (once St. Regis, then Champion, then Verso) dominates the north end of town and sits across the Penobscot River from Fort Knox.
Bucksport was the home of painter Henrietta Benson Homer, mother of Winslow Homer.
The town is the birthplace in 1889 of six-term U.S. Representative Frank Fellows. He attended the public schools and the East Maine Conference Seminary in Bucksport before entering the University of Maine at Orono.
Bucksport Harbor, in the main channel of the Penobscot River, lies just north of Verona Island.  A harbor park and a series of floating docks, provides an attraction for small boats. It also is a fine spot for tourists to enjoy scenic views of Fort Knox, across the river in the town of Prospect, and the old and new bridges across the river.
Form of Government: Council-Mayor-Manager.
---
---
Additional resources
Pooler, Bernard, et al. The 150th anniversary of Bucksport, Maine June 25, 1942. Bucksport, Me. Published and printed by the Bucksport Free Press. 1942.
Babcock, Blakely B. Jonathan Buck of Bucksport: The Man and the Myth. An historical inquiry into the life of a Maine patriot during the years of the American Revolution. Ellsworth, Me. The Ellsworth American. 1975?
Buck, Alice F. Bucksport, Past And Present. Maine. 1951.
Buck, Rufus. The History of Bucksport to 1857. Bucksport, Me. Buck Memorial Library. c2004.
Bicentennial Edition History of Bucksport. Bucksport, Me. Bucksport Bicentennial Committee. 1992.
Golden, Richard. Old Jed Prouty: A Narrative of the Penobscot. New York. Dillingham. c1901.
Hall Family. Family Papers, 1849-1925 (bulk 1849-1870). (Cataloger Note: Daniel Hall was an inventor living in Bucksport. Samuel P. Hall was a merchant in Bucksport, who sold flour and corn. Robert Henry Eddy was a civil engineer and solicitor of patents. He was born in 1812 and died in 1888. These are the papers of a family living in Bucksport. A large part of the papers are about Daniel Hall and his inventions. Included are correspondence relating to patents and marketing of the recumbent chair and bag tie, and bills of sale which are for supplies and repairs to the schooners Columbia, Lucy, and Yankee out of Bucksport.) [University of Maine, Raymond H. Fogler Library, Special Collections]
Joost, Arthur M. Shipbuilding & Shipping in Bucksport. c1990. Bucksport, Me. Evangel Printers.
Marshall, Eliza Payne Gross. History of Bucksport, Maine. Clearwater, Fla. M.G.D. Hinckley. 1963.
Senior, Sigmad. Colonel Jonathan Buck, Maine Patriot and Selective Stories. Stevens Point, WI. Artex Publishing. c1989.
National Register of Historic Places – Listings
Brown–Pillsbury Double House, 188-190 Franklin Street
Buck Memorial Library, Main Street
Bucksport Railroad Station, Main Street
Duck Cove School, Maine Route 46, east side, at junction with Stubbs Brook Road
Elm Street Congregational Church and Parish House, Junction of Elm and Franklin Streets
Emery, James, House, Main Street
Heywood, Phineas, House, 343 Maine Street
Prouty, Jed, Tavern and Inn, 52–54 Main Street
Wilson Hall, Franklin Street