| Year | Population |
| --- | --- |
| 1970 | 673 |
| 1980 | 753 |
| 1990 | 760 |
| 2000 | 911 |
| 2010 | 934 |
Geographic Data
N. Latitude
44:21:15
W. Latitude
68:45:40
Maine House
District 133
Maine Senate
District 7
Congress
District 2
Area sq. mi.
(total) 51.1
Area sq. mi.
(land) 31.1
Population/sq.mi.
(land) 30.0
County: Hancock

Total=land+water; Land=land only
[BROOKS-vil] is a town in Hancock County, incorporated on June 13, 1817 from portions of Castine, Penobscot, and Sedgwick, whose early history it shares.
Cape Rosier recalls the name of James Rosier who accompanied George Weymouth in his explorations of 1605 and who wrote an account of the journey.
John Brooks, for whom this town, and the Town of Brooks, is named, was the ninth governor of Massachusetts (1816-1820) and was an active military participant in the Revolution, having the close confidence of General Washington. He toured Maine in 1818.
In 1880 a zinc/copper sulfide deposit was discovered at low tide by a clam digger at Goose Pond. Subsequent intense mining created hazardous wastes that resulted in the U. S. Environmental Protction Agency declaring the area a Superfund Site and put on the National Priority List in 2001.  Cleanup operation are continuing as of 2011.
This small coastal community witnessed substantial growth in the 1990-2000 decade as its population swelled by just under 20%.
Brooksville boasts one of the best harbors for small boats in the area: Bucks Harbor. (Not to be confused with the other Bucks Harbor in Washington County.) The Harbor is situated on the westerly end of Eggemoggin Reach, which separates nearby Deer Isle and Little Deer Isle from the mainland.
Helen and Scott Nearing, pioneers of modern self-sufficient organic gardening and simple, healthy living maintained their home here. The Good Life Center is located at their last hand-built home located in Harborside on five acres of forested land overlooking Spirit Cove.

Congressional Medal of Honor winner:
CLARENCE M. CONDON
---
Form of Government: Town Meeting-Select Board.
Additional resources
Brooksville Historical Society, Brooksville, Me. Traditions and Records of Brooksville, Maine, collected by the Brooksville Historical Society, 1935-36. Camden, Me. Camden Herald Pub. Co. 1974.
Doudiet, Ellenore. Majabigwaduce: Castine, Penobscot, Brooksville. Castine, Me. Castine Scientific Society. 1978.
*Maine. Historic Preservation Commission. Augusta, Me.   Text and photos from National Register of Historic Places: http://pdfhost.focus.nps.gov/docs/nrhp/text/xxxxxxxx.PDF and http://pdfhost.focus.nps.gov/docs/nrhp/photos/xxxxxxxx.PDF
West Brooksville Congregational Church: 95000727.PDF
Mitchell, Robert James. A Community in Transition: Brooksville, Maine, 1850-1870. 1976. (Thesis (M.A.) in History–University of Maine, 1976) [University of Maine, Raymond H. Fogler Library, Special Collections]
Snow, Walter A. Brooksville, Maine: a Town in the Revolution. Compiled for the Brooksville Bicentennial Committee. Brooksville, Me. Brooksville Bicentennial Committee. 1976.
Snow, Walter A. Genealogical History of the Pioneers of Brooksville, Maine. Brooksville, Me. W. A. Snow. 1967.
Tapley, Lucy Hale. Brooksvile: Early History of Old Bagaduce Town. 1917 Dec. 12. (Cataloger Note: Newspaper articles from the Ellsworth American.) [Maine State Library]
Wheeler, George Augustus. History of Castine, Penobscot and Brooksville, Maine. Cornwall, N.Y. The Cornwall Press. 1923.
National Register of Historic Places – Listings
Topside, North bank of Walker Pond off Maine Route 176
Von Mach Site, Address Restricted
West Brooksville Congregational Church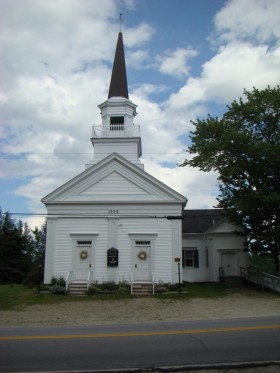 [Maine Route 176 east side, 1 mile northwest of junction with Varnum Road West Brooksville] Built in 1855, the West Brooksville Congregational Church is a striking and well preserved rural Greek Revival style wooden structure.
The Church was organized on January 4, 1826 and met initially in a nearby school house that also served as the town house. By the early 1850s, erecting a proper church building had become a serious issue. On May 3, 1855, work on the frame began and the church is said to have been completed by haying time. It was dedicated on November 30, 1855.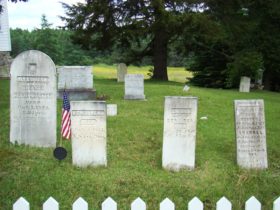 An early 19th century cemetery that pre-dates the church building is nearby. The church itself stands as a monument to the way in which the Greek Revival style was translated in Maine's wooden rural churches.*