| Year | Population |
| --- | --- |
| 1970 | 751 |
| 1980 | 804 |
| 1990 | 900 |
| 2000 | 1,022 |
| 2010 | 1,078 |
Geographic Data
N. Latitude
44:32:17
W. Latitude
69:07:28
Maine House
District 99
Maine Senate
District 11
Congress
District 2
Area sq. mi.
(total) 25.1
Area sq. mi.
(land) 24.4
Population/sq.mi.
(land) 44.2
County: Waldo

Total=land+water; Land=land only
[BROOKS] is a town in Waldo County, incorporated on December 10, 1816 from the former Washington Plantation. The town swapped land with Monroe several times (1824, 1844, 1883) and conceded some land to Swanville in 1844.
Named for Governor John Brooks of Massachusetts, Brooks is located at the junction of state Routes 7 and 139 and on the Belfast and Moosehead Lake Railway line.
According to George Varney's 1886 Gazetteer,
There are several small saw-mills on Marsh, Sawyer and Ellis Streams.  At Brooks village is a clothing manufactury, a grist mill and sawmills.
The Brooks cheese-factory is well supplied by the farmers, and sends out large quantities of excellent cheese. South Brooks has mills manufacturing staves, shingles, long lumber and barrels.
The Belfast and Burnham branch of the Maine Central Railroad passes through the town, having a station at Brooks village, a little north of the center of town.
Marsh Stream or Marsh River as it is also known, which originates in the town of Knox and passes through Jones Bog in Monroe, runs through the main village.
A dam near an old mill site broadens the stream into a pleasant pond.
The former Masonic Hall on Route 139 has been converted into the Marsh River Theater, which boasts locally produced performances weekly during the summer. Beginning in 1996 a group of volunteers began the renovation which has brought the venue to become a fine a community cultural resource.
---
Form of Government: Town Meeting-Select Board.
Additional resources
* "(Former) Maine Central Railroad Passenger Depot, Brooks, Maine." United States. Department of the Interior. National Parks Service.   https://npgallery.nps.gov/NRHP/GetAsset/3b6852c9-76aa-40ab-bf9a-2aee7ef205b3?branding=NRHP (accessed February 19, 2017)
Norwood, Seth Wademere. Sketches of Brooks History. 1981. Belfast, Me. J. A. Black Co.
Rose, Albert H. Papers, 1832-1920. (Cataloger Notes: Albert H. Rose was a life-long resident of Brooks, Maine. He was born there about 1836, the son of Loren Rose. He enlisted as a corporal in the 4th Maine Infantry Regiment, Company F on June 15, 1861, and mustered out as a lieutenant on July 19, 1864, having seen service in the battles of Bull Run, Fredericksburg, Chancellorsville, Gettysburg and Antietam. In 1877, Albert Rose married Emma Curtis of Monroe, Maine, and they had three children: Vesta A., E. Hale, and Hester H. Rose. Albert Rose was a farmer and also served as town treasurer and selectman in Brooks. He died in 1922
The collection consists of both original documents and photocopies. It primarily contains items related to Albert H. Rose, including photocopies of a few of his letters dating from 1839 to 1864; a document listing members of Company F as of Nov. 1, 1862; pension documents from 1864 to 1920; and items from the Gettysburg Reunion held in 1913 including a photograph presumably of three Civil War veterans at the battlefield. The collection also contains a few photocopies of correspondence of other Rose family members from 1832, as well as a printed history of Company F.) [University of Maine, Raymond H. Fogler Library, Special Collections]
Varney, George J. A Gazetteer of the State of Maine. 1886. pp. 136-137.
National Register of Historic Places – Listings
(Former) Maine Central Railroad Depot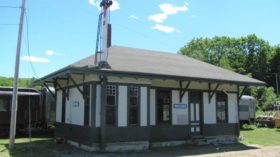 The 1892 Maine Central Railroad Passenger Depot is a type of railroad building once common in Maine. The Queen Anne style depot is located along the tracks of the Belfast and Moosehead Railroad, the rail line that the Maine Central leased between 1870 and 1925. First proposed by the City of Belfast in 1836 as part of a movement to develop a new open water port for Quebec, it was not built until 1870. It then became the Maine Central's Belfast Branch linking central Maine with the coast between Bath and Bucksport.
Management of the railroad reverted to the City of Belfast in 1925 and for seven more decades it continued to play an important role in the economic and cultural life of the town of Brooks and the greater Waldo County region. The depot building retains most of its original interior plan (waiting room, Agent's office and women's toilet), interior finishes including built-in passenger seats in the waiting room, and an early 20th century three stage semaphore signal. It handled ticketing and communications for the Brooks Station, which until the mid-20th century also contained a freight depot and section house.
After 1960 when passenger service ended on the line, the Depot was used by the Station Agent for freight alone. The property embodies the distinctive characteristics of a type and period of construction, specifically that of a Maine Central Railroad passenger depot.*