| Year | Population |
| --- | --- |
| 1970 | 598 |
| 1980 | 619 |
| 1990 | 785 |
| 2000 | 841 |
| 2010 | 824 |
Geographic Data
N. Latitude
44:15:27
W. Latitude
68:32:41
Maine House
District 133
Maine Senate
District 7
Congress
District 2
Area sq. mi.
(total) 41.2
Area sq. mi.
(land) 18.0
Population/sq.mi.
(land) 45.8
County: Hancock

Total=land+water; Land=land only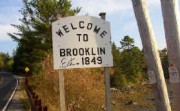 [BROOK-lin] is a town in Hancock County, incorporated on June 9, 1849, under the name of Port Watson, from a portion of land set off from the town of Sedgwick. On July 23rd of the same year, its name was changed to Brooklin, named for the brook which formed the line ("brook line") between the new town and Sedgwick.
The town is located on a peninsular that juts out into Blue Hill Bay and is across Eggemoggin Reach from Little Deer Isle.
Near the "welcome" sign are notices posting the closure of the adjacent clam flats during the "red tide" outbreak of October, 2003.
The village hosts the general store and library at the intersection of Route 175 and the road to Naskeag Point and Naskeag Harbor.
The reconstructed cattle pound at right is located in North Brooklin on the east side of Route 175. In the early 19th century, concerned that un-fenced livestock would trample crops, many towns created pounds for the temporary confinement of roaming cattle.
Long time resident and author E. B. White based many of his observations on life in the town and surrounding area.
Form of Government: Town Meeting-Select Board.
Additional resources
Brooklin Centennial Committee (Me.) Centennial Celebration Brooklin, Maine: July 29-31, 1949. Brooklin, Me. The Committee. 1949. [Bangor Public Library; Maine State Library]
Brooklin/Brooklin Keeping Society. Charleston, SC. Arcadia Publishing. c2003.
Fish, E. S. History of Brooklin: An Address. Delivered at Brooklin, Maine, July 4, 1876. Bangor, Me. Burr & Robinson. 1876. [Maine State Library]
Lum, Marguerite B. From Away. Warwick, R.I. Warwick Press. c1995.
*Maine. Historic Preservation Commission. Augusta, Me.   Text and photos from National Register of Historic Places: http://pdfhost.focus.nps.gov/docs/nrhp/text/xxxxxxxx.PDF and http://pdfhost.focus.nps.gov/docs/nrhp/photos/xxxxxxxx.PDF
Brooklin IOOF Hall: 89002341.PDF
White, E.B. House: 86002467.PDF
Memories of Haven Colony, Brooklin, Maine. Brooklin, Me. Haven Publishing Co. c1985.
National Register of Historic Places – Listings
Beth Eden Chapel, Naskeag Point Road, .05 miles north of junction with Naskeag Loop Road
Brooklin IOOF Hall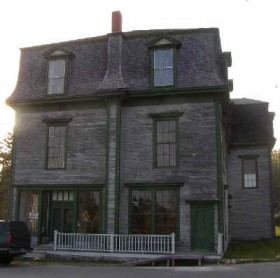 [Maine Route 175] Built in 1896, the I.O.O.F. (Odd Fellows) Hall is one of Brooklin's largest and most architecturally significant 19th century buildings. It was designed to accommodate commercial uses on the first floor, community functions and theatrical productions on the second floor and lodge meetings in the upper story. Historically, Brooklin's economy has been tied primarily to fishing and small scale maritime related industries; agriculture gained some prominence in the mid to late 19th century. Unfortunately, few of its 19th century non-residential buildings have survived without alteration.
The I.O.O.F. Hall is an exception. Although it has lost the upper section of the tower, the building retains a remarkably high degree of integrity. This, combined with the rather unusual arrangement of architectural features found here, makes the hall a conspicuous local landmark. Its immediate neighbors were and continue to be rather modest nineteenth century dwellings with a variety of stylistic forms.* [See photo above.]
Flye Point 2, Address Restricted
Goddard Site, Address Restricted
White, E. B., House
[Maine Route 175] This fine, large late 18th century farmhouse was built for William Allen Holden about 1795. Its unusually fine construction has no major alterations. It is one of the oldest and certainly the most impressive houses in North Brooklin. Also on the property is a 1½ story barn  attached to the ell with one story wood passageway.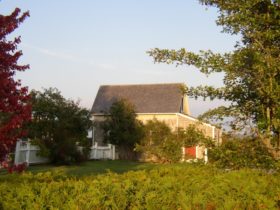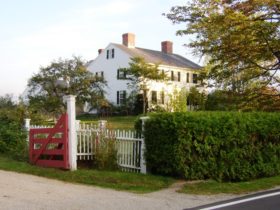 The property was bought in 1933 by Elwyn Brooks White first as a summer home, and after 1937 was rehabilitated as a year-round residence. E. B. White was an internationally respected American writer, whose crisp, graceful and highly individual style, as well as independence of thought, made him one of the 20th century's leading essayists and a noted author of children's books.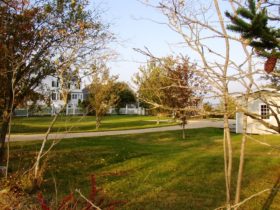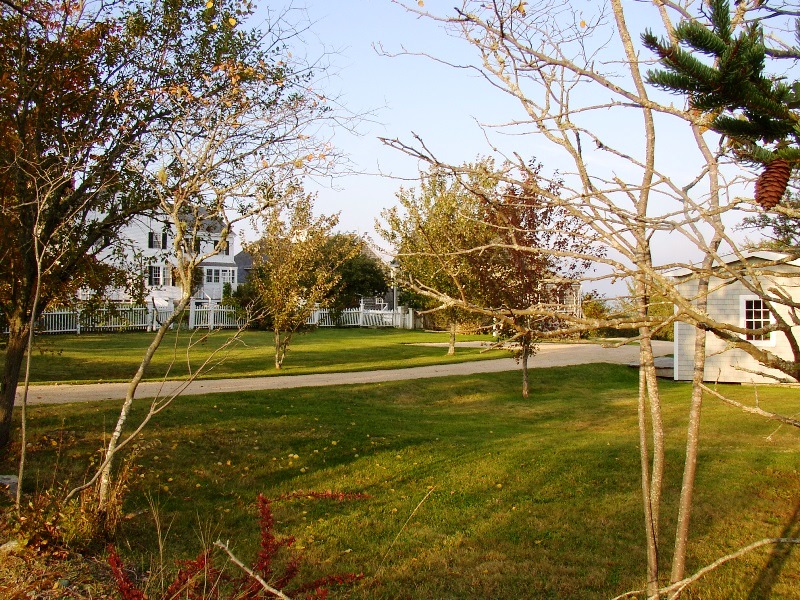 With its splendid setting in a rural landscape on the coast, the House still retains some of its historic 19th century ambiance. White's biographer noted, "The front room in the northwest corner became Andy's (White's nickname) study, and across the hall, the room in the southwest corner became Katherine's study, where she would continue her professional life as half-time editor of The New Yorker."*