| Year | Population |
| --- | --- |
| 1970 | 58 |
| 1980 | 74 |
| 1990 | 94 |
| 2000 | 86 |
| 2010 | 70 |
Geographic Data
N. Latitude
45:03:45
W. Latitude
69:41:15
Maine House
District 118
Maine Senate
District 4
Congress
District 2
Area sq. mi.
(total) 40.0
Area sq. mi.
(land) 39.3
Population/sq.mi.
(land) 1.8
County: Somerset

Total=land+water; Land=land only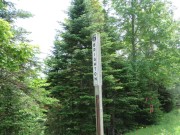 [BREYE-tun] is a plantation in Somerset County, settled in 1801 and incorporated as the town of North Hill on June 20, 1816 from the township T2 R1 BKP (Bingham's Kennebec Purchase). It changed its name to Brighton on January 29, 1827.
The town ceded land to Athens in 1838 and again in 1862. In 1895 Brighton surrendered its organization as a town and reemerged with a simpler structure as a plantation.
The unidentified 19th century church below is at the intersection of Routes 151 and 154 in Brighton Village.  In 2014 it was undergoing restoration both inside and out.
Here is part of what George Varney's Gazetteer said about Brighton in 1886, when the town had eight public school houses:
The only considerable eminence in the town is a high hill in the north-west corner.  Kingsbury Pond, head of the Sebasticook River, lies partially within the town at the north-eastrern corner. Wyman's Pond lies in the south-western part of the town, and Week's Pond, a square mile in area, lies just north of Brighton Centre. The latter is a small village, but the largest in town.  The Wesserunsett River, outlet of Week's Pond, has a fall near the centre, where its stream descends thirty feet in four rods. There is a stone dam at the head. There are also powers on Wyman Brook. In town are a sawmill, shingle machine and flour mill, run by water power, a steam sawmill and a shingle mill.  Brighton is on the stage-line from Skowhegan to Moosehead Lake.
The village is north of Athens on Route 151 at the junction with Route 154. Trout Pond (below), created by a dam on a small stream, is located on Route 154 southeast of Brighton Village.  The 12 acre pond was enlarged in the early 1900s when a dam was built at the outlet, Grant Brook. A lone house (below right) east of the dam was once owned by Nelson Clough, who operated the Heart of Maine hunting and fishing camp.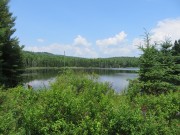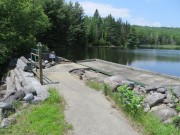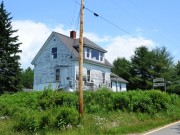 An article in the Bangor Daily News in 1981 reflected on the town's history.  Commenting on a old photo of Brighton Village, it notes "None of the buildings shown nor the road through town which let to an area settled with farms, exist today. The fields seen in the photo above have gone unattended and are now woods." It continues,
The town once had three stores, a large hotel, a dance and meeting hall, two saw mills, a grist mill and a post office. What was at the turn of century a lively, industrious town with many houses and workplaces is now a quiet little village with no more than five homes, a church and a schoolhouse.
.  .  .
Not all industries have left Brighton, however. Farrin Brothers and Smith (below) is a highway construction firm located on Main Street.  A model lighthouse seems lost in this far-from-the-sea village.
In 2010, the Plantation was approached about a potential site for a wind farm, but, according to a member of the planning board, the town has a zoning ordinance that prohibits commercial and industrial development in town.  However, the wind turbine developer is proceeding with a similar project in adjoining towns, creating concerns of its impact on Brighton.
Outside the village, the town has miles of old roads through the woods. An attraction for hunters, theses areas also hold secrets of old farms, now gone, with only stone walls, stone cellars and wells to hint at the fine farmhouses, barns and fields of the 19th and early 20th century.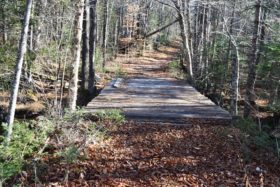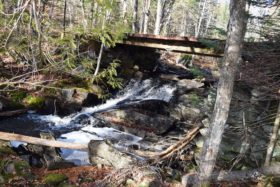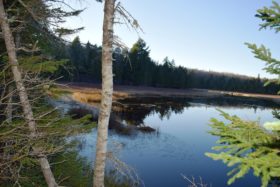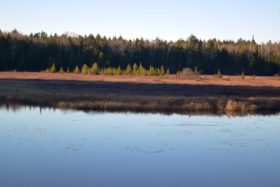 Scribner's Bog [N45° 1′ 8″ W69° 38′ 41.72″] named for Thomas Parker Scribner, an early settler who died in 1848, is off the Scribner Road, a short hike through woods northwesterly of the bridge over Grant Brook at N45° 0′ 53.53″ W69° 38′ 37.03″. The bridge is built over a small waterfall.
According to local informants, the Jordan Family had a large farm on the Jordan Road off the Fourth of July Road in Brighton.  Now large trees grow in and around the remains of foundations and cellars.
The opening at right may be a "roll way" or "roll-a-way" entrance to the Jordan Family house cellar.
Form of Government: Assessors-Annual Meeting.
Additional resources
Comstock, David S. "Thomas Parker Scribner." August 7, 2016. http://findagrave.com/cgi-bin/fg.cgi/http=://www,findagrave.com/cgi-bin/fg.cgi?page=gr&GRid=167886452
Edwards Fangboner, Gail. "Brighton once booming log town;now a quiet village off beaten path." Bangor Daily News. January 30, 1981. p. 14.  http://news.google.com/newspapers?nid=2457&dat=19810130&id=BZ5hAAAAIBAJ&sjid=3VkMAAAAIBAJ&pg=4641,4821806 (accessed July 3, 2014)
Ohm, Rachel. "Brighton Plantation to host meeting on wind farm project." Morning Sentinel. January 3, 2014.  http://www.onlinesentinel.com/news/Brighton_Plantation_to_host_meeting_on_wind_farm_project_.html (accessed March 2, 2014)
Maine. Department of Inland Fisheries and Wildlife. "Trout Pond." July 2002. http://www.maine.gov/ifw/fishing/lakesurvey_maps/somerset/trout_pond_brighton.pdf
Varney, George J. A Gazetteer of the State of Maine. 1886. pp. 132-133.