| Year | Population |
| --- | --- |
| 1970 | 2,967 |
| 1980 | 3,528 |
| 1990 | 4,307 |
| 2000 | 4,883 |
| 2010 | 5,210 |
Geographic Data
N. Latitude
44:02:22
W. Latitude
70:44:00
Maine House
District 69
Maine Senate
District 19
Congress
District 1
Area sq. mi.
(total) 67.7
Area sq. mi.
(land) 57.3
Population/sq.mi.
(land) 90.9
County: Cumberland

Total=land+water; Land=land only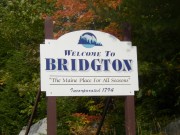 [BRIJ-tun] is a town in Cumberland County, incorporated on February 7, 1794 from Bridgton (Bridgetown) Plantation which had existed since 1779.
During the nineteenth century, it ceded land to Harrison (1805, 1866, 1877) and Naples (1834, 1856); and annexed land from Denmark and Fryeburg (1842, 1847).
The village faces Highland (or Duck) Lake, inviting summer boating and camping.
The town boundaries stretch from its substantial frontage on Long Lake, north of Sebago Lake to Kezar Lake, nine mile to the west. In its western reaches, Bridgton retains its rural character.
The citizens of North Bridgton petitioned the General Court of Massachusetts to incorporate Bridgton Academy in 1808. They hired Bezaleel Cushman, a Dartmouth student, to teach the classics to secondary school students seeking to follow in his footsteps. It has evolved, from a public/private, coeducational secondary school in 1808, to a boys' boarding school in 1958, to an independent prep school primarily for postgraduate young men in 1964.
Shawnee Peak is a popular local skiing destination. Bridgton is typical of the growing communities of southern Maine that are attractive for their small town rural atmospheres.
Jim Mains, a major league baseball player, was born in Bridgton in 1922 and played one year, 1943, for the Philadelphia Athletics.
According to George Varney, in the late 19th century,
The scenery in this town is delightful, both within and about the town; and the pleasure and comfort and safety of inland sailing may here be enjoyed to the full; the boats running from Harrison, at the extreme north of Long pond, to all points on Lake Sebago.
Bridgton has had significant population growth since 1970, helped no doubt by its recreational opportunities and proximity to the Portland. It has one of the very few remaining active drive-in theaters.

Congressional Medal of Honor winners:
Korean War George D. Libby
Form of Government: Town Meeting-Select Board-Manager.
Additional resources
Barney, Peter S. The Bridgton and Saco River: A Technical and Pictorial Review. Kennesaw, Ga. A & M Publishing. South Dartmouth, Mass. Distributed by Sandy River Car Shops. 1987. (Narrow Gauge Railroad)
Bridgton, Maine, 1768-1968. Eula M. Shorey, Ed. Bridgton, Me. Bridgton Historical Society. c1968.
Cram, Marshall. An Address Delivered By Hon. Marshall Cram, At The Dedication Of The Town House In Bridgeton, January 8, 1852. Portland Me. Brown Thurston. 1852.
History Of Bridgton, Maine 1768-1994. Bridgton Historical Society. Camden, Me. Picton Press. c1993.
Davis, Blynn Edwin. Moody Bridges, Pondicherry, and the Beginnings of Bridgton. Bridgton, Me. Davis. 1959.
Knapp, Nahum. Nahum Knapp's Book. 1825-1846. (Catalogers Note: Ledger of a shoemaker from Bridgton, Maine, listing names of customers and work done for them, primarily making and mending shoes and boots. Customers paid for most work with cash but some was paid for by labor or by food or other goods. Nahum Knapp was born in Bridgton, Maine, in 1797, and owned a shoe and harness shop there. He married Nancy Bennett, also from Bridgton, in 1824. Nahum Knapp died in Bridgton, ca. 1880.) [University of Maine, Raymond H. Fogler Library, Special Collections]
*Maine. Historic Preservation Commission. Augusta, Me.   Text and photos from National Register of Historic Places: http://pdfhost.focus.nps.gov/docs/nrhp/text/xxxxxxxx.PDF and http://pdfhost.focus.nps.gov/docs/nrhp/photos/xxxxxxxx.PDF
Andrews, Lt. Robert, House: 05001440.PDF
Cleaves, Benjamin House: 88000390.PDF
Davis, Dalton Holmes, Memorial Library: 88003020.PDF
Farnsworth House: 80000229.PDF
Peabody–Fitch House: 89000254.PDF
Perry, William F., House: 75000098.PDF
South Bridgton Congregational Church: 87000947.PDF
Stone House: 84001361.PDF
Wales and Hamblen Store: 90000924.PDF
Walker Memorial Hall: 83003639.PDF
Webb, John and Maria, House: 13000834.PDF
McIntyre, Philip Willis. An account of the ceremonies at the dedication of the Soldiers' monument, Bridgton, Maine, July 21, 1910, containing also the addresses delivered on that occasion and biographical sketches. Bridgton? Me. 1910.
Norman, Craig S. Agent of Change: a preindustrial cultural landscape analysis in the colonial Maine frontier. 2000. (Thesis (M.A.)–University of Southern Maine, 2000) [University of Southern Maine (Portland). The Albert Brenner Glickman Family Library.]
Remembrances of Bridgton Past: Volumes I and II – Tales of old, a collection of articles appearing in The Bridgton News–dating back to the 1800s. Prepared by Judy Blake. Bridgton, Me. Bridgton Historical Society, 19–? [University of Maine, Raymond H. Fogler Library, Special Collections]
Robinson, Greenleaf L. Ledgers, 1879-1884. (Cataloger Note: Ledgers recording work done for customers from 1879 to 1884, primarily shoeing horses. Greenleaf L. Robinson was a blacksmith in Bridgton, Maine.) [University of Maine, Raymond H. Fogler Library, Special Collections]
Varney, George J. A Gazetteer of the State of Maine. 1881. p. 131.
W.M. Staples (Firm). Ledger C. 1897-1899. (Cataloger Note: Winburn M. Staples built a store in Bridgton, Maine, around 1885 in partnership with Abel H. Harriman. Staples and Harriman sold their business to John Roes and Byron Harnden in 1892, although the store seems to have retained its original name. Winburn Staples was also founding president of Bridgton's second bank, sat on many boards and committees, and represented Bridgton in the Maine legislature as both a senator and a representative.) [University of Maine, Raymond H. Fogler Library, Special Collections]
National Register of Historic Places – Listings
Andrews, Lt. Robert, House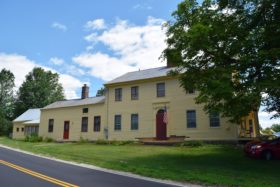 [428 South Bridgton Road; N43° 59′ 42.70″  W70° 42′ 26.30″] The Lt. Robert Andrews House is a center-chimney Federal style home, sandwiched with a century of additions. Built by one of the most influential and benevolent men to live in the town during the late-18th and early 19th century, Andrews is remembered for his lifelong dedication to military, philanthropic and civic service in his community. Twenty five years after settling in town, Andrews built this large home on land across from Adams Pond.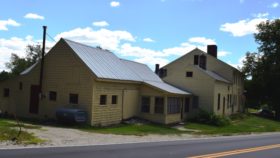 Andrews (1753 -1845) was a veteran of Bunker Hill and served in the Continental Army through 1780 before arriving in South Bridgton that year. He joined several other veterans from Boxford, Massachusetts, who received tracts of land granted to them by the Massachusetts Legislature. He purchased interest in three full divisions of land, totaling several hundred acres. Andrews settled on a lot near the shores of Adams Pond.
Remaining unmarried throughout his life, he shared the house with his sisters, until they married, and later with more distant relatives and friends who cared for him as he aged, an arrangement that became increasingly formal. In 1835 Andrews deeded over an undivided half of his property to his niece Sophia Cleaves and her husband Thomas. During the next six years Andrews built a 1½ story center-chimney wing on the north side of the house. When the Cleaves family deeded the property back to him in 1841, and Andrews sold that interest to Hugh Bennett later the same year, reserving the sole use of the "chimney wing" for himself.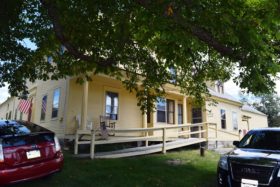 Not long after, anticipating his own death, Andrews sold the other undivided half of the house to John Kilborn, Jr. (the son of the builder), but reserved "however to the said Robert Andrews during his natural life the occupancy, use and income of the premises hereby conveyed." Shortly after Andrews' death in 1845 Bennett and Kilborn formally divided the premises, and the structure remained a two-family house until the early 1990s. While the division that Bennett and Kilborn agreed upon contained provisions for sharing the front door and stairs, in 1917 these features were removed and twin entrances and staircases were inserted, physically separating the two sets of living quarters for the first time.
With the exception of the cape, each of the other attached structures were added after the house was divided in 1845 in order to provide adequate outbuildings for the two families. The house, as originally built, was a typical early 19th century two-story, center-chimney, gable-roof house with Georgian massing and Federal detailing.
Like Andrews, Kilborn was a Massachusetts native who served both in the Militia and the Continental Army before coming to Bridgton after the war. His military career continued in the War of 1812 when he raised a militia company in Bridgton. Among the respected citizens of South Bridgton, Kilborn's abilities were noted and several of the structures he built still exist. In the surrounding communities at least three additional houses built between the last decade of the 18th century and the first decade of the 19th century can be attributed to Kilborn: the Sam Perley Farm in Naples, the John Perley House, South Bridgton; and the Peabody-Fitch House in South Bridgton.
Kilborn's career spans the time when the newly developing town of Bridgton was emerging from a period of frontier clearings towards a settled and prosperous agricultural and commercial center. The men who contracted his services were either among the immediate post-Revolutionary settlers, or those settlers' sons. The homes that Kilborn built for them were not their first houses, but homes that reflected their success and prominence in the community.
Certainly Lt. Andrews was counted among this group. In the immediate years after Andrews arrived in South Bridgton, the settlement was involved with securing town incorporation, which occurred in 1794. Immediately thereafter, Andrews was elected Town Selectman, a post he held again in 1796, 1798, 1799 and 1804-1805, and later served as town treasurer. He organized the First District school in 1795, and donated to the town the land on which the school house was built. He served on numerous town committees, including leading the charge to convince various land holders to agree to the construction of a second sawmill in the town.
When a second parish of the Congregational Church was being established in South Bridgton, Andrews donated $1,000 towards its construction; years later he made a gift of the same amount to the First Parish Church, to demonstrate his equal support of both congregations. Andrews' military service continued to muster arms in the Bridgton Light Infantry, organized in 1792. His service to the community also included sending young men to Bridgton Academy when it opened in 1808, and starting an endowment of $1000, "the interest on which is to be used for the worthy and industrious poor of the town of Bridgton."
Although employed primarily as a farmer, he also invested heavily in land and timber, and acted as a local financier.He was the money lender of the town. He charged a very small rate of interest, and the notes which he took were rarely ever presented. It is said that after his death a number were presented which he never intended should be collected. It is evident that Andrews played a significant role in laying the civic, financial and governmental foundations of the town of Bridgton. Beginning in the early 1990s the Andrews house was restored to its original configuration.*
Cleaves, Benjamin, House
[South High Street; N44° 2′ 39.23″  W70° 42′ 41.99″] While the Benjamin Cleaves House is a two-story Federal style farmhouse built about 1828. Typical on the exterior, the Cleaves house is, however, distinguished by its two well preserved interior mural paintings attributed to Rufus Porter. A considerable number of Porter style murals have been identified in Maine (see Bethel, Fryeburg, Lisbon, Rumford, and a reference in Portland's National Register section on "Portland Observatory") and a few houses that contain them are listed in the National Register. The Cleaves house is somewhat unusual in that it contains two distinct murals both of which are intact.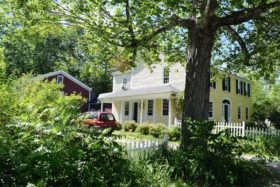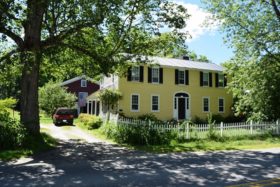 Rufus Porter (1792-1884) was born in West Boxford, Massachusetts, the son of a prosperous farmer. Unlike his father, Porter would lead a life that carried him throughout New England, the mid-Atlantic states, and overseas, exposing his numerous talents as an artist, inventor and author. His work as an itinerant portrait painter spanned the period 1815-1824. In 1825 he published an instructional book Curious Arts. For the next two decades he devoted himself to landscape murals. His tremendous interest in scientific matters reached a milestone in 1845 when he founded Scientific American.
The murals in the Cleaves house were probably painted in between 1830-1835. The scenes and buildings are generally representative of the New England landscape as a whole. This explains the presence of a coastal scene in a Bridgton house that is somewhat removed from the sea. Among the labor saving devices that Porter used in his murals were stencils for vessels and buildings. This explains the remarkable similarity between a number of the buildings that appear over the mantel in the Cleaves house with those in other houses.
The Cleaves house was built for Benjamin Cleaves, a tinsmith by trade, whose locally prominent descendants include Henry Bradstreet Cleaves, Governor of Maine from 1892-1896. The house apparently remained in the family only until the late 1830s after which it passed through a number of owners, the original farm dwindling in size until it assumed its present two acres. Architecturally, the Cleaves house is a representative example of a late Federal period Maine farmhouse. The symmetrical front face with its elliptical louvered fan is the most highly ornamented of the sides; the opposing rear side contains the modest one-story ell that extends to a barn. Bridgton itself retains only a small number of similarly intact late Federal style houses, the majority of the remaining building stock dating to the mid and late 19th century.*
Davis, Dalton Holmes, Memorial Library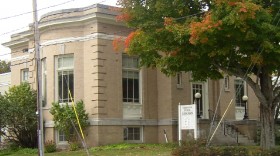 [Main Street] The Library is a tall modest Neo-Classical Revival style one-story tan colored brick building. [See photo above.] The virtually unaltered library is at a small corner lot in a mixed residential commercial area. Bridgton's public library history dates from about 1819 with the organization of the Bridgton Library Society, followed by several other similar societies. A library was established in 1867 by local businessmen and a Reading Association was founded in 1876.
The Public Library was incorporated in 1895 with members charged a $1 annual fee. The collection was first housed in a commercial building. A bequest by Dr. Davis enabled the construction of a new, more substantial building dedicated in 1913. It later received the private library of Bridgton native former Governor Henry B. Cleaves.*
Farnsworth House
[Maine Route 17 North Bridgton; N44° 5′ 28.52″ W70° 41′ 53.32″] This handsome late Federal residence, was built by Dr. Samuel Farnsworth, Jr. (1791-1842) in 1825. It  is particularly significant because of the extremely handsome interior woodwork. This includes four unusual mantels and surrounds, a graceful staircase with interesting paired posts at the upper end, and cornice moldings of great detail and grace.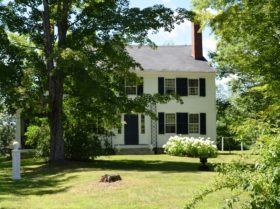 The house  shows finely executed paneling throughout this post and beam house with a granite foundation.
Considering the relatively remote location in North Bridgton, the interior is particularly remarkable.
It is clearly the equal, in many respects, of Federal mansions along the southern coast.*
Peabody–Fitch Farm
[Off Ingalls Road South Bridgton; N43° 58′ 56.45″ W70° 43′ 23.30″] The Peabody-Fitch Farm is a remarkably intact cluster of buildings and field systems that provide a rich sense of an early 19th century Maine farmstead. Built about 1797 for William Peabody, a pioneer settler of Bridgton, the house retains most of its Federal period interior and exterior architectural features as well as its agricultural context.
William Peabody (1770-1843) and his wife Sally (Stevens) Peabody were the first occupants. Little is known about the Peabody's, except that they had ten children, a number of whom died at an early age. Their fourth child, Mary Peabody, married George Fitch of Sebago in 1823. With her father in his late 50s and her mother probably ill (she died in 1829), Mary and George returned to the family farm around 1828.*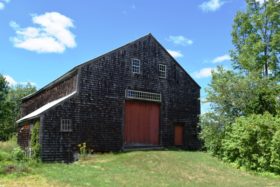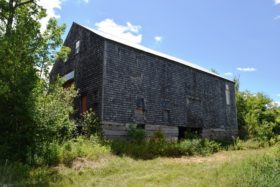 To accommodate the two families, including Mary's three younger siblings, it became necessary to make additions to the house. Fitch added the ell with a new kitchen, larder, pantry, and two bedrooms. A wing and carriage house were also added, and Fitch updated the house with late Federal style entrances with louvered fanlights. By 1850, Fitch had 80 improved acres and 128 unimproved acres, two horses, six milk cows, sixteen sheep, working oxen, and other cattle. Among the products he produced were wheat, Indian corn, oats, buckwheat, butter, and cheese. This suggests that the large barn, affixed to an earlier barn whose foundation is still evident, was probably built between 1828, when he moved to South Bridgton, and 1856 when he died.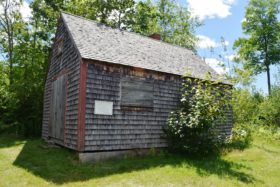 The blacksmith's shop was probably added in the same time period. Of the Fitch's 13 children, only Sarah stayed on the farm with her mother when George Fitch died in 1856. Her mother lived into the 1890s. Sarah had married Richard W. Long (1836-1871), who was a partner in Fitch (Sarah) and Long Dry Goods. She later remarried after Long's death, and died sometime around 1910.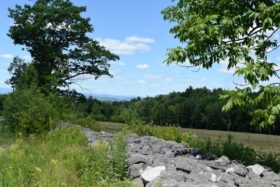 Occupied by a cousin into the 1920s, the farm fell into disrepair and was acquired by the town for back taxes in 1936. In 1937, Mrs. Margaret Monroe of Providence, Rhode Island purchased the property, preserving the original early elements of the house. Once a working farm, the house then became a summer retreat for Mrs. Monroe, and she added a screened porch and casement windows to the second story on the north end of the ell overlooking the White Mountains.
When Mrs. Monroe died in 1986, the house was given to the Bridgton Historical Society, which has restored the pastures to their original condition. Because so many features of this farm are intact, including the stone fences which operated as livestock enclosures, the detached barn and blacksmith shop, it is a unique and rare example of the layout of an early 19th century Maine farm.
The field system, based on stone fences, was probably begun by William Peabody, and it was intended to keep the cattle and livestock contained. As George Fitch improved and expanded the farm, it is likely that the fences were completed. While these enclosures and field systems were probably common in the 19th century, very few can be identified today.
Perry, William F., House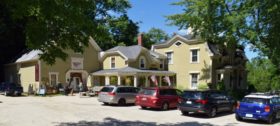 [23 Main Street; N44° 3′ 16.46″ W70° 42′ 47.90″] The career of William Fenderson Perry exemplifies a familiar pattern in 19th century American history. Rising from a humble rural background, he achieved financial success as a textile mill owner when the industrial revolution brought factories to his small community. His fortune and prominence were enhanced by his native ability as an inventor of a widely used turbine water wheel.
With its highly distinctive blend of Italianate and Second Empire elements, Perry's home is representative on a small scale of the Victorian mansions of post Civil War industrialists. Born in Bridgton in 1826, Perry was one of eleven children of George and Eliza Fenderson Perry. The elder Perry operated a blacksmith shop on his farm, and there his son learned the trade. Perry assisted his father until he was twenty-one.
After working for a few months in Portland, he returned to Bridgton to establish a blacksmith shop in the village. Four years later he sold his business and invested in a carriage factory with Amasa H. Merrill. After approximately four years, Perry purchased Merrill's interest and ran the factory by himself until 1858. He then entered the lumber business.
Thus far, he had been successful in three occupations, but had given no indication of becoming a prominent industrialist. However, his career changed significantly in 1859 with his marriage to Anna Maria Gibbs, the daughter of Rufus Gibbs, then the town's leading mill owner. On the eve of the Civil War, five of Bridgton's twelve potential power sites had been developed, due in no small part to Gibbs' construction of a dam system at the head of Stevens' Brook. Through Gibbs' encouragement and financial backing, Perry acquired Power Site Eight in 1860 and immediately built the town's largest woolen mill there. His timing proved fortuitous, for the Civil War provided the new mill with lucrative contracts for woolen goods. As a result, carloads of blanket and uniform material left Bridgton destined for the war effort.
The capital generated by the Mill at Power Site Eight enabled Perry to buy the adjacent Power Site Nine in 1865 for another woolen mill. These factories became known as Forest Mill No. 1 and Forest Mill No. 2. In 1879 Perry combined these with the extensive holding of his father-in-law to create the Forest Mills Company, which he managed until just before his death in 1906. This firm employed an average of one hundred and thirty hands to annually manufacture $250,000 worth of cheviots (rugged wool clothing made in a twill weave), cloakings, and fancy cashmeres.
His success as a mill owner was shared with his prominence as the inventor of the Perry Turbine Water Wheel. While Perry did not invent the original turbine water wheel, he became determined to improve upon it. He did this by examining operating wheels throughout the country and attending experimental and competitive tests of new models. From this he designed an uncomplicated wheel, built with the fewest possible pieces, gave high effective power for the water used, and could be sold at a reasonable price. Perry's Turbine Water Wheel was manufactured by the Bridgton Machine Company and was installed in mills throughout Maine. Perry also served in the Maine Legislature (1872-1873) was President of the Bridgton and Saco River Railroad.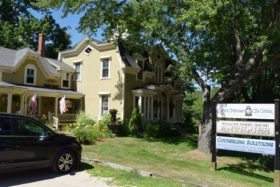 Although the Forest Mills have vanished, William F. Perry's impact on his native community is reflected in his imposing residence, which he remodeled in 1874.
Featured in Gillion and Lancaster's Victorian Houses, A Treasury of Lesser-Known Examples in 1973, Perry's home has recently been restored and sensitively adapted for professional offices.*
South Bridgton Congregational Church
[Fosterville Road, South Bridgton; N43° 59′ 18.85″  W70° 42′ 22.46″]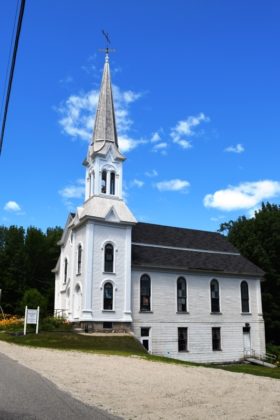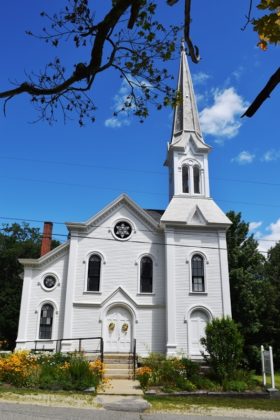 The 1871 South Bridgton Congregational Church is an impressive frame building whose construction in this small rural community testifies to the economic prosperity enjoyed by the congregation's members. It was designed by Francis Henry Fassett (1823-1908), Maine's most prolific architect of the mid to late 19th century. The Congregational Church, his most impressive work, is the second building occupied by the congregation.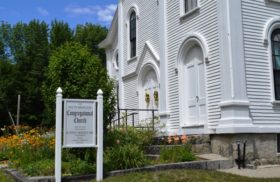 The church stands diagonally across the road from the site of the first meeting house. Prior to its dedication on July 13, 1871, an organ built by Edwin L. Holbrook of Millis, Massachusetts was installed. The organ remains in use after a 1984 restoration. The church's handsome proportions and the quality of its interior finish attests to the skill of its designer. Fassett obtained many commissions for church buildings in Maine. Among them at least two bear a striking resemblance to the Congregational Church in South Bridgton. Documentary photographs of the former Congregational Church in Cherryfield (1871) and the former Woodford Congregational Church in Falmouth (1872), both of which have been pulled down, show designs that are nearly identical to each other and to the South Bridgton Church. As perhaps the last remaining example of this particular Fassett design, the South Bridgton Congregational Church assumes increased architectural significance.*
Stone House
[320 Burnham Road; N44° 0′ 1.37″  W70° 40′ 34.40″] This 1830 cape with two stories in the rear, and one side where the land slopes away, is one of the rare examples of the cape style executed in stone in Maine. It is probably the oldest in the state, certainly in the western portion. John Mead, Sr., builder of the house, planted a grove of mulberry trees and raised silkworms. How successful his project was is not recorded, but in the 19th Century at least two other attempts were made in Maine: at  Newport (1830s) and Fryeburg (1832-1852).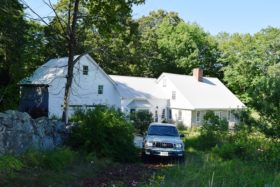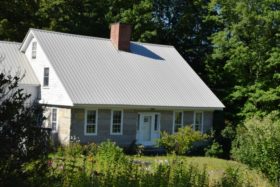 Mead was a native of England who, in the early 1800s built a house near the Stone House. In 1828 a freak windstorm literally blew it down and Mead, being a man of determination, stated, "I will build a house to withstand all winds and weather." He went into a quarry near his wrecked house and split out by hand enough granite slabs to make the walls for his new home. Heavy timbers were hewn out to brace and frame it. In a surprisingly short time, after the style used in England, the Stone House was complete.*
Wales and Hamblen Store
[260 Main Street; N44° 3′ 14.72″ W70° 42′ 8.90″ ] Built in 1882 on an earlier building site, the Wales and Hamblen Store is the most architecturally significant frame commercial building in Bridgton. The storefront has been restored, guided by documentary photographs. Bridgton has a number of 19th century frame commercial buildings on Main Street. The Wales and Hamblen Store is in an area that has been largely redeveloped or has lost many of its historic buildings.
The integrity of the store and its ornate architectural features add to its importance. The store is unusual in the broader context of western Maine. The building occupies the site of a hardware store established in 1872 by Samuel Cook. Cook operated his business until 1880 when he sold it to James O. Gibbs and John W. Fowler. The firm of Gibbs and Fowler became Fowler and Wales prior to the 1882 fire that destroyed the previous building. After reconstruction, Joseph Wales became a partner with Paul Chandler in the firm Wales and Chandler. Upon Chandler's retirement, John Hamblen became the new partner in Wales and Hamblen. The business continued with Hamblen's son Maurice until the latter's death.
Housing a number of short-lived commercial enterprises in the first story, the building has been used as an antique shop. The second floor meeting hall remains vacant, much as it has since the Cumberland Lodge #30 I.0.0.F. (Odd Fellows), for whom it was built in 1882, surrendered their charter in 1962.*
Walker Memorial Hall
[Lower Ridge Road; N44° 4′ 54.57″  W70° 43′ 32.14″]
This excellent and rare example of a Queen Anne public building was designed by noted Portland architect, Frederick A. Tompson.
It is a survivor of the period when communities were more closely knit and group activities more frequent; an era when self-improvement through intellectual pursuits was a community affair.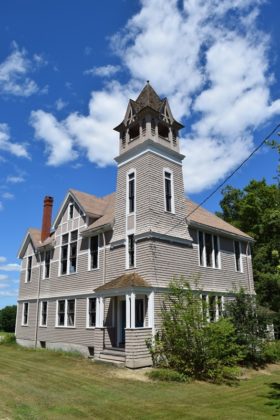 It was built in the summer of 1892 and first used in January 1893 by the Ridge Literary Aid Society. Joseph Walker, a wealthy summer resident, left $5,000 in his will for the construction with the stipulation:"… the building to be used for the purpose of a library, or for lectures, or the promotion of agriculture, or expended in such manner as shall accomplish the greatest good to the largest number of residents of said district."
For many years Walker Memorial Hall served the Ridge people well. Sunday services were held in the summer, Christmas parties, community suppers, dances, and amateur theatricals were included among the activities in the building. The only heat was provided by wood burning stoves, adding to the charm of the interior. Frederick A. Tompson (1857-1919), the architect, experienced a prolific career spanning four decades. Among his works are the 1911 Masonic Temple and the 1903 Adam P. Leighton House, both on the National Register, in Portland, and the Walker Memorial Library, also on the National Register, in Westbrook.*
Webb, John and Maria, House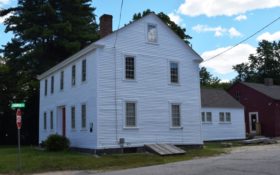 [121 Main Street; N44° 3′ 16.00″  W70° 42′ 33.91″] The John and Maria Webb House is significant as an example of a stylistically transitional residential building that incorporates both Federal- and Greek Revival-style elements, two of Maine's most popular 19th-century architectural styles. It is also a rare surviving historic building on Main Street, a well-preserved building designed based on local needs.
While Bridgton's Main Street once had many other houses from this era, the Webb House is one of the last to have escaped alteration, relocation or demolition. It is also a rarity among the residences on Main Street in that is has not been converted to retail or service use. It was listed in the National Register of Historic Places as a good example of locally designed architecture that illustrates the transition between two stylistic periods. *
In 2017 it was part of the Rufus Porter Museum on Main Street.