| Year | Population |
| --- | --- |
| 1970 | 2,967 |
| 1980 | 3,528 |
| 1990 | 4,307 |
| 2000 | 4,883 |
| 2010 | 5,210 |
Geographic Data
N. Latitude
44:02:22
W. Latitude
70:44:00
Maine House
District 69
Maine Senate
District 19
Congress
District 1
Area sq. mi.
(total) 67.7
Area sq. mi.
(land) 57.3
Population/sq.mi.
(land) 90.9
County: Cumberland

Total=land+water; Land=land only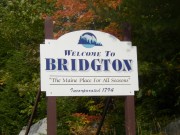 [BRIJ-tun] is a town in Cumberland County, incorporated on February 7, 1794 from Bridgton (Bridgetown) Plantation which had existed since 1779.
During the nineteenth century, it ceded land to Harrison (1805, 1866, 1877) and Naples (1834, 1856); and annexed land from Denmark and Fryeburg (1842, 1847).
The village faces Highland (or Duck) Lake, inviting summer boating and camping. The town boundaries stretch from its substantial frontage on Long Lake, north of Sebago Lake to Kezar Lake, nine mile to the west. In its western reaches, Bridgton retains its rural character.
The citizens of North Bridgton petitioned the General Court of Massachusetts to incorporate Bridgton Academy in 1808. They hired Bezaleel Cushman, a Dartmouth student, to teach the classics to secondary school students seeking to follow in his footsteps. It has evolved, from a public/private, coeducational secondary school in 1808, to a boys' boarding school in 1958, to an independent prep school primarily for postgraduate young men in 1964.
Shawnee Peak is a popular local skiing destination. Bridgton is typical of the growing communities of southern Maine that are attractive for their small town rural atmospheres.
Jim Mains, a major league baseball player, was born in Bridgton in 1922 and played one year, 1943, for the Philadelphia Athletics.
According to George Varney in the late 19th century,
The scenery in this town is delightful, both within and about the town; and the pleasure and comfort and safety of inland sailing may here be enjoyed to the full; the boats running from Harrison, at the extreme north of Long pond, to all points on Lake Sebago.
Bridgton has had significant population growth since 1970, helped no doubt by its recreational opportunities and proximity to the Portland.

Congressional Medal of Honor winners:
Korean War George D. Libby
Form of Government: Town Meeting-Select Board-Manager.
Additional resources
Barney, Peter S. The Bridgton and Saco River: A Technical and Pictorial Review. Kennesaw, Ga. A & M Publishing. South Dartmouth, Mass. Distributed by Sandy River Car Shops. 1987. (Narrow Gauge Railroad)
Bridgton, Maine, 1768-1968. Eula M. Shorey, Ed. Bridgton, Me. Bridgton Historical Society. c1968.
Cram, Marshall. An Address Delivered By Hon. Marshall Cram, At The Dedication Of The Town House In Bridgeton, January 8, 1852. Portland Me. Brown Thurston. 1852.
History Of Bridgton, Maine 1768-1994. Bridgton Historical Society. Camden, Me. Picton Press. c1993.
Davis, Blynn Edwin. Moody Bridges, Pondicherry, and the Beginnings of Bridgton. Bridgton, Me. Davis. 1959.
Knapp, Nahum. Nahum Knapp's Book. 1825-1846. (Catalogers Note: Ledger of a shoemaker from Bridgton, Maine, listing names of customers and work done for them, primarily making and mending shoes and boots. Customers paid for most work with cash but some was paid for by labor or by food or other goods. Nahum Knapp was born in Bridgton, Maine, in 1797, and owned a shoe and harness shop there. He married Nancy Bennett, also from Bridgton, in 1824. Nahum Knapp died in Bridgton, ca. 1880.) [University of Maine, Raymond H. Fogler Library, Special Collections]
McIntyre, Philip Willis. An account of the ceremonies at the dedication of the Soldiers' monument, Bridgton, Maine, July 21, 1910, containing also the addresses delivered on that occasion and biographical sketches. Bridgton? Me. 1910.
Norman, Craig S. Agent of Change: a preindustrial cultural landscape analysis in the colonial Maine frontier. 2000. (Thesis (M.A.)–University of Southern Maine, 2000) [University of Southern Maine (Portland). The Albert Brenner Glickman Family Library.]
Remembrances of Bridgton Past: Volumes I and II – Tales of old, a collection of articles appearing in The Bridgton News–dating back to the 1800s. Prepared by Judy Blake. Bridgton, Me. Bridgton Historical Society, 19–? [University of Maine, Raymond H. Fogler Library, Special Collections]
Robinson, Greenleaf L. Ledgers, 1879-1884. (Cataloger Note: Ledgers recording work done for customers from 1879 to 1884, primarily shoeing horses. Greenleaf L. Robinson was a blacksmith in Bridgton, Maine.) [University of Maine, Raymond H. Fogler Library, Special Collections]
Varney, George J. A Gazetteer of the State of Maine. 1881. p. 131.
W.M. Staples (Firm). Ledger C. 1897-1899. (Cataloger Note: Winburn M. Staples built a store in Bridgton, Maine, around 1885 in partnership with Abel H. Harriman. Staples and Harriman sold their business to John Roes and Byron Harnden in 1892, although the store seems to have retained its original name. Winburn Staples was also founding president of Bridgton's second bank, sat on many boards and committees, and represented Bridgton in the Maine legislature as both a senator and a representative.) [University of Maine, Raymond H. Fogler Library, Special Collections]
National Register of Historic Places – Listings
Cleaves, Benjamin, House, South High Street
Davis, Dalton Holmes, Memorial Library
]Main Street] The Library is a tall modest Neo-Classical Revival style one-story tan colored brick building. [See photo above.] The virtually unaltered library is at a small corner lot in a mixed residential commercial area. Bridgton's public library history dates from about 1819 with the organization of the Bridgton Library Society, followed by several other similar societies. A library was established in 1867 by local businessmen and a Reading Association was founded in 1876.
The Public Library was incorporated in 1895 with members charged a $1 annual fee. The collection was first housed in a commercial building. A bequest by Dr. Davis enabled the construction of a new, more substantial building dedicated in 1913. It later received the private library of Bridgton native former Governor Henry B. Cleaves.*
Farnsworth House, Maine Route 17 North Bridgton
Peabody–Fitch House, Off Ingalls Road South Bridgton
Perry, William F., House, 6 Main Hill
South Bridgton Congregational Church, Fosterville Road South Bridgton
Stone House, Burnham Road
Wales and Hamblen Store, 134 Main Street
Walker Memorial Hall, Lower Ridge Road