| Year | Population |
| --- | --- |
| 1970 | 895 |
| 1980 | 742 |
| 1990 | 647 |
| 2000 | 612 |
| 2010 | 610 |
Geographic Data
N. Latitude
46:25:05
W. Latitude
67:51:03
Maine House
District 145
Maine Senate
District 2
Congress
District 2
Area sq. mi.
(total) 40.0
Area sq. mi.
(land) 38.8
Population/sq.mi.
(land) 15.7
County: Aroostook

Total=land+water; Land=land only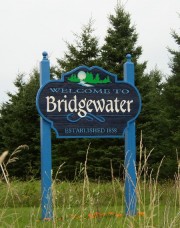 [BRIJ-wat-er] is a town in Aroostook County, incorporated on March 2, 1858 from portions of the Bridgewater Academy Grant R1 Plantation and the Portland Academy Grant Plantation.
Farming has been the major economic force in the town since the nineteenth century.  It is home to Wood Prairie Farm, an organic seed and food products source with catalog and online listings.
The town is located on U.S. Route 1, just south of Mars Hill. Bounded on the east by Canada, it hosts a U.S. Customs station at the junction of Blaine Road and Bridgewater Corner Road.
In 1886, here is what George Varney's Gazetteer had to say:
The sheets of water are two ponds lying near together, in the northern part of the town, called the "Bridgewater Lakes," and Portland Lake. Each of them contains about 150 acres. The town has lumber mills, a tannery, starch-factory, a steam flour-mill, a buckwheat mill, and other manufactures common to small villages. . . . Hay, wheat, oats, barley, buckwheat and potatoes are cultivated and yield well.  . . . The town sent 25 men to put down the rebellion, of whom 4 were lost.. The churches in town are Free Baptist and Methodist. Bridgewater has five public schoolhouses . . . .
By the time the Town Hall was built in 1894, "the village boasted four general stores and a dealer in watches, clocks and jewelry, as well as one in furniture. There was also a lumber and shingle mill, a flour and starch mill, a manufacturer of caskets, and two blacksmiths."*
In 2003 the Golden Age Club and Extension occupied an apparently former school on U.S. Route 1 at Boundary Line Road.
A multi-use pedestrian, ATV/snowmobile trail crosses U.S. Route 1 north of the village.  In 2011 it was also part of the International Appalachian Trail route.
Form of Government: Town Meeting-Select Board-Manager.
Additional resources
Austin, Isaac. Account Book, 1826-1878. Cataloger Note: A volume used by Isaac Austin to record information about his work, mostly as a farm laborer, and the use of his horses and oxen. Entries in the volume are headed Windsor, Hartland, Bridgewater, and Lowell, Maine. The book was also used from 1874 to 1878 by N. I. Austin to record his time working on roads, shoveling, hauling shingles, threshing, etc. [University of Maine, Fogler Library, Special Collections.]
Brewer, Floyd I. A Dutch-English Odyssey: Stories of Brewer and Estey Families in North America, 1636-1996. Delmar, N.Y. F. I. Brewer. 1997.
Collins, George Henry, 1851-1930. Elm Brook Farm: or my first experience in raising vegetables and a family. 19–? [University of Maine, Presque Isle, Special Collections.]
*Maine. Historic Preservation Commission. Augusta, Me.   Additional text and photos from National Register of Historic Places: http://pdfhost.focus.nps.gov/docs/nrhp/text/89002339.PDF and http://pdfhost.focus.nps.gov/docs/nrhp/photos/89002339.PDF
Rideout, Annie E. History of Bridgewater, Maine. Manchester, Me. Falmouth Publishing House. 1953.
Varney, George J. A Gazetteer of the State of Maine. 1881. p. 130.
National Register of Historic Places – Listings
Bridgewater Town Hall and Jail
[U.S. Route 1] Bridgewater's Town Hall and Jail are a little altered pair of buildings prominently sited in the center of the village. The jail represents an important aspect of the town's early twentieth century role in providing a facility for incarceration. Built in 1894 to house town meetings, community functions, and fraternal gatherings, the Town Hall is significant for its association with these activities and for its architectural prominence.
Construction of the Town Hall followed a fire that destroyed the meeting space at "The Corner." The two-story building was to provide space for future town needs as well as a lodge room, ante-rooms, dining room, and a kitchen. The Odd Fellows Lodge purchased the second floor for $1,200. It was also used by the Rebekah Lodge and the Grange. The Town Hall is the most historically significant building associated with the governmental and civic organizations that it housed. The town offices are in a new facility. *