| Year | Population |
| --- | --- |
| 1970 | 454 |
| 1980 | 598 |
| 1990 | 674 |
| 2000 | 782 |
| 2010 | 806 |
Geographic Data
N. Latitude
44:30:48
W. Latitude
69:26:08
Maine House
District 90
Maine Senate
District 13
Congress
District 1
Area sq. mi.
(total) 39.5
Area sq. mi.
(land) 38.9
Population/sq.mi.
(land) 52.5
County: Lincoln

Total=land+water; Land=land only
[BREHM-en] is a town in Lincoln County, incorporated on February 19, 1828 from a portion of Bristol. It traded land three times with Waldoboro (1830, 1853, and 1856). Bremen made its final acquisition on April 3, 1929: Cow Island in Muscongus Bay, just south of Bremen Long Island.
First called Broad Cove, Bremen lies on the west bank of the Medomak River, bounded by Waldoboro on the northeast, Damariscotta on the west, and Bristol to the south. It includes the villages of Broad Bay, Medomak and Muscongus.
Several large islands lie offshore in the Medomak River and Muscongus Bay. Bremen Long island in 1880 had a year round population of 143. Hog Island, home since 1936 the Todd Wildlife Sanctuary, is owned by the National Audubon Society
According to Brunelle, "Germans emigrated to this area in the mid-18th century having been misled into believing they would find a prosperous city in this wilderness region."
Apparently they named it, optimistically perhaps, after the German city. The German Protestant Cemetery is just north of Bremen in West Waldoboro.
Located on state Route 32 at the confluence of the Medomak River and Muscongus Bay, the main settlement is on Keene Neck.
The southern end of the neck offers the Rockomock Nature Trail, while nearby Hog Island hosts the Todd Wildlife Sanctuary.
The 165-acre Berger Preserve spans the width of Bremen Long Island, with varying terrain, a white sand beach, and 2,000 feet of frontage on the Medomak River. Accessible only by water, it is managed by the Medomak Valley Land Trust.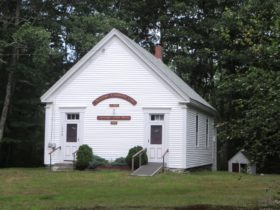 The 1873 Muscongus schoolhouse was built on land donated by the Woodbury/Bryant families. The school closed in 1942 and was then donated by Adeline McLaughlin, niece of Mr. Woodbury, to the Muscongus Community Club. Officially formed in 1947, the Club has by-laws to follow for the support of the building.  While available for dinners, weddings and other functions, in 2013 the Club reported financial difficulties in performing its mission.
Form of Government: Town Meeting-Select Board.
Additional resources
Gibbs, Iris. Bremen Bygones. c1976. [University of Maine, Raymond H. Fogler Library, Special Collections; University of Maine at Farmington, Mantor Library; Maine State Library]
Johnston, John. A History of the Towns of Bristol and Bremen in the State of Maine, Including the Pemaquid Settlement. Albany, N.Y. J. Munsell. 1873.
*Maine. Historic Preservation Commission. Augusta, Me.   Text and photos from National Register of Historic Places: http://pdfhost.focus.nps.gov/docs/nrhp/text/xxxxxxxx.PDF and http://pdfhost.focus.nps.gov/docs/nrhp/photos/xxxxxxxx.PDF
Bremen Town House, former: 00000372.PDF
Cora F. Cressey, Schooner: 90000586.PDF
Weston, Daniel, Homestead: 79000157.PDF
Osier, John Willis. As I Remember. 2010? [University of Maine, Raymond H. Fogler Library, Special Collections]
Town of Bremen, Maine. Annual 2013 Town Report.
Weston Family. Account Books. (Cataloger Note: Account books of Arunah, Daniel and Eliphaz Weston of Bristol (later Bremen), Maine. In addition to farming, [Arunah, born in 1746] was sometimes employed in ship building. The volumes record items sold to various individuals and payment received. Goods sold include rum, sugar, tea, hay, turnips, etc. Many of the payments were made by barter, including with days of labor or with materials such as timber, hay or beef. [University of Maine, Raymond H. Fogler Library, Special Collections]
National Register of Historic Places – Listings
Bremen Town Hall, Former
Rte 32., 0.2 miles North of Medomak Road, Medomak] Erected in 1874 and enlarged in 1938, the former Bremen Town Hall is a two-story frame building that played an important role in the community's history as a meeting hall for a number of organizations. Originally built for the Good Templars, an international temperance organization, the building began to be used in part for town meetings beginning in 1877. [See photo above.]
At that time the town rented the meeting space for $12. In 1884 the Good Templars deeded the building to the town, which used it until 1959. The building served the community for a variety of purposes, including a library, meetings of the Grange, public summers and shows. Between 1954 and 1959 it was also used as a classroom for 4th grade students. In small rural Maine towns it is not uncommon for a building like the former Town Hall to be the focal point of community events and activities. In Bremen, the events which have defined its social and governmental history have been largely centered in this building.*
CORA F. CRESSEY, Keene Narrows
The 1902 five-masted schooner Cora F. Cressey in 1988 was aground but substantially above water on the west shore of Keene Narrows in Bremen. She lies roughly parallel to the shore, her bow facing north, as a breakwater for the Keene Narrows Lobster Company. The hull lies on an even keel and is filled with mud to an undetermined depth. As built, the Cressey was a five-masted schooner, produced by the Percy and Small yard on the Kennebec River at Bath. Built of wood, she was launched on April 12, 1902 and was registered at 2,499 gross and 2,089 net tons. She is 273 feet long, 45.4 feet wide with a depth of hold of 27.9 feet. [Photo from Peabody Museum, Salem, used in application for recognition by the National Register of Historic Places.]
Her high bow design reportedly enabled her to ride out the so-called "Wyoming gale" of March 1924, when the world's largest six-masted wooden schooner, The Wyoming, was lost near Pollock Rip Lightship on Nantucket Sound in March 1924.
The Cressey's masts were removed at east Boston in 1938. She was then towed to Bremen and filled with sand to serve as a breakwater. A hole was cut into her starboard side to allow shore side access to her "tweendecks" then in use as a lobster pound. In the spring of 1988, approximately 40 feet of her stern fell into the cove. The bowsprit has fallen; her main deck has largely collapsed, yet her remaining hull largely retains its shape. Some machinery, such as the after capstan and a windlass, survive. Other sections were removed to the Maine Maritime Museum in Bath, together with other items of her equipment.*
Weston, Daniel, Homestead
[West of Medomak on Maine Route 32]This large Federal house reflects the position and background of its builder, Daniel Weston, son of pioneer settlers and a leading figure in early Bremen. His uncle and his father purchased 320 acres of rich timberland at Greenland Cove on Muscongus Bay in 1772. His uncle died in a shipwreck in 1788 and his father inherited the property and built a homestead, no longer standing, close by the present house.
His son Daniel, born in 1783, became a successful shipbuilder and built the present house in 1805. A building of undeniable charm and the most impressive in the community, it clearly demonstrates the idiosyncrasies of its builder and bears the stamp of his craft. The curiously wide proportions of its windows and their relatively large size are at once evident. However, on the inside the shipbuilder's art has been used to round the walls upward and inward into ceilings at least a foot higher than would be expected. Fine woodwork, often curved, throughout the house also bears the stamp of the shipwright. The Weston house remained in the family until it was sold in 1939.* [Frank A. Beard photo]