| Year | Population |
| --- | --- |
| 1970 | 569 |
| 1980 | 888 |
| 1990 | 1,103 |
| 2000 | 1,186 |
| 2010 | 1,290 |
Geographic Data
N. Latitude
45:05:18
W. Latitude
68:54:38
Maine House
District 137
Maine Senate
District 4
Congress
District 2
Area sq. mi.
(total) 41.3
Area sq. mi.
(land) 41.3
Population/sq.mi.
(land) 31.2
County: Penobscot

Total=land+water; Land=land only
[BRAD-frd] is a town in Penobscot County, incorporated on March 12, 1831 from Blakesburg Plantation, which was organized in 1820.
Named after Bradford, Massachusetts, its first settlers arrived in 1804 to clear the land. A few others came in the next several years until, by 1831, the population stood at just over 400. Typical of the area's boom times, it reached 1,000 ten years later. Population peaked at 1,558 in 1860 and drifted down to 569 in 1970 before slowly bouncing back in recent years.
Bradford village, also known as Bradford Corner, lies at the intersection of routes 11, 155 and 221. The library, general store and Baptist Church are the main attractions.
John B. Curtis Public Library has been recognized as one of America's "historic places," and is home to the Bradford Heritage Museum and Historical Society.
In the early 20th century, Bradford Corner hosted an auto garage and wagon shop and Kingsbury's Store, which housed a post office.  H. M. Hall, a blacksmith, had his shop where the library now sits.
Bradford is a rural community with no lakes or mountains.  However, a recreational trail has been established off the Storer Road on what was once a portion of the Isthmus Road. In January 2014 it was closed due to "saturated soils."
A section of Maine Public Reserved Land is located in the northeast of the township.  It is shared with LaGrange (see details in that article).
Several small, named villages dot the landscape: Bradford Center, North Bradford, Huntington Mill, Storers Corner and, in the southeast corner, Bradford Station.
Storers Corner is literally just that: a corner.  The corner  now is a scene of abandoned buildings and vehicles reminiscent of long forgotten activity, as illustrated below.
While, of course, times change the landscape, Bradford retains a significant number of intact farm buildings and working farms, such as these on Route 155.*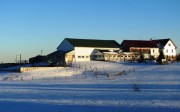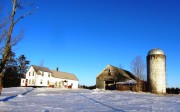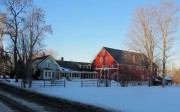 The fire department, which used to house the town office, and the new town office and community center, are in Bradford Center.
Some historical notes:
The Free Will Baptist Church was organized in 1827.  The church building was completed in 1848.
A library organization was formed in 1852.  Shares in the library where $2 each, with dues of 20 cents every six months for the purchase of books.  The John B. Curtis Free Public Library was dedicated in 1915 from a bequest of that man who had grown up the the town and later became wealthy.  The library was designed by noted architects John Calvin Stevens and John Howard Stevens.
On December 25, 1874, two months after the grange movement entered Maine, Bradford's Independent Grange was established.  The hall itself came years later.
Telephones arrived in 1906, open for use between 7 a.m. and 9 p.m, with a switchboard in the home of A. G. Young, near the church.  Operators were known as the "Hello Girls."
Form of Government: Town Meeting-Select Board-Manager.
Additional resources
*Geo locations for the farms, left to right: N45° 5′ 20.88″ W68° 53′ 55.02″; N45° 6′ 10.20″ W68° 53′ 43.28″; N45° 4′ 44.32″ W68° 53′ 47.17″.
The Bradford Heritage Scrapbook. Bradford, Me. The Bradford Heritage Museum and Historical Society. 1981. [Curtis Memorial Library in Brunswick]  Source of early history references.
Corliss, Stephen L. Twelfth Census of the United States: Bradford Town, 1900. [Bangor Public Library]
**Maine. Historic Preservation Commission. Augusta, Me. Text and other photos from National Register of Historic Places: http://pdfhost.focus.nps.gov/docs/nrhp/text/97000310.PDF and http://pdfhost.focus.nps.gov/docs/nrhp/photos/97000310.PDF
National Register of Historic Places – Listings
Curtis, John B., Free Public Library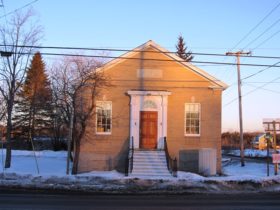 [Junction of Maine Route 11 and Maine Route 221, Northeast corner] The Library is a one-story Neo-Classical Revival style brick building that rests on a high granite block foundation. Its combination of gable front orientation, monumental front granite steps, and high platform impart an image of a classical temple. It stands at one end of the small village center of Bradford.
Designed by the Portland architectural firm of John Calvin and John Howard Stevens and built in 1915, the Library is a distinctive one-story brick building. It was given to the library association by John Bacon Curtis, who prospered in a variety of business ventures in Bangor, Portland and later Nebraska.
Curtis (1827-1897) was born in Hampden, but his family moved to Bradford during his childhood. He joined his father in the lumber business when they got the idea of manufacturing spruce gum. In 1848 the family briefly relocated to Bangor. Recognizing the value of placing their business near rail connections, they moved to Portland about 1850. John B. Curtis is said to have invented a machine that greatly improved the process of shaping, wrapping, and packing the gum. After his father's death in 1869, he broadened his business to include shipbuilding, establishing a steamship line to serve the islands of Casco Bay. At his death, Curtis was living in Portland's Deering neighborhood.** [See another photo above left.]