| Year | Population |
| --- | --- |
| 1970 | 858 |
| 1980 | 1,629 |
| 1990 | 2,207 |
| 2000 | 2,727 |
| 2010 | 3,061 |
Geographic Data
N. Latitude
44:03:39
W. Latitude
69:58:04
Maine House
District 55
Maine Senate
District 23
Congress
District 1
Area sq. mi.
(total) 43.7
Area sq. mi.
(land) 43.5
Population/sq.mi.
(land) 70.4
County: Sagadahjoc

Total=land+water; Land=land only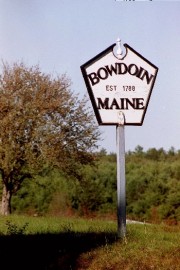 [BOWE-dun] is a town in Sagadahoc County, incorporated on March 21, 1788 from the early plantation of West Bowdoinham. In 1799 it ceded land to form Thompsonborough, whose name changed to Lisbon in 1802, and ceded additional territory to Lisbon in 1834.
Settled before the Revolutionary War, and once known as "Plantation of West Bowdoinham," it was finally named for James Bowdoin II, an early governor of Massachusetts, whose son James III arranged for the establishment of Bowdoin College. As was typical of town at the time, Bowdoin had fifteen school houses in 1870; in 2010 it had one elementary school.
In 1907 Governor William T. Cobb stood by the monument at Bowdoin Center and dedicated it to the memory of all Bowdoin Civil War veterans. One hundred twenty-eight names were inscribed there. The cannon had been dismantled and brought up from Fort Popham.
Bowdoin has more than tripled in population since 1970, and increased nearly 24% between 1990 and 2000. Still rural, the town is becoming a commuter community with easy access to Interstate 95 and to the Lewiston-Auburn area. One of its attractions is Rocky Ridge Orchard, which offers home made food, pumpkins and apples.
In 1959 four small schools were closed and the Bowdoin Central School was opened.  By 2002 the forty plus year-old school was closed in favor of a new one by the same name.
The Old Bowdoin Town Office, now the Historical Society, was moved from its original location on the Litchfield Road to the current municipal/historical center.
Mitchell and Savage Maple Products operation may be found on the West Burrough Road, if you are up for a short hike in the thick of mud season.
Form of Government: Town Meeting-Select Board.
Additional resources
Bowdoin Historical Society (Me.). Bowdoin Bicentennial, 1788-1988: Pictorial History of Bowdoin, Maine, 1788-1988. Collected and compiled by the Bowdoin Historical Society. [Bowdoin, Me. The Society. 1988] (Auburn, Me. Falcon Press)
http://old.link75.org/bcs/grade4/BowdoinHist/picthist.htm (accessed September 27, 2011)
Varney, George J. A Gazetteer of the State of Maine. 1881. p. 64.
National Register of Historic Places – Listings
First Baptist Church of Bowdoin and Coombs Cemetery
[off West side of US 201, .65 north of junction with Maine Route 125 in Bowdoin Center.] Built in 1839, the Church is a small wooden frame building that exhibits transitional Federal/Greek Revival style characteristics. It was built to replace a much larger structure destroyed by fire several years earlier. Located adjacent to the church building is the Coombs Cemetery, a burial plot established at least two decades prior to the construction of the church, but whose later history is linked to it.
Church photos by Kirk F. Monhey for the Maine Historic Preservation Commission, which is the source of the information in the historical note.