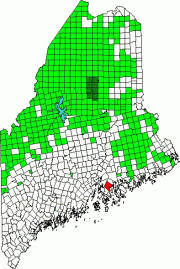 | Year | Population |
| --- | --- |
| 1970 | 1,327 |
| 1980 | 1,644 |
| 1990 | 1,941 |
| 2000 | 2,390 |
| 2010 | 2,686 |
Geographic Data
N. Latitude
44:24:15
W. Latitude
68:34:07
Maine House
District 133
Maine Senate
District 7
Congress
District 2
Area sq. mi.
(total) 86.7
Area sq. mi.
(land) 62.5
Population/sq.mi.
(land) 43.0
County: Hancock

Total=land+water; Land=land only
[BLOO HILL] is a town in Hancock County, incorporated on February 2, 1789 from Blue Hill Bay Plantation. It annexed land from Sedgwick 1831, and ceded land to Penobscot in 1845.
The National Register of Historic Places has this brief history:
Settled in 1762 by families from Andover, Massachusetts, Blue Hill emerged in the 19th century as a thriving diversified community with important maritime ties. With the arrival of its first settled minister, the remarkable Jonathan Fisher, in 1796 and the chartering of Blue Hill Academy, the community became a remarkably cosmopolitan center in a then remote area.
Lumbering coincided with earliest sawmill in 1765. Shipbuilding was an important part of the economy the century 1792-1891. The early 19th century saw the development of mills: cotton, carding and fulling, and grist plua a tool shop, furniture mill and a cooperage. Granite quarrying for export began in 1816; in 1836 eighteen large cargoes were shipped for use in construction at Charlestown Navy Yard in Massachusetts.
In 1876 copper was discovered a mining boom followed. Boarding homes and more primitive dwellings sprang up and Joseph Holt's early brick block was refurbished as a mining exchange and fine hotel called the Pendleton House. The boom collapsed in 1881. The Pendleton House remains as the sole reminder of this brief episode.
Since the 1870s, Blue Hill has lured large numbers of summer visitors and residents who have built homes largely along the shore. The intellectual flavor of Blue Hill has been carried on by individuals such as composer Ethelbert Nevin and noted Maine author Mary Ellen Chase.
Summer activities at the Kollegewidgwok Yacht Club were well attended, at least in 1934 when the Northeast Harbor folks dropped by.  Northeast Historic Film offers a look into the past with a short video clip from its amateur film collections. [Just close the new window tab to get back to the Encyclopedia.]
Mary Ellen Chase, a writer reflecting local culture and history, was born in the town in 1887. Among her works are A Goodly Heritage and Mary Peters. Her biography of Jonathan Fisher (1768-1847) chronicles the life of this "remarkably versatile and energetic . . . scholar, artist, craftsman and farmer who brought culture and dignity to a frontier village in the wilderness." (Isaacson, p. 345) The Jonathan Fisher House he designed and built is one of the town's major assets and is on the National Register of Historic Places (see below).
The old Blue Hill Academy, now an American Legion Post, has long since been replaced by the George Stevens Academy, the town's high school.
The the 1815 Holt House is home to the Blue Hill Historical Society. In 1902 two unions were formed that illustrate the local industry of the time: the Granite Cutters Union in Blue Hill, and the Quarrymen's Union in East Blue Hill.
Blue Hill was the original site in 1986 of Northeast Historic Film, a film archive and preservation center now located in the 1916 Alamo Theater in Bucksport. See a brief amateur film clip of the 1938 Blue Hill Fair.
The town is a fast growing coastal community, leaping in population by over 23% from 1990 to 2000.
[Photos taken 2003]
Form of Government: Town Meeting-Select Board.
Additional resources
Image credit: "Blue Hill Birdseye View 1896." LC classification: G3734.B57A3 1896 .B5 Repository: Library of Congress Geography and Map Division Washington, D.C. 20540-4650 USA dcu. Digital ID: G3734B Pm002432 Http://Hdl.Loc.Gov/Loc.Gmd/G3734B.Pm002432.  Image source:  http://www.loc.gov/item/97687303 (accessed March 19, 2013)
Brig Empress: Blue Hill. 1825-1834. [Cataloger Note: An account book kept for the brig Empress of Blue Hill, Maine, apparently by one of its owners, Jonah Holt of Blue Hill. The volume contains financial information about outfitting and repairing the ship, copies of letters dated 1829 from Holt about selling the ship at public auction, and a settlement of accounts of the owners in 1830.]
Candage, Rufus George Frederick, 1826-1912. Historical Sketches of Bluehill, Maine: Volumes 1&2, Indexed. Ellsworth, Me. Hancock County Publishing Company, Printers. 2000.
Chase, Mary Ellen, 1887-1973. A Goodly Heritage. Thorndike, Me. Thorndike Press. [1978], c1932.
Clough, Annie L. Head of the Bay: Sketches and Pictures of Blue Hill, Maine, 1762-1952. Ellsworth, Me. Downeast Graphics & Printing. Inc. 1983.
Hinckley, William. Bits of Local History. Blue Hill, Me. Penobscot Bay Press, Inc. 1989.
*Maine. Historic Preservation Commission. Augusta, Me.   Additional text and photos from National Register of Historic Places: http://pdfhost.focus.nps.gov/docs/nrhp/text/xxxxxxxx.PDF and http://pdfhost.focus.nps.gov/docs/nrhp/photos/xxxxxxxx.PDF
Blue Hill Historic District: 80000220.PDF
Jonathan Fisher Memorial: 69000031.PDF
McCall, Rob. Small Misty Mountain: The Awanadjo Almanack: Nature'sYear in a Downeast Village. Sedgwick, Me. Wainscott, NY. Pushcart Press. c2006.
McIntyre, Ernest Eugene, 1880-1957. Store Journals, 1892-1959. [Cataloger Note: A collection of store journals including ledgers, cash books, check books, and personal accounts. . . . Ernest Eugene McIntyre was born in Blue Hill, Maine in 1880 and died there in 1957. He owned McIntyre's Market in Blue Hill between 1914 and 1957.]
Murphy, Kevin D. Jonathan Fisher of Blue Hill, Maine: Commerce, Culture, and Community on the Eastern Frontier. Amherst, MA. University of Massachusetts Press. c2010.
Shaw, Richard R. Around Blue Hill and Ellsworth. Charleston, SC Arcadia Pub. c2008.
Souvenir of Blue Hill: Hancock County, Maine. E.A. Macomber. c1895.
Sweetall, Robert. Blue Hill, Maine: A Bibliography. Blue Hill, Me. Blue Hill Historical Society. c1989.
Wood, Esther. Deep Roots: A Maine Legacy. Camden, Me. Yankee Books. 1990.
National Register of Historic Places – Listings
Barncastle, South Street
Blue Hill Historic District
[Maine Route 15, Maine Route 172, Maine Route 176, and Maine Route 177] Blue Hill is an unspoiled survivor of a 19th century Maine coastal community containing excellent examples of prevailing architectural styles of the period. The District is comprised of over seventy historically significant buildings including residential, commercial and public located at the head of Blue Hill Harbor. Most of the buildings have undergone little change so that the streetscapes maintain in homogeneity and cohesiveness the flavor of the area as it was a century ago.
The buildings include the 1815 Holt House, c. 1830 Blue Hill Inn, 1833 Blue Hill Academy, 1898 George Stevens Academy Building [See photos above.] among 70 others.
East Blue Hill Library, Miliken Road East Blue Hill
East Blue Hill Post Office, 13 Curtis Cove Road
Hinckley, Ward, House, Address Restricted
Jonathan Fisher Memorial
[Southwest of Blue Hill on Maine Route 15, (Outer Main Street) Blue Hill]
[Southwest of Blue Hill on Maine Route 15, (Outer Main Street) Blue Hill] Jonathan Fisher built his first home in 1796, torn down by a Fisher descendant in 1896. It formed the ell of the present four-room, two story house built in 1814, largely by the Parson himself. The ell was fell into disrepair but restoration was begun in 1954. Within the home are many original furnishings, including an unusual clock built by Fisher himself. The barn, also built in the late 1790s, is still standing.
Fisher was born in 1768 in New Braintree, Massachusetts, educated at Harvard College 1788-1795 in liberal arts and divinity. He came to Blue Hill in 1796, as the first settled pastor of the Congregational Church for sixty families. He was a linguist, printer, inventor, artist, architect, teacher, poet, botanist and father of nine children.
His ministry lasted 41 years and he left a record which is the admiration of scholars, artists, authors, naturalists and historians. From his time as a divinity student at Harvard, he kept a journal noting the events of his life and of the world around him. This record of life in early 19th century Maine was written in a code of his own and the contents of the Parson's journal remained a secret until Edith Weren set about deciphering them. Mrs. Weren assisted her sister Mary Ellen Chase in writing her biography, Jonathan Fisher, a Maine Parson, 1768-1847. Fisher himself wrote the well-known Scriptural Animals, which contains 142 woodcut prints of his own design.*
Peters, John, House, off Maine Route 176