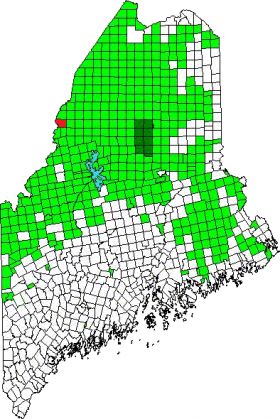 The township (T6 R19 WELS) in Somerset County is on the border with Quebec in western Maine. It has no improved roads, but a substantial amount of unimproved roads serving forestry operations. The small Little Southwest Brook rises here and flows northward, finally entering the St. John River in T9 R18 WELS in northern Somerset County.
According to The Trust for Public Land, (slightly edited and condensed):
With more than 350,000, the tract is believed to have more maple sugar taps than any other single property in the United States. Big Six accounts for roughly 23% of Maine's maple sugar production and 4% of the U.S. total production. The property consists of roughly 16,000 acres of traditional working forest, 5000 acres of active sugarbush, and 2000 acres of wetlands.
The entirety of Big Six has been designated critical habitat for federally listed threatened Canada lynx. One-third of the property is within an area designated for the federally listed endangered Atlantic salmon.
The property contains extensive wetlands and 39 miles of streams that make up the headwaters of both the Saint John and and Penobscot Rivers.  The township has also been identified as important for climate change adaptation and as a vital wildlife corridor connecting Canada and the United States. The property is home to many game species and directly supports commercial guiding operations.
Additional resources
The Trust for Public Land. "Maine Forest Legacy Program Information Form." Portland, Me. June 13, 2013. http://www.maine.gov/dacf/parks/get_involved/adivsory_councils/docs/bigsixforest.pdf (accessed March 20, 2014)