| Year | Population |
| --- | --- |
| 1970 | 19,983 |
| 1980 | 19,638 |
| 1990 | 20,710 |
| 2000 | 20,942 |
| 2010 | 21,277 |
Geographic Data
N. Latitude
43:27:56
W. Latitude
70:26:36
Maine House
Districts 9,11,12
Maine Senate
Districts 32
Congress
District 1
Area sq. mi.
(total) 34.5
Area sq. mi.
(land) 30.0
Population/sq.mi.
(land) 709.2
County: York

Total=land+water; Land=land only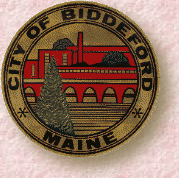 [BID-ih-frd] City in York County, was incorporated as a town on November 17, 1718 and as a city in 1855. It was originally part of the town of Saco, its "twin" city.
Martin Pring in 1603, Samuel De Champlain in 1604, and John Smith in 1614 explored the area of the lower Saco River valley.
Physician Richard Vines established what is possibly the earliest settlement in Maine in 1616 at Biddeford Pool, then known as Winter Harbor. Vines spent the winter of 1616-17 there, having been sent by Sir. Fernando Gorges. He and John Oldham returned in 1630, settling on the side of the river now occupied by Biddeford; in 1631 others arrived and settled on the east, or Saco, side.
Some historians suggest that other early settlers had emigrated from Bideford in Devonshire, England giving the area its name. Although Saco (including Biddeford) was destroyed during Queen Anne's War, the Massachusetts General Court authorized its resettlement, which began in 1714.
An anecdote from A Gazetteer of the State of Maine:
Captain Samuel Jordan . . . opened a store near Biddeford Pool in 1717. His home was secured from attacks from the Indians by a strong stone wall which surrounded it. . . .
During the first century of the Saco settlements a numerous tribe of Indians dwelt upon the upper waters of the river. Squando, their chief sachem, became deeply incensed against the English, because of an experiment made by some English sailors, who overset the canoe containing his squaw and child in the river to see if the infant would swim, – according to the reports of the Indian children. The child died not long after, and and Squando determined on war.
By 1762 the population had reached 1,000. While lumbering was the major industry until the early nineteenth century, textile manufacturing dominated for 100 years from mid-century. First Irish, then French Canadians came to work in the mills. The French arrived after 1870 and by 1910 elected the first mayor from the French community.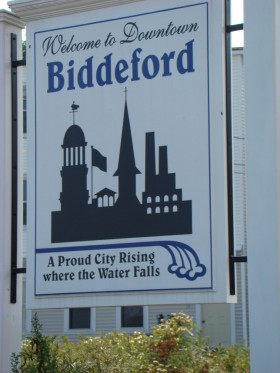 Biddeford is York County's largest city, a major industrial and commercial center. While many communities have been losing population, Biddeford, the state's sixth largest, has retained and expanded its number of residents. It hosts the University of New England.
In 1881, the City already boasted seven cotton mills running 165,000 spindles. The largest were the Laconia Company and the Pepperrell Company. The Boston and Maine, and the Portland, Saco and Portsmouth Railroads each had a station there.
The 1903 list of active labor unions reflects the local economy at the time: Bricklayers, Masons and Plasterers; Carpenters and Joiners; Cigarmakers; Iron Moulders; Loom Fixers [textiles]; Painters, Decorators and Paperhangers; Plumbers; Slasher Tenders [textiles]; Typographical.
Biddeford Pool, known in the 17th century as Winter Harbor, is both a village and a water body in the city. The village is at the eastern most point of land which virtually surrounds the Pool, just south of Wood Island. It was a destination for the Sokokis tribe as it moved periodically from the Fryeburg area to the coast to fish.
Biddeford was the home of 19th century U.S. Congress members Moses MacDonald and Daniel E. Somes, who was also Mayor 1855-1857.  It is the birthplace of baseball player Freddy Parent in 1875, who played for the Boston Americans and the Chicago White Sox from 1901 through 1911.
On May 7, 1964, Dr. Martin Luther King, Jr. visited St. Francis College, now the University of New England, and later traveled Bowdoin College, in his only trip to Maine.
Biddeford hosts two nature preserves managed by the Maine Audubon Society.
The East Point Sanctuary at Biddeford Pool is a thirty acre sanctuary offering beautiful ocean views and is considered one of the best spots for birding in southern Maine. A wide variety of waterfowl visit the point and harbor seals can be seen fishing off shore.
Wood and Stage Islands are both important nesting areas for waterfowl. A wooden boardwalk leads to an abandoned Coast Guard Lighthouse on Wood Island.
Form of Government: Council-Mayor-Manager.
Additional resources
Assumption College (Worcester, Mass.). French Institute. Conference (3rd : 1982). Quintal, Claire, Ed. The Little Canadas of New England : third annual conference of the French Institute/Assumption College. (Worcester, Massachusetts, March 13, 1982). Worcester, Mass. French Institute/Assumption College, 1983.
Bain, Caroline D. The Abenakee Club of Biddeford Pool, Maine: a centennial history. Exeter, NH: J.N. Townsend Pub., 1998.
Biddeford Public Library. An Introduction to Biddeford's History and a Chronological Outline of Events. Prepared by The McArthur Library, Biddeford, Me. 1944.
Butler, Charles L. Biddeford. Charleston, SC. Arcadia Pub. 2003.
Chadbourne, Ava Harriet. Maine Place Names and The Peopling of its Towns: Kennebec and Somerset Counties.
Downs, Jaques M. Cities on the Saco: A Pictorial History. Norfolk, Virginia: Downing Company, 1985.
Fairfield, John, 1797-1847. Governor Fairfield's letters. ("six letters on matters intimately connected with the local history of Biddeford and Saco." Biddeford, Me.: Biddeford Journal?, 1847?.
Folsom, George. History of Saco and Biddeford. Somersworth. NH. New Hampshire Publishing Co.; Portland: Maine Historical Society. 1975.
Guignard, Michael J. Ethnic Survival in a New England Mill Town: the Franco- Americans of Biddeford, Maine. 1976.
Guignard, Michael J. La foi, la langue, la culture: the Franco-Americans of Biddeford, Maine. New York?: M.J. Guignard. c1982.
*Maine. Historic Preservation Commission. Augusta, Me.   Text and photos from National Register of Historic Places: http://pdfhost.focus.nps.gov/docs/nrhp/text/xxxxxxxx.PDF and http://pdfhost.focus.nps.gov/docs/nrhp/photos/xxxxxxxx.PDF
Biddeford City Hall: 73000156.PDF
Marcil, George. Franciscans in Biddeford, Maine, 1933-1975. Montréal, Canada: Imprimerie des Franciscains, 1976.
O'Brien, Kerry A. Consuming Interests: Class, Ethnicity, and Consumption in Biddeford, Maine, 1890-1915. 1993. (Thesis (M.A.)–University of Southern Maine, 1993 )
Pepperrell Manufacturing Company. The Romance of Pepperrell: being a brief account of the career of Sir William Pepperrell, soldier, pioneer, American merchant and developer of New England industry, for whom the Pepperrell Manufacturing Company was named, and the towns of Saco and Biddeford in the state of Maine, wherein the first manufacturing unit of the Pepperrell Company was established. Boston, Mass. Pepperrell Manufacturing Company. c1943.
Scontras, Charles A. Two Decades of Organized Labor and Labor Politics in Maine 1880-1900. Orono, Me. University of Maine. Bureau of Labor Education. 1969.
Sylvester, Herbert Milton. The Sokoki Trail. Boston: W. B. Clarke. 1909.
Tatterson, Estelle M. Three Centuries of Biddeford: an historical sketch. 1916.
Varney, George J. A Gazetteer of the State of Maine. pp. 114-115, 117.
Yorke, Dane. A History and Stories of Biddeford. Biddeford, ME. McArthur Public Library. 1994.
National Register of Historic Places – Listings
Biddeford City Hall
Biddeford City Hall was designed by John Calvin Stevens (1855-1940) a leading Maine architect. Among Stevens' major works were the Eastern Maine Insane Hospital (1888), now Dorothea Dix Psychiatric Center, the City Hall in Portland and the Sweat Mansion in Portland (1909).
The City Hall is a large 3½ story brick building with clock tower and belfry. The first floor is faced with granite. It occupies a central place in the community with its tower, along with the tower of the Biddeford Textile Mill, forming the skyline of the city. Both are symbols of late 19th century Biddeford.*
Dudley Block, 28-34 Water Street
First Parish Meetinghouse, Old Pool Road
Flagg, James Montgomery, House, Street Martin's Lane
Fletcher's Neck Lifesaving Station, Ocean Avenue Biddeford Pool
St. Joseph's School, Birch Street
Tarr, John, House, 29 Ferry Lane
U.S. Post Office, 35 Washington Street
Wood Island Light Station, east side of Wood Island, Biddeford Pool