| Year | Population |
| --- | --- |
| 1970 | 3,136 |
| 1980 | 4,149 |
| 1990 | 5,995 |
| 2000 | 6,353 |
| 2010 | 7,246 |
Geographic Data
N. Latitude
43:18:20
W. Latitude
70:50:46
Maine House
District 5
Maine Senate
Dists 34,35
Congress
District 1
Area sq. mi.
(total) 37.6
Area sq. mi.
(land) 37.1
Population/sq.mi.
(land) 195.3
County: York

Total=land+water; Land=land only
[BER-wik] a town in York County on the New Hampshire border, was incorporated on June 9, 1713 having been named for an old English town in Dorsetshire bordering the English Channel, Berwick-upon-Tweed.*
Originally a much larger town, it set off land to Kittery in 1716, and ceded land to form the town of South Berwick in 1814, and the town of North Berwick in 1831.
After setting off more land to South Berwick (1841 and 1881) and to North Berwick (1875), the town finally stabilized to the borders it has today. Its downtown is on the east side of the Salmon Falls River, across a bridge from Somersworth, New Hampshire.  Berwick's town hall is near the river.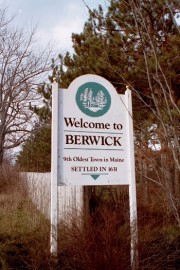 One of Maine's oldest communities, Chadbourne notes that settlements "appear to have been made as early as 1624. The titles were derived from Sir Fernando Gorges and from the Indian sagamores."
The mid-1600's saw substantial lumbering and the erection of a sawmill. In 1660 a group of Friends or "Quakers" sought refuge from persecution and settled there.
According to Nicole St. Pierre of the Old Berwick Historical Society, "our Scottish roots here in the area of the Berwicks go back more than 350 years."
She noted that "in Maine the name Berwick is connected to a group of 17th century indentured servants thought to have originated from the area of the town of Berwick on the Scotch-English border. Captured by the English at the Battle of Dunbar in 1650, they were brought here to build a sawmill known as Great Works on the river that today goes by that name. Many northern New England residents trace their ancestry to this group of Scotsmen." (News release from Old Berwick Historical Society, June 5, 2001)
On October 23, 1785 almost every mill and bridge in the town was destroyed by a flood that also affected Kennebunk and Saco. Berwick is the birthplace in 1770 of Peter Grant, a successful businessman whose house is on the National Historic Register in Farmingdale.
Congressional Medal of Honor winner:
ALPHONSO M. LUNT
---
Form of Government: Town Meeting-Select Board-Manager.
Additional resources
*See Glossary, source number 7.
Brownell, William. Journal and Day Book Beginning March 1st, 1827. 1827-1828. [Orono. University of Maine. Raymond H. Fogler Library. Special Collections.]
Chadbourne, Ava Harriet. Maine Place Names and The Peopling of its Towns: Kennebec and Somerset Counties.
Jewett, Sarah Orne. The Old Town of Berwick. Boston. 1894.
*Maine Historic Preservation Commission. http://www.maine.gov/tools/whatsnew/index.php?topic=mhpc_recent_listings&id=349682&v=article (accessed February 16, 2015)
Miscellaneous records of Berwick, Maine. Boston: New England Historic Genealogical Society. 1901-1929.
Murray, John Chick. Berwick. North Berwick, Me. 1891. [Orono. University of Maine. Raymond H. Fogler Library. Special Collections.]
Perley, Sidney. Historic Storms of New England.
Stackpole, Everett Schermerhorn. The First Permanent Settlement in Maine. Berwick, Me. Old Berwick Historical Society. 1968.
The Story of Berwick. Berwick, Me. The 250th Anniversary Committee. 1963. Somersworth, N.H. New Hampshire Pub. Co.
Webster, Millard D. Highlights of Berwick History. Berwick, Me. Webster. c1939.
Wilbur D. Spencer. ed. Statistics of Berwick, Maine Including Tax Lists of 1700, Militia Lists and a List of Revolutionary War Subscribers. Augusta, Me. W. D. Spencer. 1943.
National Register of Historic Places
Berwick High School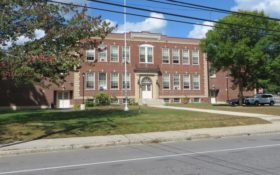 [45 School Street] The former 1928 Berwick High School  "is significant for its associations with the education of Berwick's children, providing public high school education to the community for over 80 years. In addition, the school represents early 20th century changes in educational practices resulting from legislated reforms to improve sanitary conditions, update curriculum, and operate schools more cost effectively. The high school building is also an important architectural landmark for the town and a good example of a type and period of construction, namely a 'modern' 20th century high school." *