| Year | Population |
| --- | --- |
| 1970 | 1,729 |
| 1980 | 2,188 |
| 1990 | 2,312 |
| 2000 | 2,557 |
| 2010 | 2,732 |
Geographic Data
N. Latitude
44:35:27
W. Latitude
69:31:06
Maine House
Dists 78, 79
Maine Senate
District 16
Congress
District 2
Area sq. mi.
(total) 29.1
Area sq. mi.
(land) 28.4
Population/sq.mi.
(land) 96.2
County: Kennebec

Total=land+water; Land=land only
Congressional Medal of Honor winners:
Civil War
FRANK W. HASKELL
Vietnam War
BRIAN L. BUKER
[BEN-tun] a town in Kennebec County, was incorporated as Sebasticook on March 16, 1842 from land set off from Clinton. Its name was changed to Benton on June 19, 1850 in honor of Missouri Democratic U.S. Senator Thomas Hart Benton.
Benton Station is a location in the town of Benton near the Maine Central Railroad tracks and the Kennebec River.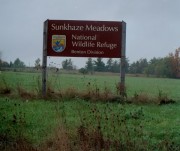 The Sunkhaze Meadows National Wildlife Refuge manages a refuge in Benton.
According to the Internet site of the National Audubon Society's National Wildlife Refuge Campaign Internet site,
The sedge wren, an endangered species in Maine, was observed on the Benton Unit while evaluating the area for a conservation easement prior to fee transfer. Small impoundments have been created to restore wetlands lost during private ownership.
Unity College utilizes the area as an outdoor classroom. 10 acres of hayfield/ pasture are maintained for upland nesting birds which depend on grassland habitat. The Unity Unit was acquired in conjunction with the Benton Unit. "…for the development, advancement, management, conservation, and protection of fish and wildlife resources …" "suitable for- (1) incidental fish and wildlife-oriented recreational development, (2) the protection of natural resources, (3) the conservation of endangered species or threatened species…"
Benton is the birthplace of longtime U.S. Congressional parliamentarian and U.S. Representative Asher C. Hinds.
The town's Maine Street (which includes Routes 139, 100, and 11) is just east, over the Kennebec River, from Fairfield.
For insights into mid-20th century education issues, read the "School Report" from the Benton Town Report of 1941.

Form of Government: Town Meeting-Select Board.
Additional resources
http://www.audubon.org/campaign/refuge/refuges/maine.html
*Maine. Historic Preservation Commission. Augusta, Me.   Text and other photos at National Register of Historic Places: http://pdfhost.focus.nps.gov/docs/nrhp/text/04000373.PDF and http://pdfhost.focus.nps.gov/docs/nrhp/photos/04000373.PDF
Benton Grange #458: 04000373.PDF
Colcord Farmstead: 05001468.PDF
Mitchell, H. E. The Clinton and Benton Register, 1904. Kent's Hill, Me. The H. E. Mitchell Publishing Company. 1904.
Town of Benton. New York. H.W. Blake & Co. 1892. Cataloger note: "Extracted from: Illustrated History of Kennebec County Maine, 1625-1799-1892 / editors Henry D. Kingsbury, Simeon L. Deyo"
Town of Sebasticook-Benton, Maine, 1842-1942. 100th Year Historical Survey Committee. Fairfield, Me. The Committee. 1942?
National Register of Historic Places – Listings
Benton Grange No. 458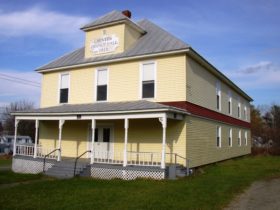 [Junction of River Road and School Drive] The Benton Grange No. 458 was established in 1906 . Initially members held their meetings in the Benton Station School but by 1910 they decided to build a grange hall. In October 1915 the Benton Grange Hall opened in time to host the annual Grange fair. That event included arts and craft displays, food, produce and school exhibits, sporting contests, lectures, awards, and suppers all of which were conducted in and around the new hall. The official dedication occurred on December 3, 1915.
As the town slowly lost its agricultural economy, the annual Grange fairs ended in the 1940s. The community has used the Grange for parties, weddings, stage performances, dinners and celebrations. Benton Boy Scouts have been associated with this Grange periodically. From 1915-1990, the second floor hall hosted the Annual Town Meeting. Voting was held in the upstairs cloak room. Historically and currently, the Benton Grange is an important and significant structure at the heart of this community.* [See photo above.]
Colcord Farmstead
[184 Unity Road] The Farmstead is named for John B. Colcord and his family, who built most of the 19th century structures. It was known as the Richardson Homestead since Captain Andrew Richardson bought the original land from the Kennebec Proprietors in 1786. Richardson, a soldier of the American Revolution, participated in the Battle of Bunker Hill before moving to Maine in 1786. He built a sawmill in Benton village and became a leading citizen, a selectman and a representative to the General Court in Boston in 1809 and 1810.
The Colcord Farmstead is a complex of fields and woods, house, barn, and outbuildings. The buildings generally represent domestic and agricultural activities from the 1880s, 1899, and the 1930s through the 1980s. It has been owned, in part or in whole, by at least 13 families since 1786, and has been farmed consistently, even as agriculture in Benton has declined. This property is recognized for the quality of late 19th century architectural design in the 1882 two-story Italianate style house, 1882 ell, and 1899 barn. A 25-foot windmill was added around 1937 and a sawmill was built in about 1950. The nearly 200 acre farm is a resource for understanding over 100 years of architectural and landscape design in an agricultural context.* (Christi A. Mitchell photos)
Reed, G. W., Travellers Home [Address Restricted]