| Year | Population |
| --- | --- |
| 1970 | 1,302 |
| 1980 | 2,043 |
| 1990 | 2,375 |
| 2000 | 2,978 |
| 2010 | 3,189 |
Geographic Data
N. Latitude
44:29:17
W. Latitude
69:50:568
Maine House
District 76
Maine Senate
District 17
Congress
District 2
Area sq. mi.
(total) 59.7
Area sq. mi.
(land) 43.3
Population/sq.mi.
(land) 73.7
County: Kennebec

Total=land+water; Land=land only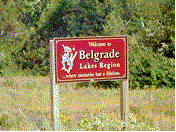 [BELL-grade] a town in Kennebec County, was first settled in the 1770's. Incorporated on February 03, 1796, it may have been named by John V. Davis, who was involved in the incorporation, for the Serbian city.
One version of the story is that, after it was captured by the Austrians in 1789, "The inhabitants of our Maine town, because of interest in the plight of the Serbians, named their town Belgrade." (Chadbourne)
By 1790, Washington Plantation boasted 159 inhabitants, and by the year of its incorporation as Belgrade, 250.
Over the next hundred years, it annexed land from Sidney, Dearborn (now dispersed to surrounding towns) and Rome, and gave up land to Mount Vernon in 1846.
Belgrade's population, more than double that of 1970, has shown continuous growth for the past several decades, slowly changing from a rural resort community to a residential suburb of Waterville and Augusta.
The town is a center for access to the Belgrade Lakes Region that attracts summer visitors to enjoy its fishing, boating and lakeside cottages.
Great Pond dominates the town and Belgrade Lakes village at the north end on Route 27 stands between Great Pond on the east and Long Pond on the west. Routes 8 and 11 are in the main village adjacent to Messalonskee lake, which extends into nearby Sidney and Oakland.
---
North Belgrade extends from the lakes to the town line with Smithfield on Route 8. I has its own fire station adjacent to an active sawmill.
Belgrade Lakes Village (2012):
---
Form of Government: Town Meeting-Select Board-Manager.  See the 2002 Town Warrant for insights into local government.

Additional resources
Camp Abena, a summer camp for girls on the Belgrade Lakes, Belgrade, Maine: thirteenth season, 1919. (promotional booklet and application) 1919. [Orono. University of Maine. Raymond H. Fogler Library. Special Collections.]
Castle, Robert C. Notebook, 1912-1916. (Cataloger note: "A notebook used by a farmer in Belgrade, Maine. The notebook was used between the years 1912 and 1916 to record farm products bought and sold, recipes, work done on his farm buildings, crops planted, and occasionally as a diary. Many of the records are about his poultry farm and the number of eggs that he sold." [Orono. University of Maine. Raymond H. Fogler Library. Special Collections.]
Chadbourne, Ava Harriet. Maine Place Names and The Peopling of its Towns: Kennebec and Somerset Counties.
Guptill, Robert A. Past and Present: Pictures and People of Belgrade, Maine, 1774-1976. Belgrade, Me. Heritage Committee of Belgrade Bicentennial Observance. 1976.
Yeaton, Carl et al. Town of Belgrade: Past and Present Pictures Places People 1796-1996. 1995.
National Register of Historic Places – Listings
Chandler Store, Maine Route 27
The Birches, off East side of Foster Lane, .15 miles South of jct. with Maine Route 27 Belgrade Lakes