Players Born in Maine
| | |
| --- | --- |
| Cuke Barrows, Gray | 1909-1912 |
| Del Bissonette, Winthrop | 1928-1933 |
| Clarence Blethen, Dover-Foxcroft [P] | 1923-1929 |
| Ralph Botting, Houlton [P] | 1979-1980 |
| Don Brennan, Augusta [P] | 1933-1937 |
| Rip Cannell, South Bridgton | 1904-1905 |
| Bill Carrigan, Lewiston | 1906-1916 |
| Wally Clement, Auburn | 1908-1909 |
| Bobby Coombs,  Goodwins Mills* [P] | 1933-1943 |
| Danny Coombs, Lincoln [P] | 1963-1971 |
| John Cumberland, Westbrook [P] | 1968-1974 |
| Harry Curtis, Portland | 1907-1907 |
| Harvey Cushman, Rockland [P] | 1902-1902 |
| Tom Downey, Lewiston | 1909-1915 |
| Chester Emerson, Stow | 1911-1912 |
| Sid Farrar, Paris Hill | 1883-1890 |
| Eddie Files, Portland [P] | 1908-1908 |
| Curt Fullerton, Ellsworth [P] | 1921-1933 |
| Charles Furbush, So. Portland [P] | 2007- |
| Ralph Good, Monticello [P] | 1910-1910 |
| George Gore, Saccarappa (Westbrook) | 1879-1892 |
| Larry Gowell, Lewiston [P] | 1972-1972 |
| Chummy Gray, Rockland [P] | 1899-1899 |
| Fred Howard, Portland [P] | 1979-1979 |
| Happy Iott, Houlton | 1903-1903 |
| Rip Jordan, Portland [P] | 1912-1919 |
| Dick Joyce, Portland [P] | 1965-1965 |
| Matt Kinney, Bangor [P] | 2000-2000 |
| Pete Ladd, Portland [P] | 1979-1986 |
| Otis Lawry, Fairfield | 1916-1917 |
| Steve Libby, Scarborough | 1879-1879 |
| Abel Lizotte, Lewiston | 1896-1896 |
| Harry Lord, Porter | 1907-1915 |
| Kid Madden, Portland [P] | 1887-1891 |
| George Magoon, St. Albans | 1898-1903 |
| Jim Mains, Bridgton [P] | 1943-1943 |
| Willard Mains, North Windham [P] | 1888-1896 |
| Billy Maloney, Lewiston | 1901-1908 |
| Bobby Messenger, Bangor | 1909-1914 |
| Simmy Murch, Castine | 1904-1908 |
| Bill Murray, Vinalhaven | 1917-1917 |
| Pat O'Connell, Bangor [P] | 1886-1886 |
| Freddy Parent, Biddeford | 1899-1911 |
| Marv Peasley, Jonesport [P] | 1910-1910 |
| Irv Ray, Harrington | 1888-1891 |
| Bert Roberge, Lewiston [P] | 1979-1986 |
| Jack Robinson, Portland | 1902-1902 |
| Bill Rollinson, Fairfield | 1884-1884 |
| Harland Rowe, Springvale | 1916-1916 |
| Dick Scott, Ellsworth | 1989-1989 |
| Jack Sharrott, Bangor [P] | 1890-1893 |
| Charlie Small, Auburn | 1930-1930 |
| Chief Sockalexis, Old Town | 1897-1899 |
| Bob Stanley, Portland [P] | 1977-1989 |
| Clyde Sukeforth, Washington | 1926-1945 |
| Bill Swift, Portland [P] | 1985-1998 |
| Stan Thomas, Rumford [P] | 1974-1977 |
| Walter Thornton, Lewiston [P] | 1895-1898 |
| Ron Tingley, Presque Isle | 1982-1995 |
| Cannonball Titcomb, West Baldwin [P] | 1886-1890 |
| Bob Vail, Linneus [P] | 1908-1908 |
| Charlie Waitt, Hallowell | 1875-1883 |
| Dan Walters, Brunswick | 1992-1993 |
| George Washburn, Solon [P] | 1941-1941 |
| Roy Weir, Portland [P] | 1936-1939 |
| Carl Willey, Cherryfield [P] | 1958-1965 |
| Walter "Pop" Williams, Bowdoinham [P] | 1898-1903 |
| Squanto Wilson, Old Town | 1911-1914 |
| Harry Wood, Waterville | 1903-1903 |
| Irv Young, Columbia Falls [P] | 1905-1911 |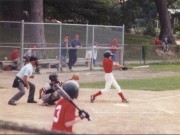 High school baseball has undoubtedly fostered "big league" dreams among thousands of Maine boys.  Communities across the state have produced a number of young men who have had an opportunity to play in the major leagues.
Maine in the Majors
Louis Sockalexis
(1871 – 1913) was the first Native American to play major league baseball. A Penobscot Indian, Sockalexis was born in Old Town and grew up playing baseball on Indian Island.
In 1894 he played a game at the Poland Spring Resort on the "Polands" team, beating the "New Auburns" 11-1. The box score in "The Hill Top," the resort's publication for its guests, noted that the Polands "will prove themselves to be the best nine we have had here." Sockalexis undoubtedly did his part.
<==Click to read the box score.
He attended Holy Cross College for two years before following his coach to Notre Dame College in Indiana. Soon he signed with the Cleveland Spiders, a team later renamed the Cleveland Indians in honor of Sockalexis. His name (nickname "the Sock") and his powerful throwing arm inspired his fans to shout, "Sock it to them, Sockalexis!" when he was on the field.
His addiction to alcohol eventually ended his professional baseball career. Returning to Indian Island, he inspired many young Penobscot boys by coaching boys' baseball teams. He also worked as a logger at a camp in Burlington. Forty-three years after his death in 1913, Sockalexis was honored by an induction in the Holy Cross Athletic Hall of Fame.
Irving "Irv" Melrose Young
was born in Columbia Falls in 1877. His six year career (1905-1908, 1910-1911) included the Boston Beaneaters, Boston Doves, the Pittsburgh Pirates, and the Chicago White Sox. As a pitcher he won 66, lost 95, with an earned run average of 3.11.
Freddy Parent
of Sanford was the shortstop on the Red Sox team that won first World Series, in 1903. He broke up three no-hitters and saved Cy Young's perfect game with a defensive gem.
John Wesley "Colby Jack" Coombs
(1882-1957) of Waterville and Colby College set an American League record by pitching a 24-inning game in 1906, his first year in the majors. He won 31 games in 1910, including "starting, finishing and winning the second, third and fifth games of the 1910 World Series against the Chicago Cubs."*
Coombs made an ACL record with 13 shutouts and retired from the game in 1920. "Colby Jack" was baseball coach at Duke University from 1929 to 1952. He died in 1957.
Bill (Rough) Carrigan
(1883-1969) of Lewiston was the Red Sox catcher-manager who led Boston to World Series wins in 1915 and 1916 with lefty ace Babe Ruth in his rotation. Carrigan quit at the peak of his success to become a banker in his native Maine. He made a surprise return as Red Sox manager in 1927, but the results were disastrous. The team finished last three straight seasons.
Curtis Hooper "Curt" Fullerton
born in Ellsworth in 1898, began his Red Sox pitching career in 1921.
Bobby Coombs
(1908-1991), nephew of "Colby Jack," played briefly for the Philadelphia Athletics (1933) and the New York Giants (1943). Proclaimed the "Maine Schoolboy Marvel" by one newspaper, he struck out 26 batters in a row in a game against Sanford in 1925.
Clyde Sukeforth
from Washington, Maine played 10 years as backup catcher for the Cincinnati Reds and the Brooklyn Dodgers.  He attended Coburn Classical Institute in Waterville.  After graduating Sukeforth played tow seasons for the Great northern Paper Company in Millinocket.
He scouted baseball's first black player, Jackie Robinson and was the only other person in the room when Dodgers' president Branch Rickey told Robinson of his plans to sign him in Montreal in 1946. Sukeforth died in Waldoboro in 2000 at age 98.
Carlton Willey
from Cherryfield in Washington County, was born June 6, 1931. The right-hander pitched for the Milwaukee Braves (1958-1962), then the New York Mets, 1963-1965. Overall he won 38 and lost 58 games. Near the end of his career he hit a grand slam on July 15, 1963. After working as a major league scout he returned to his hometown in Cherryfield.
Dan Coombs
a left-handed pitcher from Brewer, worked for the Houston Astros in the 1960's. According to his Topps card, "In his first major league appearance, Dan shut out the Los Angeles Dodgers for six innings before being relieved by Jim Owens who preserved his whitewash job." Born March 23, 1942, he was an All-State basketball player and attended Seton Hall University.
Bert Roberge
of Auburn set a school career ERA record (1.82) at the University of Maine (1974 to 1977) and is tied for the career shutouts mark (six). He had a 12-12 record with Astros, White Sox and Expos.
Jim Beattie
though born in Virginia in 1954, attended South Portland High School. He first pitched in 1978 for the Yankees and later for the Mariners. Beattie started in 182 games, winning 52 and losing 87. While with the Mariners he pitched 19 scoreless innings, a club record.
Robert "Bob" Stanley
born in Portland in 1954, pitched for the Red Sox from 1977 through 1989. He won 115 games, losing 97 with an earned run average of 3.64.
Stump Merrill
from Brunswick was a catcher for Maine's College World Series team in 1964. He has been a manager and coach in Yankees system beginning in 1977. In 2001 he was hired as manager of the Yankees' Double-A farm team, Norwich of the Eastern League.
Billy Swift
A right-handed pitcher, he was born (October 27, 1961) and raised in South Portland. During his attendance at the University of Maine he won 26 and lost 7 games. He has pitched for the Seattle Mariners (1985-1991,1998), San Francisco Giants (1992-1994) where in 1993 he had a career high 21-8 record, and the Colorado Rockies (1995-1997).
Mike Bordick
A shortstop, he was born in Marquette, Michigan on July 21, 1965, and is from Bangor and Winterport. He has played for the Oakland Athletics (1990-1996), the New York Mets (2000), and the Baltimore Orioles (1997-2002). Bordick played in two College World Series at the University of Maine, and took over for Cal Ripken as Orioles shortstop in 1997. He has twice led the American League in assists.
Charles F. "Charlie" Furbush
born in South Portland on April 11, 1986, attended Louisiana State University. He was drafted by the Detroit Tigers in 2007, and was traded to the Seattle Mariners in 2011.  A left-handed pitcher, Furbush is still early in his baseball career.
Mark Rogers
of Orrs Island in Harpswell made his major league pitching debut on September 25, 2010 with three no-hit innings. After several operations and recovery, he returned to pitch for the Milwaukee Brewers in late 2012.
Ryan Flaherty
who went to Deering High School, became the first person born in Maine (Portland) to hit a post-season home run in the Major Leagues, in this case for the Baltimore Orioles, on October 10, 2012.
For a complete list of major leaguers born in Maine, see The Baseball Almanac.
Additional resources
Anderson, Will. Was Baseball Really Invented in Maine?: a lively look at the history of professional baseball in Maine and at every Mainer who's ever played in the majors. Portland, Me. W. Anderson. c1992.
Baumer, Jim. When Towns had Teams. Freeport, Me. RiverVision Press. 2005.
Biographies at the Internet site Baseball-Reference.com
Brunelle, Jim. "Sockalexis." The Maine Almanac
CNN Sports Illustrated Internet site at cnnsi.com
Favazza, Augie. Maine Black Bears Baseball: Orono to Omaha. Portland, Me. Gannett Books. 1987.
Hodgkins, John E. Our game was baseball: growing up with Larry Boyce and small-town ball games. Yarmouth, Me. J. Hodgkins. c2010.
"Jim Beattie." Baseball Library. http://www.baseballlibrary.com/ballplayers/player.php?name=Jim_Beattie_1954 (accessed October 3, 2012)
"Jim Beattie State." Baseball Almanac. http://www.baseball-almanac.com/players/player.php?p=beattji01 (accessed October 3, 2012)
Ray, James Lincoln. "Cylde Sukeforth." Society for American Baseball Research. SABR Biography Project. http://sabr.org/bioproj/person/ec0d0bd1 (accessed May 3, 2014)
Simon, Al., ed. Maine Baseball Hall of Fame. Portland, Me. 1981. (11 pages, illustrated) [University of Maine. Fogler Library. Special Collections; Lewiston Public Library]
Wellman, Trina. "Louis Francis Sockalexis: The Life Story of a Penobscot Indian,"  Augusta, Me. Department of Indian Affairs. (from the Maine Public Broadcasting Internet site http://www.mpbc.org/mpbcsite/television/hometsom/timelines/natamtimeline.html#sockalexis)
*"In Kennebunk, the story lives on." Maine Sunday Telegram. August 5, 2007. p. D1, D5.
**Betit, Paul. "Mark Rogers: The Start of a Career." The Portland Press Herald. September 23, 2010.