| Year | Population |
| --- | --- |
| 1970 | 3,716 |
| 1980 | 4,124 |
| 1990 | 4,443 |
| 2000 | 4,820 |
| 2010 | 5,235 |
Geographic Data
N. Latitude
44:30:48
W. Latitude
69:26:08
Maine House
District 135
Maine Senate
District 7
Congress
District 2
Area sq. mi.
(total) 70.4
Area sq. mi.
(land) 42.2
Population/sq.mi.
(land) 124
County: Hancock

Total=land+water; Land=land only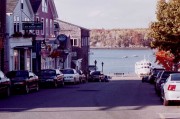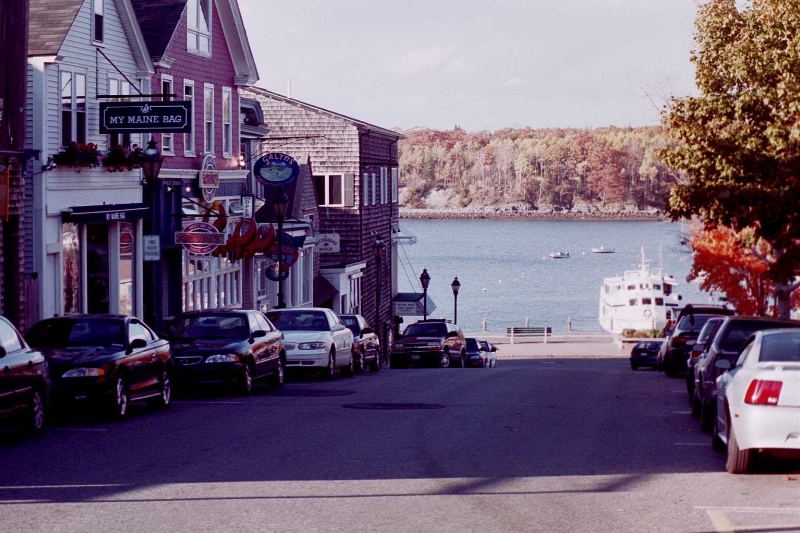 [BAR HAR-br] Town in Hancock County, incorporated on February 23, 1796 under the name Eden from land set off from the town of Mount Desert on Mount Desert Island. After over 120 years, its name was changed to Bar Harbor, from the sandy bar, visible only at low tide, on March 5, 1918.
A short amateur film clip from Northeast Historic Film recalls downtown Bar Harbor circa 1941.
After Newport, Rhode Island, Bar Harbor was the resort of choice for wealthy eastern Americans until the great fire of 1947 destroyed many homes and forested areas.
Acadia National Park dominates tourists itineraries when the population of the town and the island swells each summer. The impact of the 1947 fires is still detectable in the Park.
Autumn Images of the College of the Atlantic 2001
A victim of those fires, Jackson Laboratory which describes itself as "an independent non-profit mammalian research laboratory," recovered and thrives in Bar Harbor. The Lab was named for Bar Harbor summer resident Roscoe B. Jackson who helped provide funding for its creation. The institution's substantial collection of mice, with carefully documented genetic histories, is vital to its research.
The College of the Atlantic, with a focus on environmental and marine science studies, is a relatively new member of the community. The college, whose campus overlooks the harbor just outside the village, enrolls about 300 students in its four-year degree programs.
Perhaps reflecting the vacation home building boom of the late 19th and early 20th century, several labor union locals were established in 1900 (Bricklayers and Masons; Carpenters and Joiners; Painters, Decorators and Paperhangers) and in 1903, Plumbers.
The Indian Point Blagden Preserve has 110 acres of mature red spruce, northern white cedar, and balsam fir forest that survived the 1947 fire, with long frontage on Western Bay, including a gravel beach. Harbor seals bask on small islands nearby. Managed by The Nature Conservancy, the preserve has extensive walking trails.
Form of Government: Town Meeting-Council-Manager.
Additional resources
Bicentennial Souvenir Edition, 1796-1996 Bar Harbor, Me. David Morse. 1996.
Business and Residential Directory of Bar Harbor and Town of Eden, Me.: including owners and lessees of summer cottages, town government, fraternal organizations, legalized carriage tariffs, tides, postal arrangements, and other matters for handy reference. Bar Harbor, Me. W. H. Sherman. 1904.
Collier, Sargent F. Green Grows Bar Harbor; Reflections from Kebo Valley, including profiles of the town that refused to die. Bar Harbor? Me. 1964
Crawford, F. Marion (Francis Marion). In Idleness: A Tale of Bar Harbour. New York: Macmillan. 1894. (fiction)
Detroit Photographic Company. photo: "The Harbor from Newport House, Bar Harbor, Mt. Desert Island, ME." Library of Congress description :"Photographs show panoramic view of harbor at Bar Harbor, Maine, looking toward Mt. Desert Island. Ferries, yachts, and smaller craft are in the harbor and at the dock." LC#: LC-USZ62-136810. http://www.loc.gov/pictures/item/2006686137/ (accessed December 13, 2017)
Ellsworth American. Bar Harbor: Celebrating 200 Years in Eden. Ellsworth, Me. Ellsworth American. 1996.
Gray, T. M. Ghosts of Eden. Waterville, Me. Five Star. 2005. (fiction)
Hale, Richard Walden. The Story of Bar Harbor, an Informal History Recording One Hundred and Fifty Years in the Life of a Community. New York. L. Washburn. 1949.
Heath Family Papers: 1820 June 11 – 1943 Jan. 11. A. J. Heath was justice of peace in Tremont. Bulk of collection from 1840's and 1850's including personal and business papers, writs, property transfers, deeds and accounts of A. J. Heath of Tremont, Maine and other family members. Maine State Library.
Helfrich, G. W. Lost Bar Harbor. Camden, Me. Down East Books. 1982.
Higgins, A. L. Notes from the Early History of Mt. Desert Island Together with a Sketch Drawn from Memory of "East Eden," Bar Harbor in the Year 1855. Bar Harbor, Me. The Author. 1929.
Historical Records Survey (Maine). Inventory of the Town and City Archives of Maine: no. 5 Hancock County: the Towns of Mt. Desert (Mount Desert, Bar Harbor, Cranberry Isles, Seaville, Tremont, Southwest Harbor). Portland, Me. Historical Records Survey. 1938.
Kihlmire, Charles V. Bar Harbor Observes 150th Birthday: Famed Summer Resort Chartered as Town of Eden by Bay State. 1946 July 30.
Kurson, Sylvia M. My World on an Island: Growing Up in Bar Harbor. Camden, Me. Down East Books. 1982.
Lapham, William Berry. Bar Harbor and Mount Desert Island. Augusta, Me. Maine Farmer Job Print. 1888.
*Maine. Historic Preservation Commission. Augusta, Me.   Text from National Register of Historic Places: http://pdfhost.focus.nps.gov/docs/nrhp/text/xxxxxxxx.PDF.
Abbe Museum: 83000451.PDF
Church of Our Father: 99000770.PDF
Cleftstone: 99001192.PDF
Criterion Theatre: 80000222.PDF
Egonos: 80000223.PDF
Garland Farm: 05001174.PDF
Higgins Barn: 03001502.PDF
Highseas: 78000326.PDF
Hulls Cove High School: 99000374.PDF
Jesup Memorial Library: 91000323.PDF
Kane, John Innes, Cottage: 92000275.PDF
Nannau: 84000322.PDF
Redwood: 78000166.PDF
Sproul's Cafe: 82000744.PDF
Stone Barn Farm: 01001271.PDF
Turrets, The: 74000155.PDF
U.S. Post Office: 86000880.PDF
West Street Historic District: 80000226.PDF
Matter, Frank. The Biography of a Bar Harbor Summer Cottage: the Manor House Inn, 1886-present. Bar Harbor, Me. Acadia Publishing Co. 1985.
Pearson, Frederick W. An Idyl of Bar Harbor. New York. The Welles Publishing Company. 1888. (poetry)
Savage, Richard A. Bar Harbor, the Formative Years. 1970.
Sherman, W. H. A Guide to Bar Harbor, Maine. Bar Harbor. W. H. Sherman. 1895?
Smedstad, Teisha A. W. My Dear Sarah Anne: Letters from a Century Ago. Bar Harbor, Me. Acadia Press. 1990. (fiction)
Summer Residents Association, Bar Harbor, Me. Atlas of Bar Harbor and Vicinity in the Town of Eden, Hancock Co., Maine, 1904. Boston, G. H. Walker. 1903.
Witherell, Jim. The Complete Map and Guide of Acadia National Park on Mount Desert Island and Bar Harbor: featuring all hiking trails on the island, Carriage Rd. bridges & signposts, restrooms and parking areas, dozens of addresses & phone numbers, suggested bike rides & hikes. Lewiston, Me. J. L. Witherell. 1998
Woodward, Maxwell G. Sequel to Bar Harbor in its Heydays: Recollections from Memory. Bar Harbor, Me. The Author. 1984.
National Register of Historic Places – Listings
Abbe, Robert, Museum of Stone Antiquities
The Robert Abbe Museum has relocated its headquarters (see photo at right) near downtown Bar Harbor since the 1983 National Register nomination, while supporting its founders goal to serve the "rapidly-growing traveling public".
The building in Acadia National Park [south of Bar Harbor off Maine Route 3] , the subject of the National Register nomination, is one of the few of the Mediterranean Style in Maine. Mediterranean styles, popular throughout most of the United States in the 1920s, rarely appeared in northern New England. The building was one of the first in Maine designed specifically as a museum. The building is important as an archaeological monument and landmark museum. Dr. Robert Abbe (1851-1928) was a noted surgeon and among the first American doctors to experiment with radium. He retired to Mt. Desert Island and became an avid amateur archaeologist. By the 1920s he had amassed a considerable collection of primitive and Indian artifacts, and wanted to build a museum for their exhibition.
"I have consistently set a goal never to enlarge this collection into a general museum but to fix indelibly a fact of incontrovertible history in the minds of the large and rapidly-growing traveling public. My aim has been to create a permanent, classic, 'one show' historic incident in the path of the 'Maddening Crowd' and to make it as perfect as possible."
The building's tall octagonal chamber, almost circular in dimension, is an effective "one show" container. Its small floor-space invites rapid and easy review of the artifacts, giving it a sense of introspection. As Maine's first archaeological museum, and a monument to one of the state's earliest and most enthusiastic amateur archaeologists, the museum has done much to foster interest in Maine's stone-age and Indian cultures. The idea of a museum as a small yet dramatic exhibit geared toward the "rapidly-growing traveling public" (motorists) was ahead of its time.* (Frank A. Beard 1982 photo)
Blackwoods Campground
[Route 233, Eagle Lake Road] The Blackwoods Campground is significant for its association with the 20th-century movement to develop national parks for public enjoyment. It is a reflection of the principles and practices of rustic park landscape design used by the National Park Service and Civilian Conservation Corps (CCC) between 1916 and 1958, and retains characteristics developed during the New Deal era.
The Campground is significant not only as an individual landscape feature, but also as a component of the larger development of Acadia National Park, the first national park east of the Mississippi River. Blackwoods is associated with the New Deal programs, especially the CCC, which provided the labor and federal funding that made construction of facilities possible at Acadia and elsewhere in the 1930s.
The historically significant period for Blackwoods is 1935 to 1948. It includes the park's successful effort to expand automobile camping facilities in response to growing visitation and the availability of New Deal funding and labor, including CCC and Works Projects Administration (WPA) programs. It begins with the preliminary investigation of the Seawall area, a similar campground in the Park, as a potential Recreational Demonstration Project (RDP) in 1935 and ends with the construction of the last rustic structure in 1948.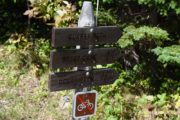 In 2007 when the National Register application was made, features included a three-quarter mile long entrance road leading to the reception area, and Loop A, an oval one-way drive off of which the campsite loop roads are located. By 1942 a central cluster of 35 trailer campsites were built. These were followed, at the end of World War II, by campsites with parking spurs.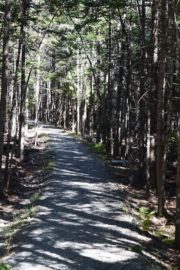 Steel fireplace rings, an historic prototype, were used at Blackwoods and still exist. Native trees and shrubs, especially the black spruce woods from which the campground derives its name, enclose the campground and entrance drive and form vegetative screening between individual campsites. Communal features include five historic comfort stations and a collection of water supply taps.
Although modernized, the 2007 National Register summary was essentially accurate in 2016: "Blackwoods Campground possesses historic integrity of location, setting, design, materials, workmanship, feeling, and association, and overall reflects the physical appearance and condition of the landscape during the period of significance."
Church of Our Father
[Maine Route 3, 0.5 miles No of Crooked Road Hulls Cove] Built in 1891 from designs by the Philadelphia architect William Masters Camac, the Church of Our Father is a handsome picturesque stone building along Route 3 in Hulls Cove. The Episcopal ministry in Hulls Cove began about 1880 when Canon C.S. Leffingwell, the rector of St. Saviour's Episcopal Church in Bar Harbor, began to hold weekly Sunday services. In 1890, Cornelia and Mary Prime commissioned the design and construction of a church as a memorial to their parents on a parcel of land which Cornelia Prime had donated. The first service was held in the church on May 31, 1891. It was consecrated on August 27, 1891, by Bishop Henry A. Neely. Between the years 1901 and 1910, the Church of Our Father was constituted as a diocesan mission, and in 1988 it became a separate parish.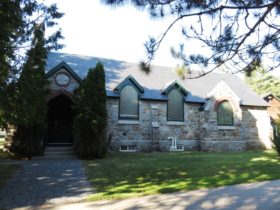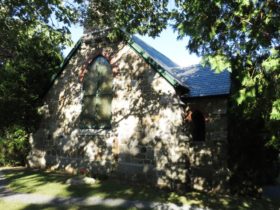 This church is related to a group of religious buildings erected in Maine during the late 19th and early 20th centuries in the popular summer colonies. Often, as in Hulls Cove, these chapels were substantial architect designed buildings, erected primarily through the interest and funding of summer residents like Cornelia and Mary Prime. For example, the chapels at Islesboro, Hancock Point, Northeast Harbor, and Seal Harbor were designed by well-known architects. Their shared characteristics of high quality design and use of rubble stone masonry make them distinctive landmarks in their respective settings.*
Cleftstone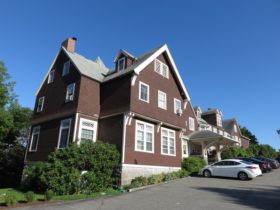 [92 Eden Street] Built by 1881 and substantially enlarged and remodeled in 1894 with a further addition in 1903, "Cleftstone" is an expansive summer cottage. Its eclectic design combines aspects of the Queen Anne, the Shingle and the Colonial Revival styles. In 1879 John B. How purchased the lot on which "Cleftstone" stands from his brother, Charles T. How, generally regarded as Bar Harbor's first real estate developer. Originally built for the How family from designs by the New York architect Bruce Price. The cottage was frequently rented after 1885.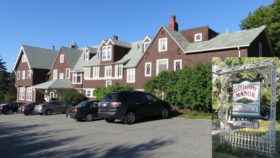 In 1894, John B. How sold "Cleftstone" to Frank and Laura Ellis of Cincinnati, who expanded the building. In 1912, Laura Ellis divorced Frank Ellis, and the following year she married Gist Blair of Washington, D.C. In the divorce settlement, Laura Ellis apparently obtained title to "Cleftstone" for she and her new husband continued to summer there until his death in 1940. Laura Blair and her adopted daughter (also named Laura) returned to the cottage in 1941. It was rented thereafter and sold to Montgomery Blair, Jr. in 1943. Blair sold the cottage in October1947, several days before the great fire that swept across Bar Harbor destroying about one-third of the historic cottages and several of the remaining hotels. All cottages on the west side of Eden Street were destroyed during the fire except "Cleftstone." In this context, the architectural significance of "Cleftstone" is important as one survivor among many losses.*
Cover Farm
[off Maine Route 3 West side, 0.3 miles Northwest of junction with Crooked Road Hulls Cove] Cover Farm is an early 19th century cape with significant Greek Revival and Colonial Revival period alterations, and an adjoining walled garden. It overlooks Frenchman's Bay across an expansive meadow. Probably built during the second decade of the 19th century, the cape received notable additions about 1840, and again in 1917 when a gambrel roofed wing and the walled garden were built.


About 1810 a member of the Cutler family acquired the property from a Mr. Thomas. Cover Farm was probably part of the de Gregoire farm which was in the possession of Royal Gurley from 1806-1808 and Mr. Thomas from 1808-1810. Madam de Gregoire was the granddaughter of Antoine de la Mothe Cadillac to whom in 1688 King Louis the Fourteenth of France had granted all of Mt. Desert Island. She obtained a grant from the General Court of Massachusetts of the eastern half of the island in 1787. Having failed to sell their land on Mt. Desert, they moved to Hull's Cove and tried to support themselves by farming and selling off one-hundred acre lots. In 1806 they turned over the balance of their property to Royal Gurley in exchange for an agreement to support them for the duration of their lives. Barthelmey de Gregoire died in 1810 and Marie Therese passed away the next year. A small granite marker was erected over their grave site on property which adjoins Cover Farm to the south.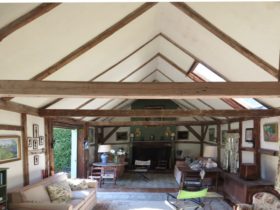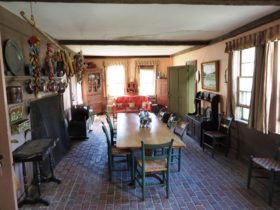 From their purchase of it in 1810, the Cutler family probably occupied the property that constitutes Cover Farm until they sold it in 1834. In all likelihood the cape was built during this period. The house appears to have been updated in the mid 19th century and again in 1917. At that time it was purchased by Mrs. Olive Tilton, who made it her summer residence. She is responsible for the Colonial Revival alterations and additions to the house and grounds and named the property "Cover Farm".
The cape is a good example of a type of house built throughout the settled areas of Maine in the late 18th and early 19th centuries. These various modifications illustrate an important, relatively common occurrence in Maine during this period; namely the conversion of late 18th and early 19th century "Colonial" farmhouses into summer residences.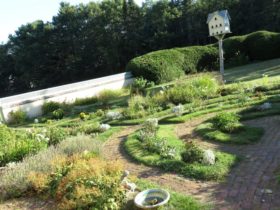 Cover Farm is also noteworthy for its walled garden, an important aspect of design in this period. It was described by the garden writer Alice Morse Earle in 1901:
"A garden enclosed!…an ideal flower garden must be an enclosed garden…. I look with regret upon all beautiful flower beds that are not enclosed, not shut in a frame of green hedges, or high walls, or vine-covered fences and dividing trees. It may be selfish to hide so much beauty from general view; but until our dwelling-houses are made with uncurtained glass walls, that all the world may see everything, let those who have ample grounds enclose at least a portion for the sight of friends only."
Criterion Theatre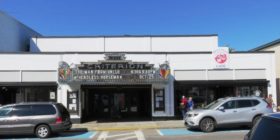 [35 Cottage Street] The Criterion is one of only two Art Deco movie theatres left in Maine, the other is the State Theater in Portland. In 1932 an avant-garde style, Art Deco, was appropriate for a community at its height as a summer playground of the very rich. Attuned to the latest fashions, they were captivated by the new designs which emanated from the "Exposition des Arts Decoratifs et Industriels Moderne" held in Paris in 1925. The attempt to achieve modernity by uniting the decorative arts and industry, and the resulting emphasis on geometric patterns in design, proved immensely popular. In America it supported a sentiment that modernity could be achieved by means of decoration.

Most typical Art Deco themes are present in the Criterion: emphasis on the rectilinear with curves in a secondary role in rigid patterns. Motifs include fluting, reeding, chevrons, zig-zags and various frets. Typically, highly emphatic multi-color effects are everywhere.
The Theatre opened on June 6, 1932, with two performances combining movies and vaudeville to a capacity, standing room only, audience of over 2,000. Originally there was a change of shows four times a week including a regular picture, short subjects, and an orchestra with five acts of first class R.K.O. vaudeville three shows a day except Sunday.*
Movies and live performances continued at the Criterion in 2016.
Eegonos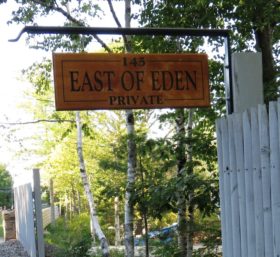 [145 Eden Street] The significance of Eegonos is its as a representative genre work of a distinguished American architect, and its importance as one of the very few unaltered remaining artifacts of the vanished social order and lifestyle which centered around the "cottages" of Mt. Desert Island in the late 19th and early 20th Centuries. Eegonos was built in 1910 on 5 ½ acres purchased from Mrs. Mary Ellen Haight by Mr. and Mrs. Walter G. Ladd. Ladd named his house "Eegonos," using the backward spelling of the name "Sonogee" of the predecessor estate that had burned.
The Ladds were representative of the "new-money" people who spurred the Bar Harbor cottage building boom of the turn of the 20th century, competing with each other in the architectural statements they made and with the older aristocracy and intellectual set whose summer places tended to be located nearer Seal Harbor or Northeast Harbor.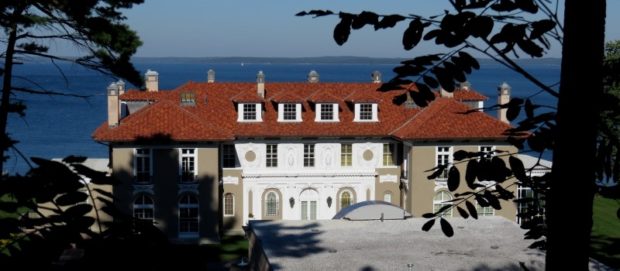 Eegonos, built at a reputed cost of $97,200 by 150 Italian workers, is a rare and nearly perfectly preserved, elegant and graceful symbol of a bygone social and architectural era.*
Garland Farm
[1029 Route 3] Garland Farm was the last home of renowned landscape architect Beatrix Farrand. At age 83, she dismantled her ancestral home, Reef Point, and moved herself and her favorite plants to a new apartment built onto the house of her close friends and co-workers, Amy and Lewis Garland. She installed an 'instant' and private garden, placing her beloved heathers and other perennials flowers in a walled enclosure outside her quarters and dispersing her prized shrubs and trees around the grounds of the farmhouse. It is the last garden she designed and the only twelve-month garden she designed in Maine.
Beatrix Cadwalader Jones was born in New York in 1872. Her interest in landscape gardening was fostered by her aunt, author Edith Wharton, her uncle, John Cadwalader, and her grandmother, Lucretia Rhinelander Jones. Still in her teens, she met Charles Sprague Sargent, director of the Arnold Arboretum, and studied with him for four years, readily absorbing his deep love of plants, his appreciation for a fine reference library, and his desire for study and research.
In 1895, Jones set up a practice and quickly established a remarkable professional reputation. During the best and most prolific period (1900-1940) of her design career, she undertook more than 50 projects on Mt. Desert Island. The evolution of the gardens there, represents a cross-section of the history of that formative period in American landscape architecture. In 1913, Beatrix Jones married Max Farrand, Professor of American History at Yale, and took his surname as her professional name. In 1917, Reef Point was deeded to Beatrix by her mother. The Farrands spent summers there, and began a visionary educational endeavor: Reef Point Gardens. After Max Farrand's death in 1945, Beatrix directed her energies to Reef Point Gardens as a botanical garden, library, and horticultural experiment station.
Once she decided to end Reef Point Gardens, the main house was torn down, and fixtures, architectural elements, and materials saved for reuse. The Reef Point library, design drawing, and herbarium collections were entrusted to the Department of Landscape Architecture at the University of California at Berkeley, where "it would be used and cared for in a manner fitting its educational value." A part of the plant collection was moved to Garland Farm, near Salisbury Cove. It consisted of a c.1800 cape, with a gambrel barn and a garage-workshop. When her retirement from Reef Point was evident, the Garlands planned to move her to Garland Farm.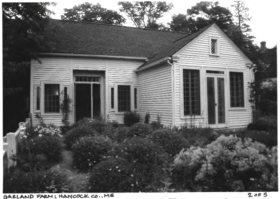 The landscape was typical of a simple Maine farm: a few ornamental plantings near the house, some hedgerows for wind protection and screening, a vegetable garden, and extensive hay fields. Into Beatrix designed two modest gardens that sandwiched her wing, front and back, like a conventional suburban yard. The main garden, at the back of the wing, contained the favorite elements of her herbaceous plant collection, along with her beloved heathers and heaths. A small greenhouse and potting shed were added for propagation purposes, while the large potted plants, such as rosemary and lemon verbena, were overwintered in the glass entrance porch.
Beatrix Farrand died at the farm in 1959 at the age of 86. Garland Farm is the distillation of her intimate home environment: architectural elements, ornaments, and plants. The Beatrix Farrand Society was incorporated to purchasing the property, which was accomplished in 2004. The Society has a mission of restoring Garland Farm to its Farrand-era design and condition, and instituting a design and horticultural study center there.* [Christi A. Mitchell photo]
Higgins Barn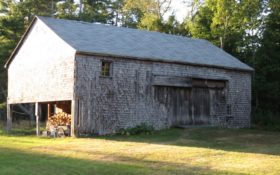 [256 Oak Hill Road] The family of Jesse Higgins and his son, Ichabod, moved to Clark's Cove on Mt. Desert Island from Eastham on Cape Cod in 1778 to join other members of the Higgins family that had migrated in 1763. Jesse Higgins and his brother David settled on the west side of Clark's Cove where they obtained a fair amount of land. In May of 1811, Ichabod Higgins purchased lot 66, consisting of 100 acres at Indian Point, near the southern end of Clark's Cove.
The Higgins barn is a singular remnant of the agricultural history and early settlement of Indian Point. Although there is no firm date ascribed to the building, its framing style, materials and craftsmanship suggest no reason that it could not be the barn referred to in Ichabod Higgins probate inventory. Associated with the barn is a high posted cape that appears to have been built in the 1830s or 1840s, as well as a family cemetery. The house had undergone several periods of expansion and renovation thus severely compromising its historic integrity. The Higgins barn remains as a testament to the early settlement of the area, and to its long history of agriculture. In addition, it is an excellent example of the 18th century English Barn form that was prevalent on the settlement landscape. The integrity of this barn, even with the addition of the late 19th century overhang, is superb, and its condition remains good after 200 years of continual use.
Highseas
[south of Bar Harbor on Schooner Head Road] "Highseas" was built in 1912 by Professor Rudolph E. Brunnow, a professor at Princeton. The granite was quarried locally, but the tapestry bricks were brought from Philadelphia. The architect was Fred Savage of Bar Harbor.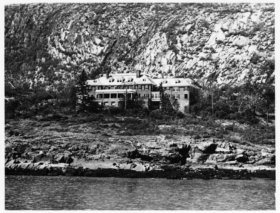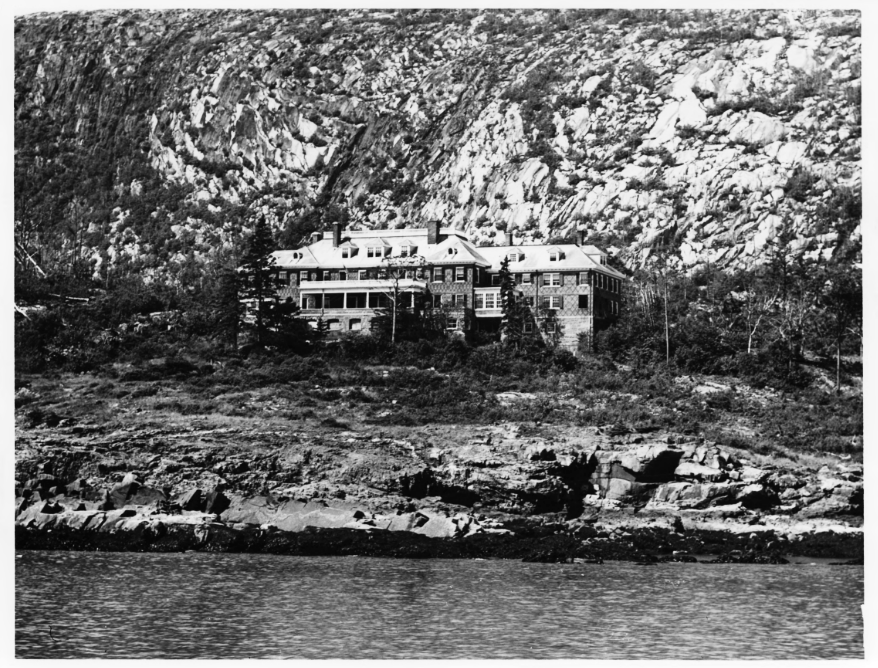 In 1924, Mrs. Eva Van Cortland Hawkes, a wealthy woman from New York City, bought the house. Mrs. Hawkes was a descendent of Gouveneur Morris Cone, one of the signers of the Articles of Confederation. Mrs. Hawkes, for all her wealth, was a lonely and eccentric woman, keeping mostly to herself. She maintained a large staff to preserve the beauty of the house and wait on her every whim. She was very patriotic and during World War II entertained servicemen from both the American and English navies whenever ships were in Bar Harbor. Among her heirs (three nephews) was A. Newbold Morris, former member of the New York City Council under Mayor LaGuardia.
The nephews inherited Highseas at Mrs. Hawkes death. They later conveyed the estate to the Jackson Laboratory, noted for genetic and cancer research. The house has been used for many years as a summer residence for pre-college students in the laboratory's Training Program. Highseas is a distinguished example of Colonial Revival architecture. It is one of the few remaining "cottages" to escape damage from the October 1947 fire which destroyed many of the Bar Harbor mansions.* [Frank A. Beard photo]
Hulls Cove High School
[Maine Route 3, 0.4 miles North of junction of Crooked Road and Maine Route 3, Hulls Cove] Built in 1909 from designs by the noted Boston architectural firm of Andrews, Jacques & Rantoul, the Hulls Cove School is a shingled, wooden frame building with Colonial Revival and Shingle Style characteristics. The Hulls Cove School is the second school erected on this site. The original building was, according to a plaque at the school was "Erected and presented to Hulls Cove School District as a token of his affection for the place of his nativity, by Jonathan Ignatius Stevens, 1863."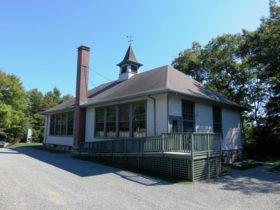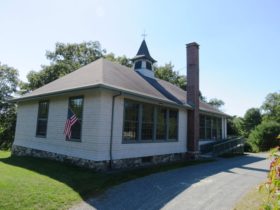 In 1881, the Hulls Cove School District was one of thirteen local school districts in the Town of Eden (Bar Harbor). By the early 20th century it appears that the school house itself was overflowing. The town wasted little time in taking action on the problem at Hulls Cove, and at a special town meeting funding was approved for the construction of a new school house. It was completed in October of 1909. It remained in use as a school until the late 1940s, at which time it was put into service as a local "neighborhood house" whose maintenance and administration was assumed by community volunteers. It continues to host a variety of community events.*
Jesup Memorial Library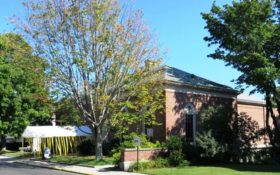 [34 Mt. Desert Street] Built in 1911 from plans drawn by the New York architectural firm of Delano and Albrich, the Jesup Memorial Library is a handsome brick building in the Colonial Revival style. It was given to the town by Mrs. Morris K. Jesup in memory of her husband. Bar Harbor's first library is was probably organized in 1875 by a group of summer residents. The collection of 176 volumes was assembled for the use of Mt. Desert's permanent residents and made them available two nights per week.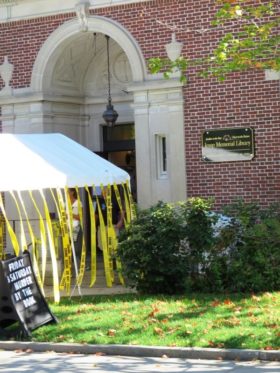 A small frame library was built in 1877. In 1883 the growing collection was turned into a subscription library with borrowing privileges at the rate of $1.00 per family, eliminated three years later.
The library moved into a new building in 1890. By the early 1900s, the collection consisted of more than 8,000 volumes.
The present building was was erected at a cost of $70,000. Mrs. Jesup also established a $50,000 endowment fund. The library was originally surrounded by a herbaceous garden developed by another summer resident, George B. Dorr. An avocational horticulturist, Dorr was one of the leading activists behind the creation of Acadia National Park.*
Kane, John Innes, Cottage
[off southeast end of Hancock Street] The 1904 John Innes Kane Cottage, "Breakwater," is an imposing Tudor Revival house on the Bar Harbor shoreline. Designed by local architect Fred L. Savage, the cottage is a significant work of his and is one of the few summer homes to have survived the 1947 fire. Its elaborate detailing, grand interior spaces, and expansive servant's wing are reminders to the splendid life enjoyed by those who frequented Bar Harbor during its early days as a summer resort.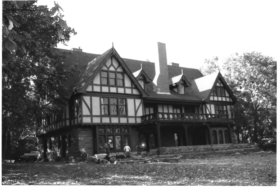 The Kane Cottage was part of the expansion and transition of the Bar Harbor summer colony, which had become firmly established by 1890. By the 1900s the hotel industry was losing strength as people sought out the town as a more permanent settlement. This period is often looked upon as the "Golden Age" of Bar Harbor, due to the co-existence of a still prosperous community with a growing sense of exclusiveness and isolation.
The Kanes were one of the many wealthy families who established their enclaves during this period and contributed to this transformation. John I. Kane was a wealthy resident of New York City and was deeply involved in the revolving social circles there, belonging to numerous clubs. He was a great grandson of John Jacob Astor, the fur trader and originator of a family fortune, making the Kanes a prominent family in both New York and Bar Harbor. Mr. Kane pursued his interest in scientific discovery and exploration. He died in 1913 but his family continued to summer at the estate until 1926. It was inherited in 1926 by nephew Peter Augustus Jay who owned it until 1955. The cottage was later allowed to deteriorate until 1991 when new owners began restoring the estate and taking measures to convert it into a bed and breakfast.*
In 2016 the estate was the home of "Christian Fellowship House" described as "providing a place of refreshment, encouragement and discipleship to individuals, couples and small groups."
Nannau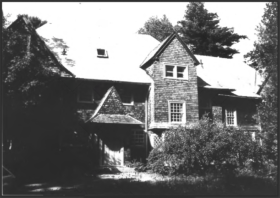 [Lower Main Street] "Nannau", the distinguished summer home of David B. Ogden, is significant for its architectural merits and the philanthropic career of its first owner. The house was designed by the very distinguished Boston firm of Andrews, Jaques and Rantoul who were responsible for a number of the more important Bar Harbor cottages. "Nannau" had the distinction of being illustrated in The Country House of 1906 with the caption, "An excellent example of shingle work at Bar Harbor, Me."
Another outstanding example of the work of this firm is the imposing chateauesque "La Rochelle" in the West Street National Register Historic District (see below). Mr. Ogden, a highly respected New York lawyer was one of the founders of Saint Saviour's Episcopal Church but was nationally known for his work with the American Red Cross during World War I and raising funds for Japanese Disaster Relief.* [Frank A. Beard photo]
Redwood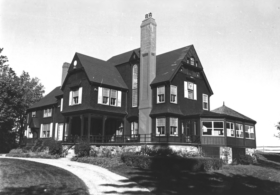 [Barberry Lane] The significance of "Redwood" lies foremost in its architecture. A beautiful and well-preserved cottage, it is one of the earliest shingle houses in America. The outstanding designs of William Ralph Emerson and the magnificent detailing make this house a fine example of the shingle style.
Built for wealthy Bostonian C.J. Morrill, the cottage illustrates a stage in the evolution of the Maine shore. After the Rusticator period, beginning in the 1860s, the next step in Bar Harbor's growth into a resort was the building of private dwellings by the new summer residents. C.J. Morrilll's "Redwood"exemplifies this new era of luxury that flourished near the end of the 19th century. Bar Harbor was now the summer home of the upper class, and it had a new busy social life to accommodate the rusticators. "Redwood" has been called "the first fully developed monument of the new shingle style". It is a gorgeous reminder of an age of coastal resorts that has now passed: a leisurely way of life, a wealthy group of people, and an atmosphere of luxury.* [Maine Historic Preservation Commission, uncredited photo]
Reverie Cove
[Harbor Lane] "Reverie Cove", one of Bar Harbor's earliest Colonial Revival "cottages", is referred to in Amory's Last Resorts as one of the "most prominent" homes in the town. Built for an internationally known agriculturist, this "cottage" is significant architecturally and socially.
The extravagantly proportioned cottage was completed in 1895 from plans by Fred L. Savage. Savage probably used the Taylor House in Newport, Rhode Island as a model for "Reverie Cove", but incorporated his own ideas into the design. Dr. John Davies Jones of Washington, a wealthy and respected agriculturist was the original owner of the cottage. As was so typical of the period, Dr. Jones's daughter, Martina, entered into an international marriage to become the Marchesa Giuseppe Lanza d'Ajeta. After Dr. Jones's death in 1903, "Reverie Cove" was purchased by Mayor Abram Hewitt and Sarah Hewitt of New York, then by DeForest Grant in 1933.* [Frank A. Beard photo]
Saint Saviour's Episcopal Church and Rectory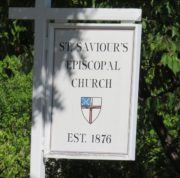 [41 Mt. Desert Street] Built in 1877 and enlarged several times since, Saint Saviour's Episcopal Church and Rectory is a handsome example of an English Gothic parish church executed in stone and wood. Several prominent architects were involved with the building. Both the facility itself and the many memorials in it, including twelve Tiffany windows, were the gift of wealthy Bar Harbor summer residents.
A newspaper account noted that: Church services have been held at Bar Harbor for several summers, in the parlors of the various hotels, whenever clerical aid could be obtained, and often lay service has been conducted. Liberal offerings were made on these occasions, for the Missions of the Diocese and elsewhere. Eventually the regular summer visitors decided to build a church in behalf of the villagers, where worship might be offered winter and summer.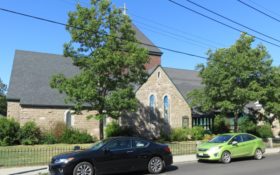 A beautiful stone church was built, 35×40 feet, with porch and vestry, but much too small for summer needs. The original church building had been erected in 1878 at a cost of about $7,000. Within eight years, however, the space limitations caused the church to undertake the first expansion. It dramatically changed the church's appearance by developing a cross shaped plan that made use of the original structure for transepts and added a larger nave, semi-circular apse, and an imposing crossing tower. The church was reconsecrated on August 27, 1886.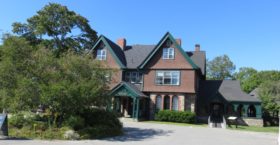 Further additions were made in 1890 with the construction of a choir room; in 1898 with the construction of the Rectory (right) and cloister; and in 1902 with the construction of a new chancel, sacristy, and chapel. In 1902 the first section of the parish house was added (it had been the gatehouse at a nearby summer cottage), and was enlarged in 1908. Finally, the ten-bell carillon was given to the church in 1938 by William Pierson Hamilton, the great-grandson of Alexander Hamilton.*
Sproul's Cafe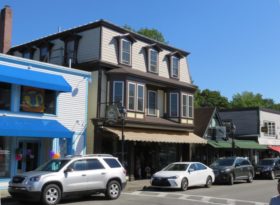 [128 Main Street] This well preserved Mansard style commercial building is a relic of Bar Harbor's "cottage era"; during the town's heyday it housed Sproul's Cafe, a favorite gathering place for summer residents and natives alike. As nationally famous as Sherry's or Delmonico's in New York, Sproul's of Bar Harbor operated from 1870-1903. Mr. and Mrs. Robert Sproul first opened a restaurant in 1870, but the quarters became too small for the popular "pioneer restaurant", so an entirely new facility was built in 1880 on a much larger and more elaborate scale than the other.
The Sprouls served elegant dinners, catered local affairs, and became nationally famous for the way they "served wine in defiance of the "Maine Law". The Bar Harbor Record recalled in 1903:
"Being the only place of the kind in the village its fame spread. Season after season saw its opening, each year added another gem to its crown of prosperity. When the young bloods of the town wanted a late dinner in thoroughly good style they went to Sprouls and nothing was ever lacking. It soon became quite the thing for parties from Seal, Northeast, Winter Harbor and Sorrento to dine at the Cafe."Men whose names stand high in the political world, women who occupied the highest social position have broken bread and exchanged gay repartee at the tables. On its register may be found names of the pioneer visitors at Bar Harbor such as . . . the Vanderbilts, Pulitzers, Scotts, Stewarts, Bowlers–in fact all the leading families have patronized Sprouls."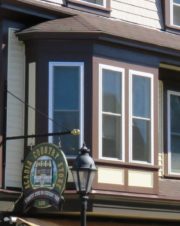 Another report has it that "dawn usually revealed a number of coachmen and attendants waiting outside asleep in victorias and cut-unders. After the season closed, Sproul often sent bills to his patrons. One recipient of good memory protested mildly that he had maintained a clear head on his last visit and that he had paid his bill. 'Think nothing of it,' said Sproul. 'We send out a lot of bills anyway. You'd be surprised how many pay them.' "
In 1903 the Sprouls sold their property to a prosperous Bar Harbor merchant, a Mr. Franklin, who remodeled the building into a "first class department store" with apartments above.*
St. Edward's Convent, (Former)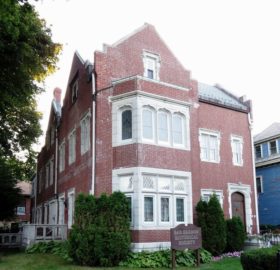 [33 Ledgelawn Avenue] The former Saint Edward's Convent is a Jacobethan Revival style brick building, built in 1917 and dedicated early the following year. Its construction was made possible by General and Mrs. Edward de Veau Morrell of Philadelphia, who were summer residents of Bar Harbor. Construction of Saint Edward's marked the culmination of a substantial building campaign by Bar Harbor's Catholic congregation.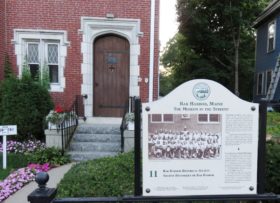 Begun in 1913 with the erection of Holy Redeemer Church (several lots to the north of the convent at the corner of Eden Street and Ledgelawn Avenue), the campaign continued with the building of a parochial school in 1914 (behind the convent), and the convent in 1917, named in honor of its benefactor's name saint.
The building remained in use as a convent for the Sisters of Mercy until the early 1970s, after which it was sold by the Roman Catholic Diocese of Portland to a private individual. It was subsequently used as a law office, health center, Zen Buddhist center, and a private residence, and in 1997 was acquired by the Bar Harbor Historical Society to house its museum.
From an architectural standpoint, St. Edward's is noteworthy as a virtually intact example of a residential building designed in the Jacobethan Revival style.
Stone Barn Farm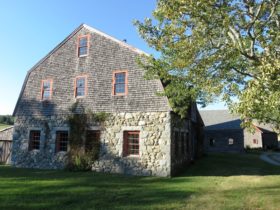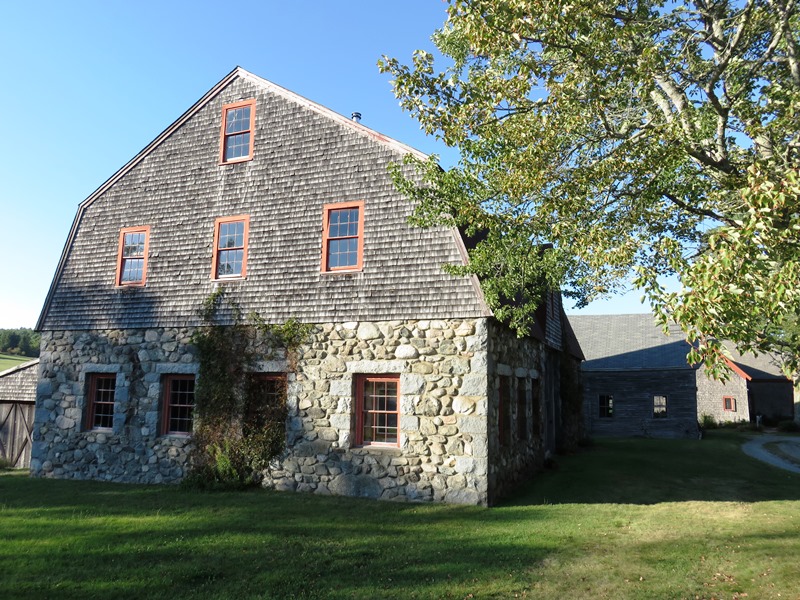 [jct. of Crooked Road and Norway Drive, Salsbury Cove] Probably established in the mid-19th century, and significantly augmented in the early 1900s, the Stone Barn Farm contains a modest frame house, a carriage house, and a very unusual barn whose first story is of masonry construction. The house was probably built sometime between 1850 and 1860, when the census shows that Richard Paine was the head of a household and his occupation is listed as "Farmer." His real estate was valued at $600 and his personal estate at $ 150. Among other farms in Eden, the Paine farm ranked in the lower third in both size and value in 1860. Its forty-five acres included only one improved acre, and livestock consisted of 2 milch cows, 2 working oxen, 1 swine, and 8 sheep.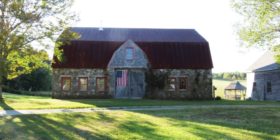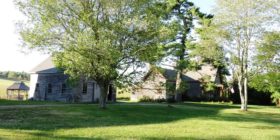 The property descended to Paine's son Willis Paine who then sold it about 1907 to the Shea Brothers of Bar Harbor. Shea Brothers was a masonry contracting and building company operated by James M. and Charles W. Shea in Bar Harbor. Shea Brothers built the distinctive stone barn on the farm. About 1915, the Paine family returned to the farm and rented it from the Shea Brothers. Later the Shea Brothers sold the farm.
Although both the house and carriage house on the Stone Barn Farm reflect common building patterns typically associated with modest 19th century farmsteads, the stone barn is unusual when considered in the context of Maine's agricultural buildings. While framing patterns and barn layouts have changed, sometimes dramatically, over time, the vast majority of such buildings built in the 18th, 19th, and early 20th centuries are of wood frame construction. In contrast, the stone barn's first story is glacial stone with granite sills and lintels, the whole of which is covered by an expansive gambrel roof with wood shingled frame end walls.*
Turrets, The
[Eden Street] This imposing chateauesque home overlooking Frenchman's Bay is an important survival recalling the heyday of Bar Harbor as a fashionable turn of the century resort that rivaled Newport in opulence and social distinction. The disastrous fire of 1947 destroyed most of the grand homes in the area and effectively ended the era of ostentation in this still wealthy and popular resort. The first summer visitors, or "rusticators", began coming in the late 1850s drawn by the spectacular scenery and sea breezes. These early arrivals stayed first in primitive boarding houses and later in hotels of plain wood frame construction. By the late 1870's, however, a few cottages of modest size began to appear, built primarily by Bostonians and particularly Harvard professors.
A number of elaborate and stately "cottages" on beautiful grounds followed. "The Turrets" is a striking example. Its builder, J. J. Emery, was a typical late 19th century financier with diverse business involvements. To design his Bar Harbor mansion Emery retained the distinguished New York architect, Bruce Price, who was a versatile practitioner of several late 19th century styles including Shingle, Beaux Arts and, in the case of "The Turrets", chateauesque.
After some years of disuse, "The Turrets" was acquired by The College of the Atlantic, an institution dedicated to environmental studies. [See video with The Turrets above.] "The Turrets" is noteworthy as a survivor of a lost segment of the American social scene, home of a bygone economic species, architectural creation of a prominent and gifted designer, and currently part of a promising educational experiment.*
US Post Office–Bar Harbor Maine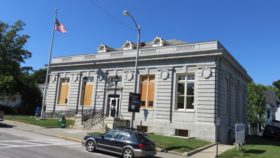 [Cottage Street] The Post Office was designed in 1908 and built in 1909, one of only twelve post offices built in the United States that year. It was built under provisions of the Tarsney Act (1893-1912) and the first Omnibus Building Act of 1902. James Knox Taylor, the Supervising Architect for the U.S. Treasury (1897 to 1912), was the architect of record. Taylor's buildings were always individually designed, firmly resisting standardization of design, and constructed of fine high quality, durable materials and much ornament.
Government buildings of the period were designed to reflect a return to the "Classic Style of Architecture" conforming to the spirit of the American Renaissance movement of the late 19th and 20th centuries. Government buildings were designed to express classical and democratic ideals and to symbolize power, organization, and institutionalization.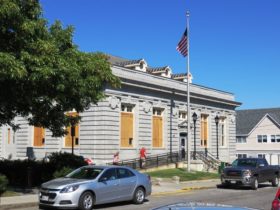 Bar Harbor, at the turn of the century, became one of the favorite resorts of the rich, and, as a result, the area became a center of architectural activity. A diversity of eclecticism was expressed in the erection of residential and support facilities. There still remains a great variation of architectural achievement and this Post Office is representative of the best of this work. This small building is probably the finest example of classical eclecticism expressed in the design of public buildings at that time. It is well preserved and endowed with significant architectural enrichment, and local officials and citizens are very careful in their alterations and maintenance of this beautiful example of architecture.*
West Street Historic District
[West Street between Billings Avenue and Eden Street]
Located in one of the few areas totally spared by the forest fire holocaust of 1947, the West Street Historic District provides a remarkable microcosm of Bar Harbor's emergence from a small rural village called Eden into a playground for the wealthy. By 1855 a number of local residents had begun to open their homes to summer boarders or "rusticators" as they were frequently called. In this same year the Agamont House was opened in Bar Harbor at the foot of Main Street, the first inn devoted solely to that purpose.
"Petunia Cottage" of 1877, the first to be erected in the West Street area (the street itself was not laid out until 1886) was soon rented to vacationers and represents the next step in the development of the resort. Beside it, the "Foster Cottage" of 1878, while built as a local family house, was bought by a summer resident. "Petunia Cottage" was also acquired quickly by an off-islander, the social lion, S. Weir Mitchell, who, having moved from Newport, placed the stamp of approval of high society on Bar Harbor. "The Manor House", originally called "Boscobel" and built in 1887, was a much larger scale house, as befitted the changing times. It was also built by a local resident exclusively for summer rental. Since added to, it now selves as as summer hotel.
Though "The Kedge" is the oldest of the district buildings, it was not moved to West Street until 1886. However, in its earlier existence on the harbor's edge it had served as the Oasis Club, one of the early social organizations which reflected development of a societal structuring among the summer residents.
The laying out of West Street in 1886 was followed by a building boom the following year when five large summer houses were built, all but one of which were on the north side of the street and had extensive lawns sloping down to the waters of Frenchman's Bay. These were really the first of the "cottages". It is significant that three of these houses, "Greenlawn" "Saltair", and "The Tides" were designed by Rotch and Tilden, an extremely prominent Boston architectural firm. The other two, "West bridge" and "Chantier" were by William A. Potter of New York, also well known among the socially elect. The fact of their design by such notable practitioners indicates the coming of age of Bar Harbor as a fashionable watering place soon to rival Newport.*