National Register of Historic Places – Augusta
Much of Augusta's history is tied to two eras: the early settlement and trading on the Kennebec River, and the long period it has served as the state's capital.  Official government buildings and the homes of powerful politicians and power brokers, make up a major portion of the National Register list.
Adams, D. V., Co.
[190 Water Street, Augusta Central Business District] This building is historically important as one of the best surviving unaltered structures built as a department store in Maine for the Bussell and Weston Company. Erected in 1909, it is distinctive for its original exterior features such as large display windows, Chicago style upper floor windows and spacious interior. It was used as a department store until 1985.
Its design radically departed from the predominant Italianate character of the street. The large windows, interrupted only by columns, the use of white glazed brick, and the flat facade are all characteristic of early twentieth century retail architecture. The cornice, added between 1912-1926, departed from this concept and makes the building blend more with its neighbors. Though the property is known as the D.V. Adams block, the origin of that name is not clear.*
All Souls Church
[70 State Street] This 1875 church was built in the Victorian style of that era. The building, apparently vacant for some time and in need of repair in 2015, has been offered for sale, then removed from the market. Though listed on the National Register in 1978, its description is not published.*
Augusta City Hall, Former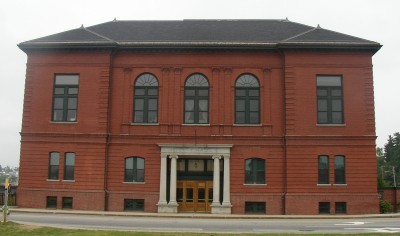 [1 Cony Street] Augusta's former city hall is a modestly scaled Renaissance Revival style building built in 1895-96 from designs by the Boston architect John C. Spofford. It housed the municipal offices until 1987 when it was replaced by a new facility located near Fort Western and the new City Hall.
In 1797, the Town of Augusta was set off from Hallowell, but it was not until 1849 that it became a city. By that time Augusta was a thriving river port community with a moderately-sized commercial district, textile mills located along the banks of the Kennebec River,  the State Capitol building and other government facilities.
Prior to the completion of the new city hall, offices were located in the Opera House. In 1895 city officials proposed a new building to house city departments and provide a public auditorium. Dedication took place on July 4, 1896.*
Bangs, Algernon, House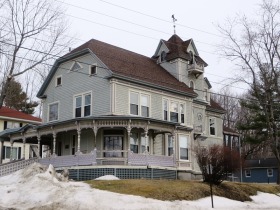 [16 E. Chestnut Street] Built by Algernon Bangs, this Queen Anne style house is a landmark. Bangs was born in Farmington in 1837. In 1881 he established the firm of Bangs Brothers in Augusta specializing in door and window manufacture. Financially successful, he served as President of the Augusta Board of Trade. A progressive, he advocated women's suffrage and in 1897 declared that "flying machines will eventually become modes of public conveyance."
After several owners, in 1922 the house was purchased by Augusta General Hospital as a nurses residence. It was then called St. Catherine's Hall after the girls school that owned the land before Bangs acquired it. Beginning in 1953 it served as an apartment building; in 1980 it became a medical professional building.*
Blaine, James G., House

, National Historic Landmark
[Capitol and State Streets] The original portion of the Blaine House, built for Captain James Hall, was completed in 1833. James G. Blaine purchased "Blaine House," his home for more than 30 years, in 1862. Though in later years he spent increasing amounts of time in Washington, D.C., and summered at Bar Harbor, the Augusta house remained his official home until his death in 1893.
Blaine made a number of changes, including the construction of a rear addition that nearly doubled its size. His family retained the house until 1919, when it was given to the State of Maine for use as the governor's residence. That year, under the supervision of Portland architect John Calvin Stevens, the house was renovated and a second addition constructed at the rear of the first. Renovated again in 1962, "Blaine House" remains in excellent condition and is open to the public.*
Bond Street Historic District
[Bond Street] The District consists of  seven residential units built primarily in 1884 by the  Company as employer-built worker housing. The company needed to house the workers in its cotton factory and their families.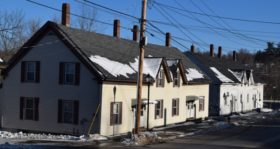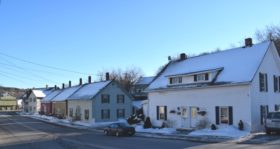 The buildings, arranged in a tight row along paved sidewalks, share common massing, proportion and scale. Four frame 1½-story double-houses are on the south side of the street, and two frame 1½-story four-family row houses are located on the north, as is the only single family home. Together they represent a type of housing once used throughout the industrial centers of the northeast.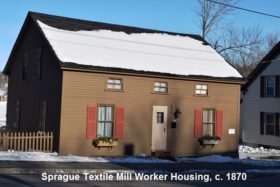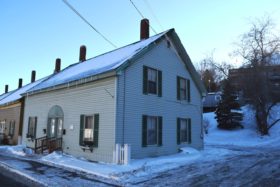 The company erected boarding houses and tenements on other streets nearby but the district buildings represent the sole remaining concentration of 19th century mill worker housing in Augusta. They illustrate one aspect of the growth of the textile industry in Augusta and its related social history. The district has architectural significance as an unpretentious, purpose-built, multi-family housing complex with shared design and materials. Edwards Manufacturing sold the buildings in 1946.*
Capitol Complex Historic District
[State and Capitol Streets] The Capitol Complex District is a T-shaped area of about forty (40) acres which contains the Maine State House and grounds, Capitol Park, the Blaine House, the Guy Gannett House, several other historic houses, the 1950s era Cross Office Building and the late nineteenth century Nash School building.*
Capitol Park
[bounded by Capitol St., Kennebec River, Union and State Streets] Capitol Park is significant as a landscape design, dating from 1827, that survives with its spatial structure intact. It is unique as an early example of a designed landscape and as a remarkable survivor within the Capitol complex. A memorial to a  19th century governor stands among the trees; Civil War soldiers trained and camped here.*
Cony High School
[Cony Circle at Cony and Stone Streets] The building, as listed on the National Register, refers to its condition before additions made in the 1960s. No longer in use as a school, in 2015 it was being redeveloped to serve as senior housing, which may change its earlier appearance.
The historic building is a three-story wedge with Colonial Revival style detailing. Built between 1926 and 1932, it features a curved entrance facade whose upper levels contain trios of double hung windows separated by detailed design features. It rests on a granite foundation.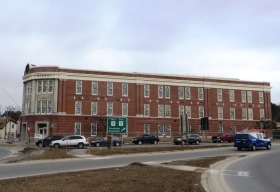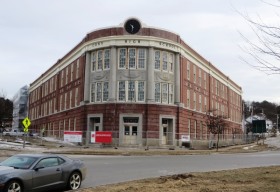 Cony's third floor auditorium is its most highly detailed space, with a stage is at the narrow end of the building and a balcony at the rear. Typical Colonial Revival style details with classical moldings and pilasters are significant features. The building also serves as the most important physical symbol of Augusta's history of public education.*
Cony, Gov. Samuel, House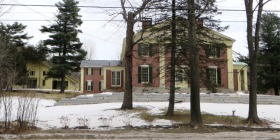 [71 Stone Street] The Governor Samuel Cony House is a two-story brick mansion located on a large lot in a residential neighborhood. The windows consist of six-over-six and six-over-nine double-hung sash with stone lintels. A small one-story wing extends from the north.
Other important decorative features include a bowed window on the south side of the rear wing, and the fence which encloses the garden at the intersection of the ell. The latter is a classical design with urns on posts similar to the McLellan-Sweat Mansion in Portland. Originally Greek Revival in design (1846), it was altered in 1930 in the neo-classical tradition.*
Crosby Street Historic District
[Crosby Street and Crosby Lane] The District is architecturally significant as the last major enclave of residential buildings in the city's important early 19th century development. The houses were built by prominent merchants and entrepreneurs such as John Hartwell, George Crosby, William Hunt, and Eben Fuller. Located on the hill above the central business district, the neighborhood had physical prominence close to the central business district.
John Hartwell, a carpenter and auctioneer, and George Crosby, a successful merchant lived next to each other in identical houses.
After the Crosby House served as the residence of Governor Samuel Smith in 1832-34, new development began. William Hunt and Eben Fuller built substantial Federal style homes.These were followed by two in the Greek Revival style.*
Cushnoc

, National Historic Landmark
Address Restricted
Doughty Block
[265 Water Street, Augusta Central Business District] The 1890 Doughty Block is the only example of high-rise commercial design in Augusta. As a six story building, it was rare for its time in Maine.
Its somewhat odd architectural design adds to the building's significance as a local landmark by architect Charles Fletcher. For a time is stood alone, towering over other nearby buildings.*
Ellis, Dr. J. W., House
, 62 State Street
In 1855 Dr. Joseph Willard Ellis, who served as City Physician from 1850 to 1856, purchased the property in about 1855. Shortly after the purchase he built the main part of the house, a formal and decorative example of the Greek Revival. It is the finest example of this particular version of the style in the city. Both the interior and exterior reflect an attention to detail, proportion and scale. The unusual decorative panel above the front door has become something of a local landmark. The entire doorway is a masterpiece of stylistic arrangement and design.
The building served as a private residence until 1970 when it was purchased by the Maine Democratic State Committee and later sold. It was a multifamily rental property in 2015. After serving as City Physician, Dr. Ellis returned to his private practice. He was named for Joseph Willard, President of Harvard College where both he and his father obtained medical degrees.*
Fort Western

, National Historic Landmark
[Bowman Street, see Fort Western article]
Fuller-Weston House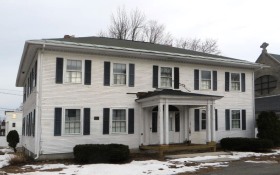 [11 Summer Street] Its association with three prominent figures in the field of jurisprudence distinguishes this house. Henry Weld Fuller built the house in 1818. He served in the Massachusetts General Court, as Colonel in the State Militia, as a lawyer for the Plymouth Proprietors and as Kennebec County Judge of Probate.  Fuller sold the house in 1827 to Nathan Weston, appointed in 1820 to the Supreme Judicial Court of Maine, elevated to Chief Justice in 1834.
His grandson Frederick lived in the house until attending Bowdoin College, graduating in 1853. Receiving a law degree from Harvard in 1855, he practiced in Augusta, became active in civic affairs and served as president of the city council. A staunch Democrat, he was a close friend and supporter of Stephen A. Douglas. In 1888 President Cleveland appointed him Chief Justice of the United States, a position he held until his death in 1910. He was a respected jurist, participating in many key decisions: the first income tax cases, the Chinese exclusion cases and the Northern Securities Case.*
This federal style house at 11 Summer Street has been used as a Rectory for St. Marks' Church since 1873.
Gannett, Guy P., House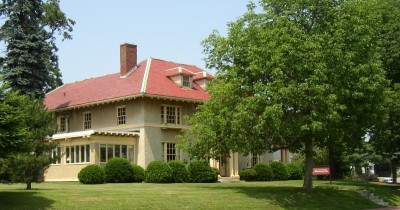 [184 State Street] This is the only significant "Mediterranean Revival" dwelling in Kennebec County. The house was Augusta's most progressive when built in 1911, a showcase not only of the latest architectural fashions, but of many mechanical conveniences. Owner Guy Gannett was perhaps the most significant publisher in the history of the Maine press. His daughter Jean Hawley Gannett succeeded her father in his communications business.
Designed by Boston architect James N. Thomas, the house was a wedding gift from William H. Gannett to his son. The elder Gannett was one of the nation's most successful mail-order entrepreneurs.*
The building served as the home of the Maine State Planning Office 1973-2010. In 2014, Genie Gannett, granddaughter of Guy Gannett, said the family was interested in turning the property into a First Amendment museum "where kids and adults could have an experience with the First Amendment and its role as the guardian of democracy."
Hill, Gov. John F., Mansion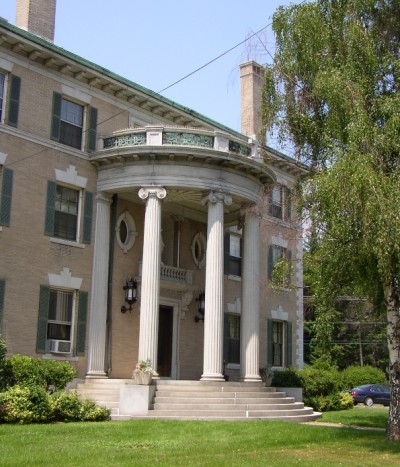 [136 State Street] This magnificent Colonial Revival mansion, which dominates the central section of State Street, reflects the career of its first owner. Designed in majestic grandeur by Maine's most noted architect, John Calvin Stevens, it is a symbol of stability and achievement.
John Fremont Hill, born in 1855 in Eliot, attended Bowdoin College receiving an M.D. degree from the Maine Medical School in Brunswick. After practicing medicine briefly in Boothbay Harbor, he decided on a business career. In 1879 he joined Peleg 0. Vickery in his publishing house.(See Vickery Building below). In 1880 Hill married Lizzie G. Vickery, his partner's daughter. He became President of the Somerset (electric) Railroad and served as director or officer of several banks in the Augusta area.*
Journal Building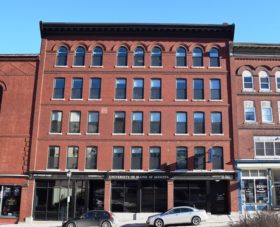 [325–331 Water Street, Augusta Central Business District] This 1899 building is significant as the offices of the Kennebec Journal, the longest running paper in Maine still in business but no longer at this location. It has local significance as a largely unaltered Renaissance design that occupies a prominent site in Augusta's central business district. Unlike similarly designed nearby structures, the Journal Building retains most of its original features.
The Kennebec Journal, founded in 1825, occupied several other buildings before this one.*
Kennebec Arsenal

, National Historic Landmark
[Arsenal Street] The Arsenal is the most intact early 19th  century munitions depot in the United States. Built between 1828-1838, the eight granite buildings occupy a commanding location on the east bank of the Kennebec River. They comprise a largely intact and cohesive collection of granite buildings designed in the Greek and Gothic Revival styles.
The property retains much of the open space that defined the relationship between the buildings and the grounds of the 40-acre site. The Arsenal was built  when a number of munitions depots were being established on the exposed frontiers of the U.S. after the War of 1812. Its size was directly related to the Northeast Boundary Controversy, a border dispute which lasted from 1820-1842 and almost led to a third war with Great Britain.*
Kennebec County Courthouse
[95 State Street, see Kennebec County]
Kresge Building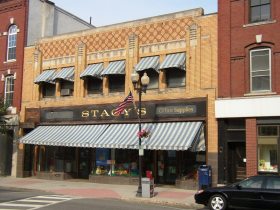 [241–249 Water Street, Augusta Central Business District] This architecturally significant building is one of a very few Moderne style commercial blocks in Maine. Built about 1932, it replaced an Italianate style structure identical to the two adjoining blocks. This two story brick building has a bronze and granite storefront and an upper floor with cast stone trim. It was built by S. S. Kresge's for a department store with offices on the second floor. When completed it was one of the most modern and unusual architectural designs in Augusta.*
The Moderne style (1930-1950), closely related to the Art Deco style, was a break with traditional design. It had only a brief history with relatively few examples in the United States.**
Libby–Hill Block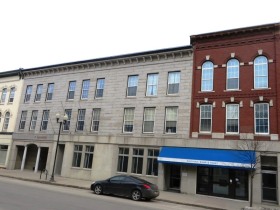 [227–233 Water Street, Augusta Central Business District] This block is architecturally important as the surviving granite structure on Water Street build after the large 1865 fire. Although commonly used for public buildings, they are relatively rare for retail businesses.
Built as a block of three stores by B. Libby and Dr. H. H. Hill, it symbolizes the participation of Augusta's leading developers in rebuilding the city after the fire. Among the wealthiest in Augusta, they chose granite to help ensure no further conflagrations would decimate the central business district.*
Lithgow Library
[Winthrop Street; N44° 18′ 54.62″  W69° 46′ 41.46″] The 1896 Library reflects a direct inspiration from the work of architect H.H. Richardson since the library's architect had served under Richardson. During the 1870's and 80's, Richardson began to revolutionize American architectural design by the forceful unity with which he composed Medieval Romanesque forms as well as his utility in organizing space.
Small community public libraries were emerging and became one of the building types most frequently requested. Richardson created one and a half story structures such as the Crane Memorial Library in Quincy, Massachusetts, which were divided into three major sections: an entrance flanked by a reading room and stacks. The Lithgow Library is an adaptation of the Crane Library in style and plan. Yet the Augusta building's departure from Richardson's purity of Romanesque detail and asymmetry are indicative of the Beaux Artes influence of the time.*
A major addition to the library was completed in 2017, preserving the original structure.
Maine Insane Hospital
[Hospital Street, see Mental Health]
Maine State House
[Capitol Street, see State Capitol]
Masonic Hall
[313–321 Water Street, Augusta Central Business District] The Masonic Hall is significant for its distinguished Renaissance-inspired design by Boston architect John Spofford. It illustrates how a talented designer could create an interesting exterior with a limited budget with little allowance for exterior ornament. The sheer size of the building creates a monumental effect. The south end of Water Street did not develop substantially until the construction of the Federal Building in 1889-90. In 1894 the Masonic Hall followed.*
Morrill

, Lot, House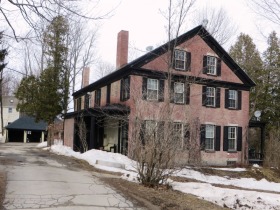 [Winthrop Street] This fine Greek Revival style brick house was probably built in the 1830s. In 1845 the house home to Lot M. Morrill who came to Augusta in 1841 to practice law. Morrill was a graduate of Waterville College (now Colby) and first practiced law in Readfield. Between 1849 and 1856, he was Chairman of the State Democratic Committee. In 1853 he was elected to the Maine House of Representatives. He was the unsuccessful candidate for the U.S. Senate the following year but was elected to the State Senate in 1855 where he became the President of the Senate.
In 1856, Morrill, due to his strong belief in the abolition of slavery and the temperance movement, broke with the Democratic Party and joined the newly forming Republican Party movement. In 1857, he was elected Governor and was twice reelected in 1858 and 1859. In 1861 he was sent to the United States Senate where he served until 1876. While there he became a force in the abolition movement.*
The following three properties are adjoining and share a common history:
Noble Block
[186 Water Street, Augusta Central Business District] The Noble Block is a three story brick Italianate style building with decorative window trim A projecting cornice above the third story is shared with the block on the north. The brick and plate glass display windows are recent alterations.
It is architecturally significant as part of a row of four Italianate style stores, which are the most important surviving group built after the disastrous 1865 fire. T.C. Noble built the first story in late 1865. The upper two stories were added in 1867, the year the block to the north was built.*
Whitehouse Block
[188 Water Street, Augusta Central Business District] The Block is three stories high and constructed of brick with stone and metal trim. Italianate style features include an over-hanging cornice, decorative metal window caps and stone quoins for the second and third stories. The storefront has been extensively altered with plate glass. Only two cast iron piers, which are shared with adjoining stores, survive.* (The Whitehouse Block color changed from white in 2003 to yellow in 2015.)
Sturgis and Haskell Building
[180–182 Water Street, Augusta Central Business District]
The Sturgis & Haskell Block is a three story brick building with a rounded corner at the intersection of Water and Bridge Streets. It is significant s one of the Italianate style stores in the surviving group erected immediately after the 1865 fire. Built in 1867, this block was part of the last group of structures erected in the two years following the fire.*
Old Post Office
[Water Street] The U. S. Post Office and Court House is the most monumental example of Romanesque Revival architecture surviving in Maine.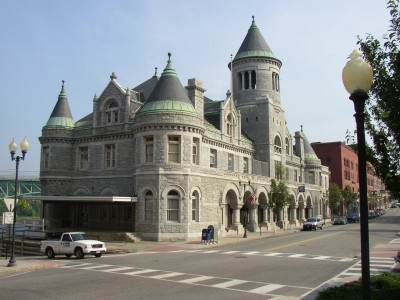 The building is also one of the state's most successful cases of adaptive use. When its Federal functions ended in the 1960's, it was reused for a bank, a restaurant, and offices.
Federal postal service started at Augusta in 1794. Although the city became the capitol in 1827, it did not have a substantial postal building until this one was built in 1890 of granite from nearby Hallowell. The volume of mail sent from Augusta's booming publishing business made it a necessity. For example, Augusta was the headquarters of William H. Gannett's weekly family magazine Comfort, which had a nationwide circulation of more than a million by 1892.*
South Parish Congregational Church and Parish House
[Church Street] The South Parish Church is an important work of Francis H. Fassett, Maine's leading mid-19th century architect and as a dominant landmark on the Augusta skyline. Its attached parish house is also a notable, rare example of the Stick Style. Although the first area parish was established in Hallowell in 1773, it was not until 1795 that the first meeting house was erected. In 1793 the community was divided into three parishes. After considerable religious upheaval, a united parish was formed as the South Parish when Augusta was set off from Hallowell in 1797.
A meeting house that was built in 1809 was destroyed by lightening in 1864. The church members decided they must immediately rebuild with more durable materials. Within four months the designs for an imposing granite Gothic Revival structure were accepted. The building with its 178 foot spire was dedicated in 1866. The present parish house was connected to the church by an addition in 1963. This monumental church structure, located at the brow of a steep hill, towers over the city in dramatic fashion.*
St. Mark's Episcopal Church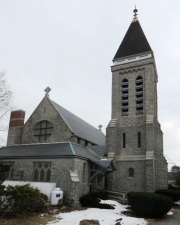 [9 Summer Street] This Church is a distinguished example of late Victorian Gothic architecture executed in rough cut granite and drawing heavily on English models. No other church in the area conveys a similar impression or a more carefully worked interior.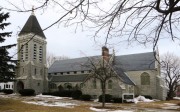 The 1886 Church has slate roofs and wooden trim, with windows designed in the Gothic style. An unaltered interior features large marble columns with stone palm leaf capitals supporting arches on each side of the central part of the church.*
St. Mary's Church
[39 Western Avenue] This Church is a long and broad structure built of coursed ashlar granite. Its picturesque front elevation is composed of a centrally placed worship area, gable framing, a detailed entrance porch and a corner bell tower featuring an irregular stepped silhouette.
Built in 1926-1927, it is among the most architecturally significant religious buildings in Augusta. The handsome and richly decorated Gothic building is deceptively small. It is one of the most picturesque, innovative examples of churches designed for Catholic parishes in Maine involving the firm of T.G. O'Connell.*
Tappan-Viles House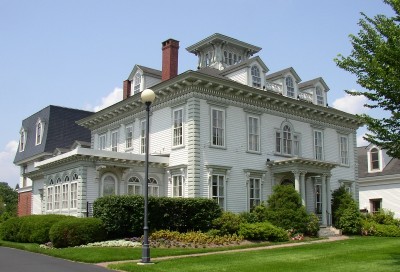 [154 State Street] Originally built in 1816 in the Federal style with major Italianate and Colonial Revival trim added around1865 and 1915 respectively, the Tappan-Viles is a large and unusually impressive building now used for professional offices.
It is a noted landmark in central Augusta and particularly interesting as a excellent blending of three architectural styles applied consecutively over a span of one hundred years. The residence was originally built by Reverend Doctor Benjamin Tappan, an 1805 Harvard graduate who became pastor of the South Parish Church in 1811. In its original state the house appears to have been a fairly traditional square hip roofed Federal house.
The last owner to use the house as a residence was Blaine S. Viles in 1923, a lumber merchant who served as Mayor of Augusta in 1915-1916 and as State Forest Commissioner.*
Vickery Building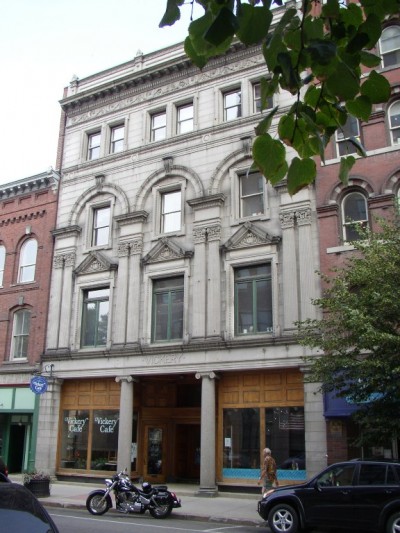 [261 Water Street] The 1895 Vickery Building is the most finely crafted and architecturally significant commercial building in downtown Augusta. The handsome facade was made of white Hallowell granite. It marks the pinnacle of the career of Peleg O. Vickery, the leading publisher in Augusta at a time when was the "publishing capitol" of Maine.
Vickery, born in 1837, came to Augusta as a young man and apprenticed in a printing office. After learning the trade, he opened a small prosperous print shop. Realizing the need for light fiction, in 1874 he began publication of Vickery's Fireside Visitor, a monthly magazine popular across the country. From this time until his death in 1909 his success was continuous and included the creation of a large publishing office in 1879.*
Williams Block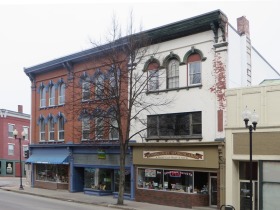 [183–187 Water Street, Augusta Central Business District] This building is the last remaining commercial structure south of Bridge Street that escaped the terrible 1865 fire, having just been built in 1864.
Designed by Maine's leading architect, Francis Fassett, this block was built by Ruel Williams, one Augusta's most important 19th century residents. Williams built this block the year he died, after having served the State of Maine and the City of Augusta in a variety of capacities. Fassett, who designed the South Parish Congregational Church was also the architect of several other blocks in Augusta, all of which were been destroyed.*
Winthrop Street Historic District
[roughly bounded by State, Bridge, North and South Chestnut, and Green Streets] The District is an irregular L-shaped area with Winthrop and State Streets forming its primary corridors. Its boundaries encompass the community's most significant extant concentration of historic resources ranging from the first quarter of the 19th century through the first quarter of the 20th century. Architectural resources iclude residential, religious, civic and governmental buildings of wood, brick and granite frame construction in addition to a notable landscape feature.*
The district contains nearly 200 historic properties, some properties within the district in 2015 appear below:
Additional resources
Edwards, Keith. "First Amendment museum seen at renovated Gannett House." Portland Press Herald. September 15, 2014. http://www.pressherald.com/2014/09/15/first-amendment-museum-seen-at-gannett-house-in-augusta-still-alive/ (accessed February 1, 2015)
*Maine. Historic Preservation Commission. Augusta, Me.   Text and photos from National Register of Historic Places: http://pdfhost.focus.nps.gov/docs/nrhp/text/xxxxxxxx.PDF and http://pdfhost.focus.nps.gov/docs/nrhp/photos/xxxxxxxx.PDF
Adams, D.V., Co.: 86001690.PDF
All Souls Church: 78000178.PDF
Augusta City Hall: 97001134.PDF
Banks, Algernon, House: 82000751.PDF
Blaine House: 66000024.PDF
Bond Street District: http://www.maine.gov/tools/whatsnew/index.php?topic=mhpc_recent_listings&id=620049&v=article
Capitol Complex Historic District: 01001417.PDF
Capitol Park: 89000252.PDF
Cony High School: 88001841.PDF
Cony , Gov. Samuel, House: 85000732.PDF
Crosby Street Historic District: 86002438.PDF
Doughty Block: 86001691.PDF
Ellis, J.W., House: 79000148.PDF
Fort Western: 69000009.PDF
Fuller-Weston House: 84001374.PDF
Gannett, Guy, House: 83000455.PDF
Hill, John Fremont, House: 77000070.PDF
Journal Building: 86001692.PDF
Kennebec Arsenal: 70000046.PDF
Kennebec County Courthouse: 74000169.PDF
Kresge Building: 86001693.PDF
Libby-Hill Block: 86001694.PDF
Lithgow Library: 74000170.PDF
Masonic Hall: 86001695.PDF
Noble Block: 86001696.PDF
Old Post Office: 74000172.PDF
St. Mary's Church: 87000943.PDF
St. Mark's Episcopal Church: 84001379.PDF
South Parish Congregational Church: 80000235.PDF
Sturgis and Haskell Building: 86001697.PDF
Tappan-Viles House: 82000759.PDF
Vickery Building: 84001380.PDF
Whitehouse Block: 86001698.PDF
Williams Block: 86001699.PDF
Winthrop Street Historic District: 01000815.PDF
** Pennsylvania Museum and Historical commission. "Moderne Style 1930 – 1950." http://www.portal.state.pa.us/portal/server.pt/community/modern_movements/2391/moderne_style/296451 (accessed February 2, 2015)
Last update: December 20, 2016