| Year | Population |
| --- | --- |
| 1970 | 24,151 |
| 1980 | 23,128 |
| 1990 | 24,309 |
| 2000 | 23,203 |
| 2010 | 23,055 |
Geographic Data
N. Latitude
44:05:03
W. Latitude
70:14:54
Maine House
District 62,63,64
Maine Senate
District 20
Congress
District 2
Area sq. mi.
(total) 65.8
Area sq. mi.
(land) 59.8
Population/sq.mi.
(land) 385.5
County: Androscoggin

Total=land+water; Land=land only
[AWE-burn] is a city in Androscoggin County, on the Androscoggin River, incorporated as a town on February 24, that has grown into one of the largest cities in Maine in terms of land area. Lewiston, across the river is its "twin" city. The Lewiston-Auburn metropolitan area is the second largest in Maine.
In 1802 the town of Pejepscot was formed from the early Pejepscot Claim and Little's Gore. Its name was changed to Danville in 1818. After ceding land to Auburn in 1859, it was finally annexed by the town of Auburn in 1867 just before becoming the City of Auburn in 1868.
Auburn annexed land from Poland in 1852 and from Minot in 1873 to complete its modern boundary.
According to Brunelle, "The factory system of making shoes was originated in Auburn in 1835."  By 1903 the Boot and Shoemakers Union had 190 members, probably including workers from the  Lewiston "shoe shops."
Auburn is home to Central Maine Community College, one of seven community colleges throughout the state, and to the Androscoggin County Historical Society.
The 1833 Penley Corner Church is a landmark in the village of South Auburn.
19th century Representative to Congress Thomas Fessenden lived here, serving in the state legislature and as Androscoggin County Attorney. Member of Congress and U.S. Senator William D. Hathaway made Auburn his home. It was also the long-time home of U.S. Senator Olympia J. Snowe.
Two major league baseball players were born in Auburn. Wally Clement, born in 1881, played two years for the Philadelphia Phillies – 1908 and 1909. Born in 1905, Charlie Small had a short, one season, 25 game career with thee Boston Red Sox.
Form of Government: Council-Mayor-Manager. Auburn was the first city in Maine to adopt the council-manager form of government in 1917.

Additional resources
Auburn Centennial History, 1842-1942. 1942. Mounted newspaper clippings from the Lewiston Sun, February 24, 1942. Photocopy. Augusta, Me. Maine State Library, 1987.
Clune, Barbara. "Penley Corner Church rich in history." Sun Journal. July 8, 1989.
The Experience of the Great Depression in Lewiston-Auburn, Maine: A Report by First Year Seminar 187, Bates College, Winter. 1996. Lewiston, Me. Bates College. 1996.
*Maine. Historic Preservation Commission. Augusta, Me.   Text and additional photos from National Register of Historic Places: http://pdfhost.focus.nps.gov/docs/nrhp/text/xxxxxxxx.PDF and http://pdfhost.focus.nps.gov/docs/nrhp/photos/xxxxxxxx.PDF
Androscoggin County Courthouse and Jail: 83003633.PDF
Auburn Public Library: 84001357.PDF
Barker Mill: 79000123.PDF
Briggs, William Homestead: 86000477.PDF
Cushman, Charles L. House: 80000210.PDF
Day, Holman, House: 78000155.PDF
Dingley, Frank L., House: 80000211.PDF
Engine House: 78000156.PDF
First Universalist Church: 79000126.PDF
Foss, Horatio G., House: 76000084.PDF
Free Baptist Church: 89000843.PDF
Garcelon, A.A., House: 86001269.PDF
Gay-Munroe House: 01001422.PDF
Gilead Railroad Station: 92000272.PDF
Jordan, Charles A. House: 74000147.PDF
Little, Edward, House: 76000086.PDF
Main Street Historic District: 89000255.PDF
Munroe, Horace House: 80000213.PDF
Roak Block: 82000738.PDF
Robinson, William A., House: 93000204.PDF
Webster Grammar School: "Webster Grammar School, Auburn, Androscoggin County." http://www.maine.gov/tools/whatsnew/index.php?topic=mhpc_recent_listings&id=142621&v=article (accessed December 19,2016)
League of Women Voters of Auburn, Maine. Auburn and You. Auburn, Me. The League. Auburn, Me. Pine Tree Press. 1959.
Rand, John A. The Peoples Lewiston-Auburn Maine, 1875-1975. Freeport, Me. Bond Wheelwright Co. 1975.
Skinner, Ralph Burgess. Auburn, 1869-1969: 100 Years a City, a Study in Community Growth. Auburn, Me. Auburn History Committee. 1968.
Wing, George C. Auburn, Maine, "Fifty Years a City." Auburn, Me. Auburn Chamber of Commerce. 1919.
National Register of Historic Places – Listings
Androscoggin County Courthouse and Jail
[2 Turner Street] The Androscoggin County Courthouse and Jail is a large two-story structure built in a modified H-shaped plan. The main section consists of the courthouse, which forms the south half of the "H". It is rectangular with the main entrance on the narrow east end. A steeply pitched hipped roof and octagonal clock tower distinguishes the courthouse. Extending perpendicularly from the north side is a two-story wing joined to the jail. [photo and more at Androscoggin County]
Auburn Public Library
[49 Spring Street] The Library is a fascinating sophisticated architectural statement that sets it apart from the other buildings on Court Street. Designed in Chateausque style with Romanesque elements, it is firmly established as a prominent city landmark. Architect William R. Miller designed this and many important buildings in Maine including the Lawrence Library in Fairfield and the L. C. Bates Museum at the Hinckley School, also in Fairfield.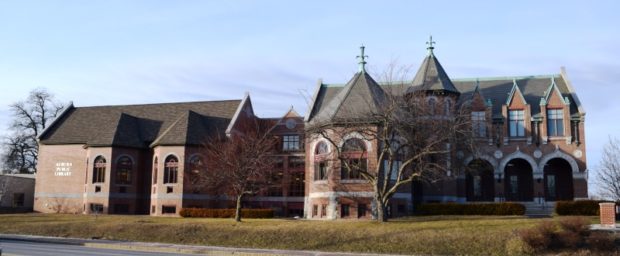 Founded in 1890 as a subscription library, it received $1,000 from the City in 1895 on condition that it become a free library. Early in 1903 the city council agreed to accept $25,000 from Andrew Carnegie for a new library building on condition that the city provide the lot and funds for the support of the library.*
Barker Mill
[143 Mill Street; N44° 5′ 16.96″ W70° 13′ 35.89″] Few mansard roofed mills existed in Maine. The late 19th century textile mills tended to be starkly simple and drab. This building has an unusual dignity and extensive decorative detail. The Barker Mill was, for a long time, Auburn's one major venture in the textile industry. It was the enterprise that gave the New Auburn area its favorable start as a business center.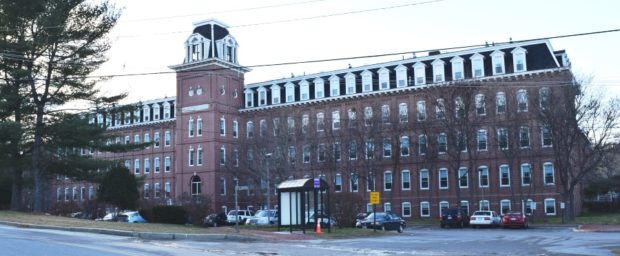 The process began in 1870 with the acquisition of a large area along the Little Androscoggin River for a considerable distance upstream from its confluence with the Big Androscoggin. The purpose was to develop a water power for a textile mill. The result led not only to the dam and a five-story mill, but to the sale of home building lots to the people who flocked into the area. The dam was completed in 1872; the mill in 1873; and "Barker Mill" opened in 1874. It made cotton shirts and sheets. In 1888, it employed 275 people.* Renovated in 1979, in it was operating as "affordable housing" for older people in 2016.
Briggs, William, Homestead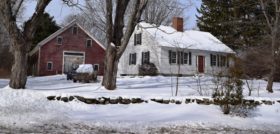 [1470 Turner Street] This residence, in original condition (later ell added), may well be the oldest house surviving in "East Auburn". This area is the oldest settled part of Auburn and was first known as Berry's Mills, as part of the Town of Minot.
The original land grant was made to Samuel Berry of Cobbosseecontee (an area in Kennebec County) for his services as a scout and guide on Benedict Arnold's expedition to Quebec in 1775. William Briggs acquired his land from Berry in 1779 and built this roomy homestead for his large family. The house is marked by elegant woodwork in the two principal front rooms.
A large brick chimney is in the center of the main house and a smaller one is in the ell.  Especially outstanding is the ornamental molding that extends around the ceiling of the parlor, and the mantelpiece and its overmantel in the sitting room. This woodwork is a mixture of Georgian and Federal styles.
Cushman, Charles L., House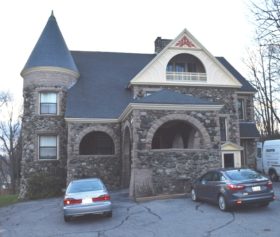 [8 Cushman Place] The 1889 Cushman House is an unusual Queen Anne style specimen and one of the finest residential designs of architect George M. Coombs. The house is a reminder of the affluence gained from shoe manufacturing, Auburn's most important industry in the period. This massive pile of field stone with its ornamented gables, circular corner tower and elaborate porch is beautifully sited on a bluff overlooking the city. It was built for Charles L. Cushman, son of the founder of one of the largest shoe manufacturing complexes in New England.
At the time Charles was vice president and general superintendent of the manufacturing department of the Ara Cushman Company, consisting of three factories with over 1,000 employees. This had sprung from a small three man operation in nearby Minot begun by his father in 1854. In addition to the great stone house, the estate consisted of a large greenhouse, stables and a tennis court on several acres. The Cushman House received national attention after  publication in the American Architect and Building News of December 21, 1889. Now only the house remains on a reduced but still ample plot.
Day, Holman, House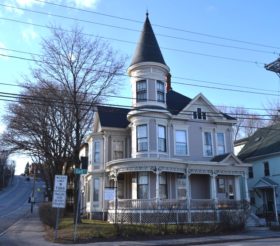 [2 Goff Street] The Day House is rich in its association with this famous Maine author. Remembered for their colorful Maine characters and accurate depiction of Maine customs and life, the works of Holman F. Day are an important part of the literary heritage of Maine.
It is unquestionably one of the finest Queen Anne Style wooden residences in the State of Maine. This is so not only in terms of construction quality, but also in the high degree of its detail. The one and a half story carriage house is fully as ornate as the residential parts. Its main facade faces south and has a large paneled barn door and one-over-one window in its first story. Above the barn door is a smaller rectangular paneled door. A circular window occupies the gable end above the first and second story doors.*
Dingley, Frank L., House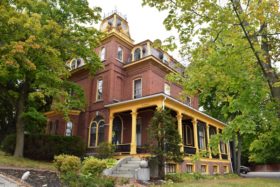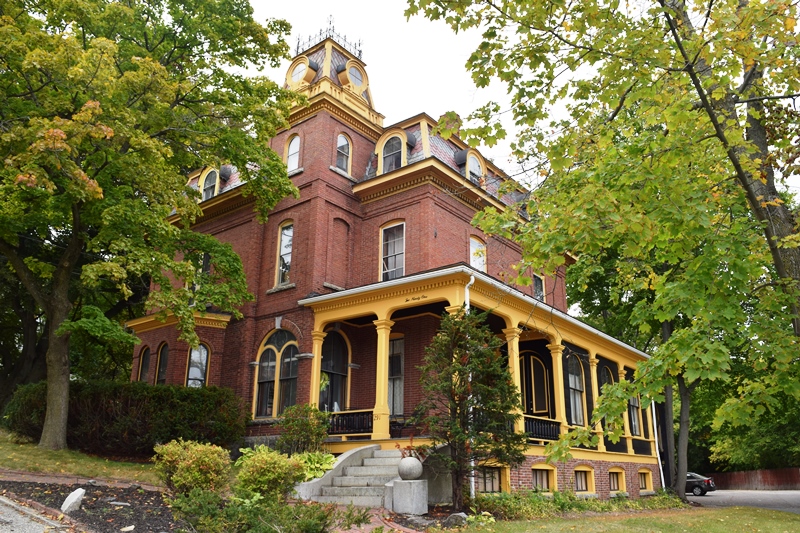 [291 Court Street] This is a fine example of a high style Second Empire house in villa form. From its construction in 1867 until his death in 1918, was the home of Frank L. Dingley, distinguished editor for 57 years of the Lewiston Evening Journal, Maine's second largest daily newspaper.
Upon graduation from Bowdoin College in 1861, Dingley joined his brother Nelson, later to become a distinguished statesman, in founding the Journal as a daily (a weekly since its founding in 1847). From small beginnings it grew rapidly under Frank Dingley's editorship into a highly respected newspaper. The Civil War accelerated newspaper production and Dingley was one of the first to make full use of the telegraph as a news gathering instrument.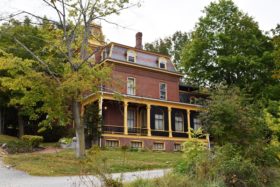 In the great era of personal journalism represented by giants like Horace Greeley, James Gordon Bennett and William Cullen Bryant, Dingley established his own reputation for clear expression, zeal for righteousness, irrepressible uproarious humor and rapier-like wit, all coupled with boundless energy.
He became the oldest-in-service of the major working newspaper editors in the United States. Under his guidance the Journal was constantly modernized. It was the first newspaper in Maine to use cylinder presses and build a half-tone plant. In 1898 he "refounded" the Lewiston Journal with the construction of a large new building, installation of huge 28 page presses and linotype machines.
His outside interests were many and included extensive foreign travel, yachting, and the development of a unique summer resort at Squirrel Island. A personal friend of Theodore Roosevelt, he was a strong supporter of the Progressive Party. He was an ardent patron of the arts. Always interested in science and invention, he was one of the first believers in and supporters of F. E. Stanley, developer of the famous steam automobile and dry photographic plate. The Dingley House, beyond its architectural merit, remains as a monument to a man of many parts and certainly Maine's most noted 19th century journalist.
Engine House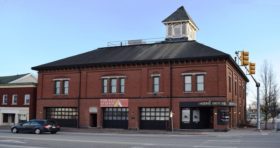 [Court and Spring Streets] In 1870 Auburn voted to build a wood-framed Engine House to accommodate a new horse drawn steam engine and other equipment. The horses stabled there were the property of the Street Department. A Street Department employee brought the Steam Engine to the fires, but did not fight the blaze, the work of the all-volunteer fire company. [Frank A. Beard photo]
This Engine House was destroyed by fire 1878 and was replaced by the current brick Engine House. In 1891, the first full-time fireman was appointed. In 1903 a new horse-drawn combination hose and chemical wagon was added, as was the second paid fireman.
The 1903 rig was replaced by a motorized unit in 1914, followed by other motorized vehicles. The Engine House was used as a fire station until 1971. Now in private ownership, it remains a special part of Auburn history and is well documented by photographs and records.*
First Universalist Church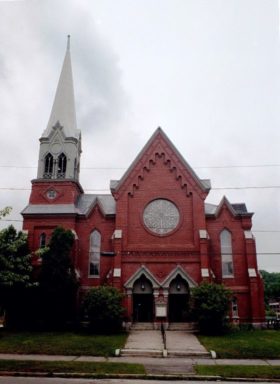 [Elm and Pleasant Streets] Architect John Stevens' First Universalist Church is the outstanding statement of High Victorian Gothic Church architecture. A large and complex brick building with granite and wood trim,the three story tower has an open belfry and polygonal spine. Although some crispness has been lost by the removal of wrought iron cresting from all the gable ridges, it retains the grandeur and intricacy of detail marking it as a fine example of its style.
Upon its completion in 1876, this church was viewed as the finest addition to the architecture of the city to date. It still is one of Auburn's outstanding landmarks. * [See additional photo above.]
Foss, Horatio G., House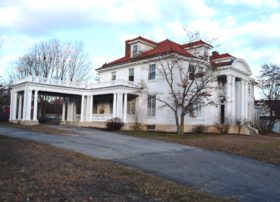 [19 Elm Street] This impressive Colonial Revival mansion was built in 1914 by Horatio Gates Foss, a highly successful Lewiston industrialist and self-made man. The land was once owned by Squire Edward Little, principal founder of Lewiston-Auburn.The son of a shoemaker, Horatio Gates Foss was born in Wayne in 1846 and attended local public schools. He learned the shoe-making trade from his father, then went to Haverill, Massachusetts to gain practical experience in larger shoe shops.
In 1875 he came to Auburn and became associated with the shoe manufacturing firm that later became to Dingley, Foss & Co. Foss established himself as a partner and became General Manager of the firm, which employed between five and six hundred people.
During his later years he spent considerable time in Boston where he could be near the stock market in which he was very active. He died in 1928. His widow, Ella M. Fletcher, upon her death in 1941, bequeathed the house to the Woman's Literary Union. The Foss House, long an Auburn showplace, stands as yet another reminder of the rewards of success in the 19th century industrial world.*
Free Baptist Church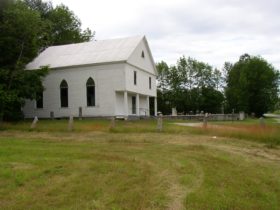 [Riverside Drive] Believed to have been built in 1833, the Free Baptist Church, also known as the Penley Corner Church, is a modest wooden frame building that combines Greek and Gothic Revival stylistic features. Its primary significance is the extensive well preserved decorative interior finishes, apparently added during the third quarter of the nineteenth century.
A Baptist congregation began in the area in 1808, but the Penley Corner Church was built to support an offshoot of the earlier congregation. Apparently it was built on part of a farm owned by John Penley in what is now South Auburn. No longer an active church, an annual open house occurs during the summer.* [See additional photo above.]
Garcelon, A. A., (Governor) House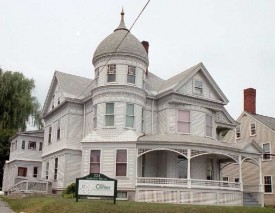 [223 Main Street] The Alonzo Garcelon House is architecturally significant as one of the most outstanding examples of Queen Anne design in Maine. Located on a prominent site above Auburn's commercial district and the Androscoggin River, the house is an important local landmark.
Garcelon belonged to a prominent local Franco-American family and was a partner in the grocery and provisions firm of Peables and Garcelon. He hired the local firm of Jefferson L. Coburn to design what was probably the most distinctive example of Queen Anne style architecture in the Auburn-Lewiston area.*
Although he became Governor in the election of 1878, he received only a bit over twenty-two percent of the popular vote, while incumbent Republican Governor Seldon Connor got twice as much at almost forty-five percent. However, with no candidate having a majority, the Democrats and Greenbackers in the legislature combined to award the election to Garcelon.*
Gay–Munroe House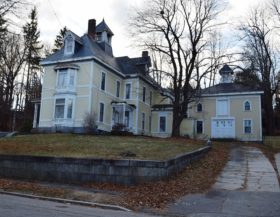 [64 Highland Avenue] The 1878 Gay-Munroe House is a tall, asymmetrically massed frame house with a blend of Victorian architectural styles. It was built for local shoe manufacturer Charles Gay, and was later occupied by industrialist Willard N. Munroe. Charles Gay (1837-1916) was in the shoe manufacturing business in Auburn, the center of Maine's 19th and early 20th century shoe industry. Gay was a partner in the company of Smith & Gay, one of the builders and original occupants of the Roak Block, a "row factory" of nine four-story blocks built in 1871-72 to house new and modest sized shoe companies. Gay formed a partnership in 1875 with J.O. Foss, that became Gay, Foss & Co. when W. H. Foss joined the firm. In 1883, Gay retired to establish the Gay-Woodman Company in Lewiston.
Gay and his wife Emma L. Gay occupied their Highland Avenue residence until 1894, when it was acquired by Willard Noble Munroe and his wife Ella Mae Munroe. Like Charles Gay, Munroe was a shoe manufacturer. He was one of the partners in the firm of Munroe, Packard and Linscott, and was a founder and first president of the Auburn Shoe Manufacturer's Association. In the late 1890s, Munroe also became involved in paper manufacturing in New Hampshire and Quebec. By the early 20th century, the Quebec based Brompton Pulp and Paper Company, with which Munroe was affiliated as treasurer, had become one of the largest paper making firms in Canada.
Gilead Railroad Station, Former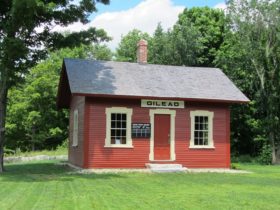 [Once off Northeast end of Twin Road in Auburn, this small station building has been moved to the town of Gilead] The former Gilead Railroad Station is the oldest train station of Maine's Grand Trunk Rail line, and the oldest in the State of Maine. Built in 1851 during the construction of the Atlantic and St. Lawrence Railroad, it features the simple design and construction of these early stations. Originally situated beside the tracks in the village of Gilead, it was moved in 1991 to a site in Auburn and rehabilitated.
In 1833 the first railroad charter in Maine was introduced for the Bangor and Piscataquis Railroad and Canal Company. Opening in 1836, it was the first steam railroad in the State. Gilead, like many other Maine towns, prospered during the railroad age. Steam-powered mills producing spool stock, boxes, and staves became fixtures after the appearance of the railroad, and the town developed as a summer vacation retreat near the White Mountains. In 1891, the Wild River Lumber Company had a railroad line that stretched for several miles south of Gilead to the mills in the village of Hastings.
With the decline of the railroads came the demise of the town, and Gilead's population has declined to its pre-railroad size of some 200 persons. The Gilead railroad station was built by a crew of Atlantic and St. Lawrence Railroad Company carpenters as the line neared the New Hampshire border in 1851. Much of the station, it is believed, was constructed offsite and transported by rail car to Gilead, where it could be quickly erected and pieced together.*
The station was returned to Gilead in 2011.
Jordan, Charles A., House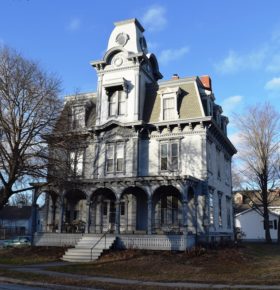 [63 Academy Street; N44° 5′ 35.33″ W70° 13′ 45.10″] The Jordan House is one of the most ornate Victorian Houses in the Lewiston-Auburn area. It clearly demonstrates the craftsmanship of the local late 19th century Maine builder, Charles Jordan.
The house was built around 1880, a proof of his skill as a designer and builder. Other buildings by Jordan were Auburn High School, The Stanley Dry Plate Factory, the Avon Mill, and many fine residences in the Auburn area.
Little, Edward, House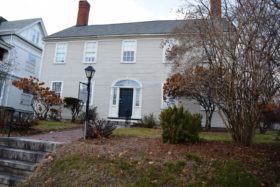 [217 Main Street] The house is significant because its builder, Edward Little, was one of the major figures in the development of the cities of Lewiston and Auburn. Born in Newbury, Massachusetts in 1773, he came to Auburn, then part of the Town of Minot, in 1826, and built this house.
He encouraged economic development through his  ownership of the water power of the Androscoggin River, and was a supporter of  Auburn's cultural and community development, providing land for the first church and supporting its construction and operation. Little established and endowed Lewiston Falls Academy, now Edward Little High School.* [See photo above.]
Main Street Historic District
[Roughly bounded by Drummond, Main, Elm, and High Streets] Auburn's Main Street Historic District is comprised of a relatively small group of residential buildings erected between the second quarter of the 19th century and the first quarter of the 20th century. The architecturally important houses were built for and occupied by some of the city's leading citizens. These buildings depict Auburn's development from a tiny river settlement to a leading manufacturing center.
The first settlement in what is now the central business district is believed to have begun about 1798 when Joseph Welch built a log cabin. The location was apparently linked to his occupation as a log driver and that it was a suitable place to assemble rafts of logs that had passed over the nearby falls.
The district contains a mix of 19th and early 20th century residential building styles. The oldest building is the 1827 Edward Little House As late as 1897 the main part of the house was connected to a large barn. Two houses were built during the Greek Revival period but only one, the Charles W. Walton House bears any of its original features. The other house was wholly remodeled after 1908 into the eclectic gambrel roofed Adams-Little-Cobb House.
The Italianate style is well represented by the Jacob H. Roak and Reynolds-Hasty houses. Both frame buildings employ cross shaped plans with bracketed cornices and cross gabled roofs. They are by the use of round-arched windows and prominent window hoods. The later generation of Queen Anne houses stretched this new system to the limits.
There are two notable Queen Anne style houses in the district: the A. A. Garcelon House and the Albert Penley House. Built in 1890, these asymmetrically massed frame houses are among the largest buildings in the district. Corner towers on both express their vertical massing whereas wraparound porches create a sense of balance. The two also share a use of mixed sheathing materials and other embellishments that combine to create lively exterior appearances.
House construction in the later 1890s continued to show the popularity of the asymmetrical Queen Anne form but with much less concern for varied sheathing and the elimination of towers. A typical house form for the period is the 1891 S. D. Thomas Double House. It shows its affinity to the Shingle and emerging Colonial Revival styles. The 1914 Horatio G. Foss House is an important example of the style with its symmetrical composition and attention to the use of Georgian details including a hipped roof.*
Munroe, Horace, House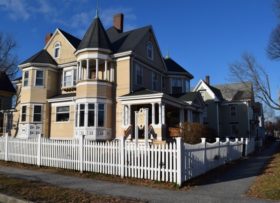 [123 Pleasant Street; N44° 5′ 44.28″ W70° 13′ 41.93″] The Horace Munroe House is significant both as an architectural treasure and as a vital link to Auburn's shoe manufacturing history. The Munroe Family played an active role in the growth and expansion of Auburn. As early as 1843 Noble N. Munroe, father of Horace Munroe, joined in partnership with Cyrus Packard to form the C.S. Packard Shoe Company,one of Auburn's first.
Various Munroe family members contributed to the growing shoe industry and became fixtures in the community. In 1886 the patriarch Noble Munroe died and his widow, who remained in their old home for several years, decided that a new home must be built. In 1900 the Horace Munroe House was built in the splendid Queen Anne tradition. The house was one of Auburn's finest and a notable landmark both for its architecture and its historic relationship to the Monroe family. It has been called the Horace Munroe House since it became his lifetime home during a long and illustrious business career.* In 2015 is was the attractive Monroe Inn.
Roak Block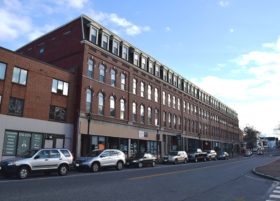 [144-170 Main Street] At the time of its construction in 1871, the Roak Block was the largest commercial-industrial structure ever built in Maine. Over 1.8 million bricks were used in this enormous Mansard building designed by Stevens and Coombs, prominent Lewiston architects. The Roak Block also proved to be a momentous development in the Auburn's shoe industry, then only beginning to emerge as a major industrial feature. Jacob Roak was a shoe manufacturer, banker, businessman, and foremost in community development. He conceived the idea of building a four-story brick factory in the principal business center. Roak found eight investors, all connected with shoe making, to invest in and own separate vertical sections of the combined structure. It was in that sense a "row factory" and it served a great, purpose.
In addition to some stores on the first floor, it furnished nine sections on the other floors for beginning shoe firms or modest ones to get started until their trade dictated a move to larger quarters, usually new ones they were able to finance.The venture continued actively for nearly 90 years until shoe manufacturing began to decline. During the long active period, Roak Block became known as, and virtually was, "the cradle of the Auburn Shoe Industry." *
The Block was a 19th century version of the 21st century "business incubator" model popular with economic development professionals. In 2015 the Block offered affordable apartment rentals, with commercial spaces on the ground floor.
Robinson, William A., House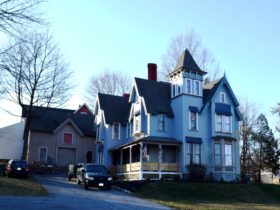 [11 Forest Avenue; N44° 5′ 48.97″ W70° 14′ 13.72″] The Robinson House is an outstanding example of late 19th century Gothic style domestic architecture in western Maine. Auburn in the early 1870s had been undergoing major development with the construction of large shoe and textile factories. The architecture was generally rather conservative in the Italianate and Mansard styles.
The Kenway Brothers, two English born architects, introduced new architectural styles to the area. Their first was a store for Robinson & Beede druggists, in late 1873. Shortly after, William A. Robinson hired them to design a house on Auburn Heights, one unlike anything else being built in either Lewiston or Auburn.
Herbert P. Kenway and Balstron C. Kenway were from Glanmorgan in Wales. The two brothers opened an office in the city building, offering services in both architecture and civil engineering. For a brief three year period they secured a number of important commissions in Auburn and elsewhere in the State.
William A. Robinson (1845-1926) came to Maine as a young man and learned the druggist trade. In 1867 he formed a partnership that later became W. A. Robinson and Company. After Robinson built his house in 1874 he probably kept in contact with the Kenways when they were hired to remodel the Congregational Church he attended, and to design the city water supply of which he was a strong advocate. Newspaper comments of the period indicate that the domestic work of the Kenway Brothers was considered quite novel for Auburn. The Robinson House fits into that category.*
Webster Grammar School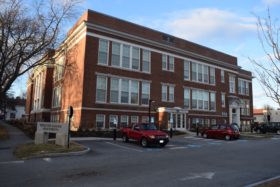 [95 Hampshire Street; N44° 6′ 3.27″ W70° 13′ 46.61″] Built in 1916 in a residential neighborhood, the Webster Grammar School was one of the first junior high schools in New England. Influenced by a national movement in educational philosophy in the 1910s-20s, the school reflects the tumult of a city grappling with rapid growth in student enrollment and adjustments to the quality and structure of public education.
Two years after opening, the school was officially made the junior high school and functioned as such until 1981 when it became an intermediate school for fourth, fifth, and sixth grades. The School has characteristics of an educational institution that exemplifies the transition. Assuming a traditional school form on the exterior and containing a classroom floor plan that was not innovative, the incorporation of manual arts training with gender-divided spaces in the basement level was a unique resolution to integrating new subjects while following the earlier structure of school organization. The Webster Grammar School is also a significant example of early 20th century Colonial Revival school design by well known Maine architect Harry S. Coombs.*
Address Restricted Sites:
Irish Site [Address Restricted East Auburn, Androscoggin River Drainage Prehistoric Sites]
Lamoreau Site[Address Restricted]
Wilson I Site [Address Restricted, East Auburn, Androscoggin River Drainage Prehistoric Sites]