| Year | Population |
| --- | --- |
| 1970 | 1,322 |
| 1980 | 1,890 |
| 1990 | 2,669 |
| 2000 | 3,571 |
| 2010 | 4,022 |
Geographic Data
N. Latitude
43:26:25
W. Latitude
70:31:41
Maine House
District 10
Maine Senate
District 32
Congress
District 1
Area sq. mi.
(total) 23.9
Area sq. mi.
(land) 23.9
Population/sq.mi.
(land) 168.3
County: York

Total=land+water; Land=land only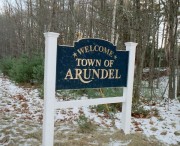 [ah-RUN-del] is the successor to several boundary and name changes affecting towns in York County.
A town by the name of Arundel was incorporated on June 10, 1719 from an earlier settlement known as Cape Porpoise.
By 1821 the name Arundel disappeared as it was changed to Kennebunk Port on February 19th of that year.
Nearly a century later, on April 1st, 1915, a new town was created from Kennebunk Port to be known as North Kennebunkport. Its name was changed in 1957 to Arundel.
Thus, the "new" Arundel occupies a small portion of the town so named in 1719. But, just to complicate matters, a village in the current adjoining town of Kennebunkport, is known as Arundel!

Over the past four decades, the town has nearly tripled in population as the state's population grew much more modestly.  It is primarily residential with houses often in wooded areas.
There is no "downtown" or even a sizable village. Commercial strips along U.S.  Route 1 provide the business locations.
Since 1751 the Perkins grist mill was a landmark in Arundel. It was built by Thomas Perkins and his sons, Eliphalet and Abner, on Long Creek, an estuary of the Kennebunk River. Eliphalet (the first miller), Abner and their brother James, who acquired part ownership of the mill, eventually deeded their shares to their sons, beginning a progression of ownership that kept the mill in the hands of their descendants for over 100 years.
Kenneth Roberts' historical novel Arundel recounts the early life of the area and influenced the reemergence of the name. A few remnants of that early life remain as farms and fields.
The Eastern Trail for cyclists and pedestrians passes through wooded areas of the town, and through neighboring towns of Wells, Kennebunk, Biddeford, Saco and Old Orchard Beach.
Form of Government: Town Meeting-Select Board-Manager.
Additional resources
North Kennebunkport (Me.). Annual Report of the Municipal Officers of the Town of North Kennebunkport. North Kennebunkport, Me. The Town. 1917-1957. Special Collections, Fogler Library, University of Maine. Orono.
Perkins, Abner. Grist Mill Records, 1767-1796. "Records of a grist mill in Arundel, Maine in the late 18th century. The mill appeared to be owned by Abner Perkins. Included are accounts of the number of bushels milled and the cost." Special Collections, Fogler Library, University of Maine. Orono.