| Year | Population |
| --- | --- |
| 1970 | 188 |
| 1980 | 305 |
| 1990 | 498 |
| 2000 | 477 |
| 2010 | 427 |
Geographic Data
N. Latitude
44:30:48
W. Latitude
69:26:08
Maine House
District 53
Maine Senate
District 23
Congress
District 1
Area sq. mi.
(total) 39.5
Area sq. mi.
(land) 38.9
Population/sq.mi.
(land) 52.5
County: Sagadahoc

Total=land+water; Land=land only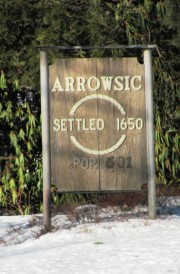 [ah-RAU-sik] is a town in Sagadahoc County, incorporated on March 2, 1841 from an island portion of neighboring Georgetown, itself an island.
Arrowsic Island, bounded on the west by the Kennebec River, separates Georgetown from Phippsburg.
These two areas were settled in 1607, but it was not until 1625 that Europeans moved to Arrowsic Island – still only five years after the Pilgrims arrived in Plymouth.
Sir William Phipps was said to have worked in a shipyard here as a young man.
According to Brunelle, "The name derives from an Indian word meaning 'place of obstruction.'" Arrowsic Island was the site of a trading post established in 1654 and soon a shipyard, foundry, mills, and farms.
In August of 1676 it was attacked by Indians and burned, with thirty people killed or captured. Archaeological excavations indicate a high standard of living for the period.
The island connects to the mainland by a bridge linking Preble Point with Sasanoa Point in Woolwich.
The narrows between these points link Hanson Bay with the Kennebec River at the site of Bath Iron Works.
Many twists and turns on the Kennebec River along Arrowsic's western border create wetland habitats for birds and other animals.
One of these is on Spinney Road east of Route 127.  Homes on this private road have great views of the river and the wide wetland, which is fed by Sewall Creek, with its many and diverse species.
Two small lighthouses sit on the shore of the Kennebec River as it winds its way from Bath Iron Works upstream. Doubling Point Light was placed in service in 1899; Squirrel Point Light, placed in service in 1898, is further downstream, but is now decommissioned. Another, Georgetown's Perkins Island Light Station, was also built on the Kennebec in 1898.
Bald Head Preserve, off Bald Head Road, is a Bald Eagle wintering area on 296 acres and two and a half miles of the Kennebec and Back Rivers. Access is across a privately owned marsh or from the river. It is managed by the Nature Conservancy.
Other areas rich in wildlife and vegetative diversity are the Kennebec wetlands on the Fisher Eddy Road, the Sewall Pond Conservation Area off the Old Stage Road, and the Wildlife Management Area surrounding the Back River.
Form of Government: Town Meeting-Select Board.
Additional resources
Beard, Frank and Bette Smith. Maine's Historic Places.
Gilman, Stanwood C and Margaret C. Gilman. Georgetown on Arrowsic: The Ancient Dominions of Maine on the Kennebec 1716-1966: 250 Anniversary Celebration. Georgetown, Me. 1966?
*Maine. Historic Preservation Commission. Augusta, Me.   Text and photos from National Register of Historic Places: http://pdfhost.focus.nps.gov/docs/nrhp/text/xxxxxxxx.PDF and http://pdfhost.focus.nps.gov/docs/nrhp/photos/xxxxxxxx.PDF
Doubling Point Light Station: 87002271.PDF
Fiddler's Reach Fog Signal: http://www.maine.gov/tools/whatsnew/index.php?topic=mhpc_recent_listings&id=78266&v=article
Kennebec River Light Station: 87002263.PDF
Squirrel Point Light Station: 87002281.PDF
Mitchell, H. E. (Harry Edward). The Town Register: Phippsburg, Georgetown, Arrowsic, West Bath, Westport, 1906. Brunswick, Me. The H. E. Mitchell Co. 1906.
National Register of Historic Places – Listings
Doubling Point Light Station
[West side of Arrowsic Island] Gateway to the important harbor at Bath and the upriver communities of Gardiner, Hallowell and Augusta, the Kennebec River carried 3,137 vessels in 1891, excluding daily passenger steamers. Thus the need for navigation lights.
Like the other Kennebec River lights built at the turn of the 19th century, Doubling Point Light Station consists of an octagonal wooden frame tower, a detached keeper's house, a shed, and a brick oil house. The 1898 light tower, offshore on a square granite base, is linked to the mainland by a three span wooden truss foot-bridge. The keeper's house is a 1½ story L-shaped clapboard building. Built in 1898, it was moved closer to the tower in 1901. In addition to a small shed, a brick oil house, added in 1906, is a typical small gable roofed building with a door and vent in one end.* [See video and photo above.]
Fiddler's Reach Fog Signal
[North shore of Kennebec River, East of Doubling Point Light Station] The Fog Signal is one of the many aids to navigation along the Kennebec River. On Arrowsic Island midway between the Doubling Point Light Station and the Kennebec River Light Station (also known as the Doubling Point or Kennebec River Range Lights), the fog signal  enabled safe passage through the tricky "S" turn of Fiddler's Reach. It signal was maintained by the staff at the Kennebec River Range Light station.
When the pyramidal, timber-framed, shingle clad structure was erected in 1914, the fog signal was created by a bell strike. Between 1967 and 1970 the bell was replaced by an electric fog horn, discontinued by 1982. The structure is now maintained by a private non-profit organization. The Fiddler's Reach Fog Signal was an important aid to navigation in the maritime history of the Kennebec River.*
Kennebec River Light Station
The unique 1898 Kennebec River Light Station consists of a pair of widely spaced tapered octagonal frame light towers linked by walkways to a large two-story keeper's house. A brick oil house stands behind this dwelling. Formerly known as the Doubling Point Range Light, the twin towers are aligned in a way to indicate the navigable channel in the Kennebec River.
The southernmost of the two towers stands 17 feet high from its granite base to the middle of the lens; the rear light is 4 feet shorter. The 1898 L-shaped clapboard keeper's house rests on a stone foundation. Built in 1902, the brick oil house is a small gable roofed building with a centrally placed door and a narrow vent located in one gable end.*
Squirrel Point Light Station
The Station is on Arrowsic Island on the east bank of the Kennebec River. One of four river light stations (see the other three above) built in 1898 as part of an integral system of navigational aids. The complex includes the light tower, a keeper's house, a barn, boathouse and oil house. The original placement of the buildings has been retained. In 1895 Congress authorized a $17,000 appropriation and the station was put into service three years later. It was automated in 1982.* [See video above.]
(GPS is from across the river from Parker Head Road near the Congregational Church in Phippsburg.)