| Year | Population |
| --- | --- |
| 1970 | 340 |
| 1980 | 468 |
| 1990 | 771 |
| 2000 | 816 |
| 2010 | 890 |
Geographic Data
N. Latitude
45:02:470
W. Latitude
68:46:15
Maine House
District 121
Maine Senate
District 4
Congress
District 2
Area sq. mi.
(total) 42.8
Area sq. mi.
(land) 42.4
Population/sq.mi.
(land) 21.0
County: Penobscot

Total=land+water; Land=land only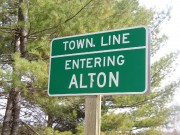 [AL-tun] is a town in Penobscot County, incorporated on March 9, 1844 from a portion of Argyle Plantation. In 1863, and again in 1871, it ceded land to Old Town.
Originally known as Township No. 3, it was bought from the Indians, then part was set aside for Waterville (now Colby) College in 1815.
Alton's first U.S. Census showed 252 people in 1850 and more than double (531) in 1860. But the post-Civil War period burst the boom balloon and the population fell steadily to an all-time low of 209 in 1920.  Since 1970 the town, nor far from Bangor and the University of Maine in Orono, has steadily gained population.
A site of many bogs, the town is bounded on the east by Birch Stream, which runs through the Alton Bog.
Hirundo Wildlife Refuge is the site of an archaeological project along the Pushaw Stream, where evidence suggests occupation by prehistoric Indian cultures dating back approximately 7,000 years. The refuge, located 4 miles west of Interstate 95 on Route 43 in Alton, includes 1,004 acres, and is open to the public year-round for observation of plant and animal life.
[The] Refuge is a self-supporting trust administered by the Trustees of Hirundo Wildlife Refuge. The University of Maine is the beneficiary of the refuge. The refuge was founded as a privately operated refuge by Oliver Larouche in 1976. In 1983, the entire refuge was donated to the University to be used for educational purposes. Although the University administers the Trust, funding is derived solely from private donations and not from the University or the State of Maine. The name, "Hirundo," is derived from the Latin word, "Hirundinidae", which is the ornithological term for the tree swallow family, a bird prevalent in this area of Maine.
From http://hirundo.home.mindspring.com/ (accessed May 8, 2005)
Form of Government: Town Meeting-Select Board.
Additional resources
Borstel, Christopher L. Archaeological Investigations at the Young site, Alton, Maine. Augusta, Me. Maine Historic Preservation Commission. 1982.
Knight, James A. Differential Preservation of Calcined Bone at the Hirundo Site, Alton, Maine. 1985. Thesis (M.S.) in Quaternary Studies–University of Maine.
Sawtell, William R. Alton, Then and Now. Alton, Me. United Methodist Women of the Alton United Methodist Church. 1988; Milo, Me. The Paper Pusher.