| Year | Population |
| --- | --- |
| 1970 | 1,211 |
| 1980 | 1,890 |
| 1990 | 2,238 |
| 2000 | 2,497 |
| 2010 | 3,019 |
Geographic Data
N. Latitude
43:28:55
W. Latitude
70:44:18
Maine House
District 21
Maine Senate
District 32
Congress
District 1
Area sq. mi.
(total) 27.9
Area sq. mi.
(land) 27.2
Population/sq.mi.
(land) 91.7
County: York

Total=land+water; Land=land only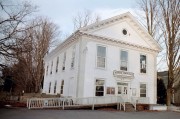 [AL-fred] is a town in York County, incorporated on February 25, 1808.
It was named for Alfred the Great, England's Saxon King of the Ninth Century.
Though Simon Coffin of Massachusetts arrived in 1764, the first permanent settlement took place in 1770.
Later, a Shaker community, including Alfred Town Hall members of the Coffin family, settled on a hill overlooking what is now called Shaker Pond, a 78-acre water body in the town's north.  The "Carriage House" on the hill hosts the Shaker Museum.
The Shaker community has been succeeded by a Catholic retreat campus on Shaker Hill.  A statue there commemorates "J. M. Robert de la Mannais, 1780-1860, Founder of  the Brothers of Christian Instruction."
Cemetery Lane leads to the resting place of Shakers, and Christian Brothers.
The York County seat since 1803, it was incorporated on February 4, 1794 as a district, having been part of Sanford.
John Holmes, who arrived in 1799, was a young lawyer specializing in real estate law, a skill in great demand in the poorly defined properties of the area.
Holmes,  who became a U.S. Senator, provided the impetus for locating the York County Court House, completed in 1807, in Alfred.
Alfred set off land to Sanford on February 23, 1828 and annexed land from Waterborough (now Waterboro) on July 22, 1847.
Originally, the area was known to the Native Americans as Massabesic and was acquired from Chief Fluellin in 1661 by Major William Phipps. According to Brunelle the price was "'two large blankets, two gallons of rum, two pounds of powder, four pounds of musket balls, 20 strings of beads' and several other articles."
---
Alfred is the county seat of York County and was the site of a Civilian Conservation Corps camp in the 1930's.
Form of Government: Town Meeting-Select Board.
Additional resources
Chadbourne, Ava Harriet. Maine Place Names and The Peopling of its Towns
Beard, Frank A. and Bette A. Smith. Maine's Historic Places: Properties on the National Register of Historic Places. Camden, Me. Down East Books. c1982.
Boyle, Frederick R. Early Families of Alfred, Maine. Portsmouth, N.H. Peter E. Randall. 2006.
Congregational Church (Alfred, Me.). Alfred, Maine Congregational Church records vol. I & II, 1782-1866 : members, baptisms, marriages & deaths. Sanford & Springvale, Maine, Genealogical Committee Publisher 1949.
Eastman, Harland H. A Cluster of Maine Villages: Sanford and Springvale, Acton, Shapleigh and Alfred. Springvale, Me. H. H. Eastman, 1991. (Sanford, Me. Robert M. Wilson, Wilson's Printers).
Eastman, Harland H. Alfred, Maine: the Shakers and the Village. Springvale, Me. H. H. Eastman, 1986. (Sanford, Me. Wilson's Printers)
First Baptist Church (Alfred, Me.). Records of the First Baptist Church of Alfred, Maine, 1836-1914. Sanford and Springvale, Maine. 1935-1936. The Benapeag Chapter, DAR, 1936.
Parsons, Usher. A Centennial History of Alfred, York County, Maine. Sanford, Everts & Co., Publisher. Philadelphia, Collins, printer. 1872.
National Register of Historic Places – Listings
Alfred Historic District, Kennebunk and Saco Roads.
Alfred Shaker Historic District, both sides of Shaker Hill Road
Holmes, Sen. John, House, US Route 202. A fifteen room provincial style home surrounding an enclosed court.
Lord–Dane House, Federal Street West side, 2 miles North of junction with US Route 202