is a town in Washington County named for Alexander Baring (Lord Ashburton) the British envoy who, along with Daniel Webster, settled Maine's northern boundary with the Webster-Ashburton Treaty.
| Year | Population |
| --- | --- |
| 1970 | 169 |
| 1980 | 385 |
| 1990 | 478 |
| 2000 | 514 |
| 2010 | 499 |
Geographic Data
N. Latitude
45:05:14
W. Latitude
67:28:39
Maine House
District 141
Maine Senate
District 6
Congress
District 2
Area sq. mi.
(total) 39.5
Area sq. mi.
(land) 38.9
Population/sq.mi.
(land) 12.6
County: Washington

Total=land+water; Land=land only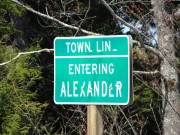 [al-ex-AN-der] is a town in Washington County, incorporated on January 19, 1825 from the earlier Plantation Number Sixteen, ED, BPP. On February 22, 1838 it annexed land from the adjoining town of Cooper. Then, on April 2, 1859 it gave up some land to the Town of Crawford, remaining as a town since that time.
According to Brunelle, it was named for Alexander Baring (Lord Ashburton) the British envoy who, along with Daniel Webster, settled Maine's northern boundary with the Webster-Ashburton Treaty that ended the "Aroostook War." The Alexander-Crawford Historical Society serves both towns.
The first known Euro-American settler was Samuel Brown who arrived with his family at the north edge of town before 1810. By 1820 the population was 114, descendants of the early English immigrants to America. The number  peaked at 544 people in 1850.
Two schoolhouses, the first, were built of logs in 1822, one on the Airline and the other on Burnt Barn Hill.
As a result of late 19th century farm prosperity, farm families formed Alexander Grange, Patrons of Husbandry, in 1889. The Grange Hall, now the oldest publicly accessible building in town, was built in 1908.
The incorporation of the Alexander Farmers' Union followed on March 30, 1918 to help its 33 members buy supplies and market their products.
When the mills were built in Woodland, and its population grew, a market for farm products was opened to Alexander farmers. Butter, eggs, cream, root crops, apples, and fresh berries were taken by wagon to customers, some of whom had moved from Alexander for a cash-paying job in the mills.
Canning blueberries had started at the time of the Civil War. The arrival of the railroad in Washington County in 1898 provided a way to get fresh and processed berries to markets. Blueberries are now the only commercial farm crop in Alexander.
The balsam products plant on Route 9 is one of several businesses in Washington County making Christmas wreaths and related items.  Pleasant Lake on the Cooper Road south of Route 9 attracts vacation cottages and visitors at the Pleasant Lake Camping area.
The town has a substantial frontage on the west shore of Meddybemps Lake. Meddybemps Heath restricts much of the access, which is best off Route 9 at the north end of the lake.
Long scenic views are widely available in the relatively flat landscape of Alexander.
Form of Government: Town Meeting-Select Board.
Additional resources
Alexander Comprehensive Plan Committee. Town of Alexander: 2006 Comprehensive Plan. prepared by the Alexander Comprehensive Plan Committee: Edward Burgess, et al. consultant, Washington County Council of Governments. 2006. [Some text was edited and condensed from the Plan.]
Alexander-Crawford Historical Society Newsletter. Alexander, Me. The Society.
Moody, George R. Directory of Alexander, Meddybemps and part of Cooper. Compiled by G.R. Moody Maine. 1896.
Maine. Supreme Judicial Court. Report of the Justices of the Supreme Judicial Court: to whom the legislature referred a resolve in favor of the town of Alexander and eighteen other towns. 1879. (Orono Special collections)
Vital Records of Alexander, Washington County, Maine. Compiled by Sharon D. Howland. Rockport, Me. Picton Press. c1999.