| Year | Population |
| --- | --- |
| 1970 | 1,056 |
| 1980 | 1,551 |
| 1990 | 1,736 |
| 2000 | 1,946 |
| 2010 | 2,041 |
Geographic Data
N. Latitude
44:30:48
W. Latitude
69:26:08
Maine House
District 79
Maine Senate
District 16
Congress
District 2
Area sq. mi.
(total) 39.5
Area sq. mi.
(land) 38.9
Population/sq.mi.
(land) 52.5
County: Kennebec

Total=land+water; Land=land only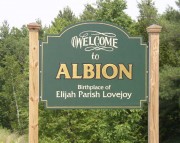 [AL-bee-un] is a town in Kennebec County, incorporated as Fairfax on March 9, 1804 from its original status as a plantation under the name of Freetown. It annexed some land from Winslow in 1810 and gave up land in 1813, 1816, and 1818 which eventually formed the town of China.  On March 10, 1821, the town changed its name from Fairfax to Ligonia, and then to Albion, the ancient name of England, on February 25, 1824.
Albion was Maine's one hundred and fifty-first town. Since 1970, Ablion's population has about doubled, with consistent, but modest growth in recent decades. The Town Office is now in an early 20th Century building, which also serves as a meeting place for civic groups.
First settled in 1790, probably by Congregational minister Daniel Lovejoy, Albion is the birthplace of Elijah Parish Lovejoy, son of Daniel and a fearless journalist and opponent of slavery. A plaque to Lovejoy rests outside the town library.
Form of Government: Town Meeting-Select Board-Administrative Assistant.
Additional resources
Albion on the Narrow Gauge. Clinton, Me. 1964.
Albion, Maine Sesquicentennial: 1824, August 2-3-4, 1974. Pittsfield, Me. The Valley Times. Pittsfield Pub. 1974.
Wiggin, Ruby Crosby. Albion on the Narrow Gauge. Clinton, Me.? 1964. (Narrow Gauge Railroad)
Cemetery Inscriptions of Albion, Maine. Maine. Maine Old Cemetery Association. 1971.
Town of Albion. New York: H.W. Blake & Co., 1892. Extracted from: Illustrated history of Kennebec County Maine, 1625-1799-1892 / editors Henry D. Kingsbury, Simeon L.Deyo. (Maine State Library)
Vital Records of Albion, Maine, prior to 1892. Transcribed by Elizabeth M. Mosher. Camden, Me. Picton Press. 1989. Wiggin, Ruby Crosby.