| Year | Population |
| --- | --- |
| 1970 | 773 |
| 1980 | 1,061 |
| 1990 | 1,114 |
| 2000 | 1,209 |
| 2010 |  1,266 |
Geographic Data
N. Latitude
44:30:49
W. Latitude
69:42:29
Maine House
District 138
Maine Senate
District 6
Congress
District 2
Area sq. mi.
(total) 97.2
Area sq. mi.
(land) 42.4
Population/sq.mi.
(land) 28.5
County: Washington

Total=land+water; Land=land only
[AD-di-sun] is a town in Washington County, named for the 18th century English author Joseph Addison, was incorporated on February 14, 1797. Prior to incorporation it was know as Plantation Number Six west of Machias. At the junction of the Pleasant River and its West Branch, the town extends south on a peninsular whose west portion comprises Cape Split in South Addison.
Two nature preserves are managed by The Nature Conservancy. East Plummer Island's ten acres are densely forested and home to Bald eagles. The Inland Fisheries and Wildlife Department, closes it in early summer for nesting.
Upper Birch Island, the largest island in the Pleasant River, is home to a eagle rookery and colony of great blue herons. Seals haul out on shore ledges. Covered by mixed forest and spruce-fir stands, it is closed during nesting season.
Indian River is yet another village in a town typical of the Downeast communities – one portion securely inland, and one, reaching out into the Gulf of Maine. These images illustrate the village's claim to independence: a memoir of the Half-Tide Mill and the harbor that hosted the mill and now shelters small fishing vessels.
---
Half-Tide Falls, below the bridge in Indian River, was the site of the saw, lath and grist mill built before 1785 and which lasted until 1876.  The Indian River Baptist Church and the Grange, are located nearby.
Addison Harbor on the West Branch of the Pleasant River is a quiet anchorage for small boats.  As the West Branch and the larger Pleasant River converge they fill a great inlet that separates Addison on the east from the town of Harrington on the west.  At South Addison the river becomes Pleasant Bay.
In the 1880's the town's harbors bustled with commerce, including the products of lumber mills, a "black granite" quarry, and sails.  They supported two shipyards, according to Varney (p.65), who observed "Vessels of 300 tons can load within 20 rods of the mills."
In 2010 Addison almost matched its record high population of 1860.
National Register of Historic Places – Listings
Indian River Baptist Church, Maine Route 187, Indian River
Plummer, Captain John, House,  23 Pleasant Street
Union Evangelical Church, north side of Addison Ridge Road, 2 miles South of US Route 1
Form of Government: Town Meeting-Select Board.
---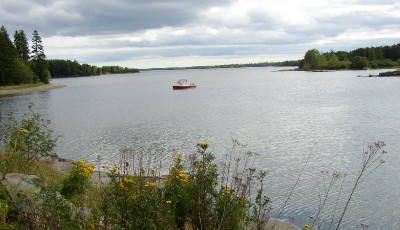 Additional resources
Addison, Maine: A Bicentennial History, 1997. Addison Bicentennial Committee? 1997.
Day, Clarence Albert, 1883-1981. Papers Relating to Towns in the Pleasant River Valley: Addison, Columbia, Columbia Falls. 195-? [University of Maine, Raymond H. Fogler Library, Special Collections]
Foster, Angela. Addison, ME: Town Vital Records, 1850-1892. Waterville, Me. A. Foster/World Genealogy Project. 2002.
Mitchell, H. E. (Harry Edward). The Addison and Harrington register, 1905. Brunswick, Me. H. E. Mitchell Co. 1905.
Nash, Ruth S. High Seas to High Stakes, or, around Cape Horn to the gold rush. Bloomington, Ind. 1stBooks. 2000.
Ploch, Louis A. Addison, Its Persistencies and Changes. Orono. Department of Agricultural and Resource Economics, University of Maine. 1990.
Varney, George J. A Gazetteer of the State of Maine. 1886.