| Year | Population |
| --- | --- |
| 1970 | 773 |
| 1980 | 1,061 |
| 1990 | 1,114 |
| 2000 | 1,209 |
| 2010 |  1,266 |
Geographic Data
N. Latitude
44:30:49
W. Latitude
69:42:29
Maine House
District 138
Maine Senate
District 6
Congress
District 2
Area sq. mi.
(total) 97.2
Area sq. mi.
(land) 42.4
Population/sq.mi.
(land) 28.5
County: Washington

Total=land+water; Land=land only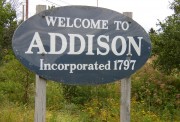 [AD-di-sun] is a town in Washington County, named for the 18th century English author Joseph Addison, was incorporated on February 14, 1797. Prior to incorporation it was know as Plantation Number Six west of Machias. At the junction of the Pleasant River and its West Branch, the town extends south on a peninsular whose west portion comprises Cape Split in South Addison.
Two nature preserves are managed by The Nature Conservancy. East Plummer Island's ten acres are densely forested and home to Bald eagles. The Inland Fisheries and Wildlife Department, closes it in early summer for nesting.
Upper Birch Island, the largest island in the Pleasant River, is home to a eagle rookery and colony of great blue herons. Seals haul out on shore ledges. Covered by mixed forest and spruce-fir stands, it is closed during nesting season.
Indian River is yet another village in a town typical of the Downeast communities – one portion securely inland, and one, reaching out into the Gulf of Maine. These images illustrate the village's claim to independence: a memoir of the Half-Tide Mill and the harbor that hosted the mill and now shelters small fishing vessels.
---
Half-Tide Falls, below the bridge in Indian River, was the site of the saw, lath and grist mill built before 1785 and which lasted until 1876.  The Indian River Baptist Church and the Grange, are located nearby.
Addison Harbor on the West Branch of the Pleasant River is a quiet anchorage for small boats.
As the West Branch and the larger Pleasant River converge they fill a great inlet that separates Addison on the east from the town of Harrington on the west. At South Addison the river becomes Pleasant Bay.
In the 1880s the town's harbors bustled with commerce, including the products of lumber mills, a "black granite" quarry, and sails.  They supported two shipyards, according to Varney (p.65), who observed "Vessels of 300 tons can load within 20 rods of the mills."
In 2010 Addison almost matched its record high population of 1860.
National Register of Historic Places – Listings
Indian River Baptist Church
[Maine Route 187, Indian River Village.] (See photo above.) Built in 1853-54 by Norman Ward, the Indian River Baptist Church is a temple-like building with "a modest transitional Greek Revival/Italianate style frame." On August 31, 1853 Indian River resident Susannah K. Emerson gave the Church the land on which the building now stands.
By the turn of the century the congregation had become inactive, leaving local volunteers to maintain the building. In 1986 the American Baptist Churches of Maine transferred the property to the Indian River Community Association. The building is distinguished by its architecture in a community of small-scale one- and two-story frame houses built for farmers and fishermen.
It is one of only a handful of relatively unaltered religious buildings of its era in western Washington County and apparently the only one in which a bell tower was not an original feature.* [Roger G. Reed interior photo]
Plummer, Captain John, House
[23 Pleasant Street] The house that Captain John T. Plummer built about 1842 was much the same as the two nearby houses on Pleasant Street. All three featured Greek Revival style decorative central doors framed by almost identical sets of sidelights and top lights and ornamented with narrow pilasters and capitals.
In 1880 the former ship captain, merchant trader, and state senator added a Gothic Revival style entry vestibule. Measuring one and one-half stories high, it features a pointed arch hardwood storm door above which is a steeply pitched gable roof. The rake trim of this roof is decorated with scroll saw cut bargeboards, and inset within the flush board siding. Under the roof peak is a pointed arch tracery window, an important, if modest, adoption of Gothic Revival style, representing the only existing example of this architecture in Addison.
Captain Plummer was born into a large and well established family in 1812. His grandfather, Moses Plummer, had been among the earliest settlers, arriving in 1768. Although Plummer is often referred to as "Captain," his career had many facets. He "followed the sea" until 1843, being for many years one of the most prominent captains in the area. Thereafter he engaged in trade, ship building and lumbering.
Politically, he was a Democrat until the first gun of the Civil War, when he joined the Union Republican Party. Plummer was a prominent member of the Universalist society.* [Christi A. Mitchell photos]
Union Evangelical Church
[north side of Addison Ridge Road, 2 miles South of US Route 1] This church is a rectangular wooden frame building combining elements of the Greek and Gothic Revival style in a general pattern that is repeated on a number of mid-nineteenth century churches in Maine. Built in the early 1860s, it is the third church on the site.
According to local historians, a non-denominational church was erected on the site in 1789, apparently the first religious structure in Addison. Named the Union Evangelical Meeting House, it stood until 1839 when destroyed by a gale, not surprising given its exposed hilltop site. A new church, said to have had a capacity of between 500 and 600 persons, was struck by lightning and destroyed in 1860.
The current church was still used for religious services when nominated for the Historic Register in 1996. It is part of a large group of architecturally related mid-nineteenth religious buildings built in rural areas of the state. Common elements include their rectangular gable front orientations, their plans (generally containing vestibules under galleries or adjacent to a raised platform) and an unmistakable Greek Revival style. These classical details are frequently combined with Gothic Revival features.
The Union Evangelical Church bears a striking resemblance to the Epping Baptist Church in the nearby town of Columbia, a building which is said to have undergone a substantial remodeling in 1870.  No connection has been documented.* [Kirk A. Mohney 1995 photo]
Form of Government: Town Meeting-Select Board.
---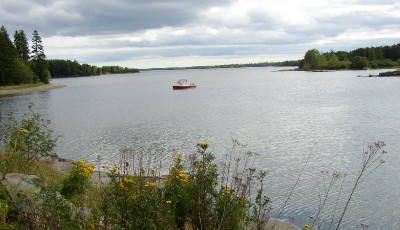 Additional resources
Addison, Maine: A Bicentennial History, 1997. Addison Bicentennial Committee? 1997.
Day, Clarence Albert, 1883-1981. Papers Relating to Towns in the Pleasant River Valley: Addison, Columbia, Columbia Falls. 195-? [University of Maine, Raymond H. Fogler Library, Special Collections]
Foster, Angela. Addison, ME: Town Vital Records, 1850-1892. Waterville, Me. A. Foster/World Genealogy Project. 2002.
* Maine. Historic Preservation Commission.
"Indian River Baptist Church."  Augusta, Me. May 16, 1988.  National Register of Historic Places: http://pdfhost.focus.nps.gov/docs/nrhp/text/88000893.PDF.  Interior photo by Roger G. Reed. http://pdfhost.focus.nps.gov/docs/nrhp/photos/88000893.PDF.
"Captain John Plummer House." Augusta, Me. November 11, 2008. Text: http://pdfhost.focus.nps.gov/docs/nrhp/photos/08001358.PDF. Photos: http://pdfhost.focus.nps.gov/docs/nrhp/photos/08001358.PDF.
"Union Evangelical Church." Augusta, Me. May 3, 1996. Text: http://pdfhost.focus.nps.gov/docs/nrhp/text/96000654.PDF. Photos by Kirk F. Mohney, November 17, 1995. Photos: http://pdfhost.focus.nps.gov/docs/nrhp/photos/96000654.PDF.
[Excerpts from descriptions have been edited and condensed; sources accessed December 16, 2014.]
Mitchell, H. E. (Harry Edward). The Addison and Harrington register, 1905. Brunswick, Me. H. E. Mitchell Co. 1905.
Nash, Ruth S. High Seas to High Stakes, or, around Cape Horn to the gold rush. Bloomington, Ind. 1stBooks. 2000.
Ploch, Louis A. Addison, Its Persistencies and Changes. Orono. Department of Agricultural and Resource Economics, University of Maine. 1990.
Varney, George J. A Gazetteer of the State of Maine. 1886.