| Year | Population |
| --- | --- |
| 1970 | 697 |
| 1980 | 1,228 |
| 1990 | 1,727 |
| 2000 | 2,145 |
| 2010 | 2,447 |
Geographic Data
N. Latitude
43:32:01
W. Latitude
70:52:57
Maine House
District 20
Maine Senate
District 34
Congress
District 1
Area sq. mi.
(total) 41.1
Area sq. mi.
(land) 37.7
Population/sq.mi.
(land) 64.9
County: York

Total=land+water; Land=land only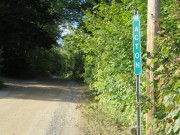 [AK-tun] is a town in York County, incorporated on March 6, 1830 from a portion of Shapleigh; it ceded some land back to Shapleigh in 1831.
It was part of a much larger tract of land in purchased in 1661 by Francis Small from Chief Sunday of the Newichawannock Tribe.
Settled in 1776, the town's first mill, a grist mill, was built on the Salmon Falls River in 1779 by Joseph Parsons.
Prior to incorporation it was the western part of the plantation of Hubbardstown; in 1789 it became the eastern part of Shapleigh. The town was named for Acton, Massachusetts, which was named for Acton, England, part of greater London.
Apples have been a significant crop for this western Maine community, though the number of active orchards has declined in recent years.
Silver was discovered in 1877, followed by a decade of mining and prospecting, after which the mines were abandoned.
Beginning in 1850, the town's population began a century of decline, reaching its lowest point in 1940.
As have several small communities in York County, Acton has shown significant population growth in recent years.  The number of permanent residents has more than tripled since 1970, and doubled since 1980 when its population was the highest it had been in 120 years .
2010 U.S.Census figures confirm that the trend continues.
Nestled on a small hillside near Route 109 and H Road are the town's library, town hall, and 1781 Congregational Church. Two veterans memorials lie nearby. Acton's western border is with New Hampshire and is defined by the Salmon Falls River.  It has substantial frontage on several lakes: Mousam, Wilson, Great East, and Square Pond.
The town lies southwest of Sanford on U.S. Route 202 and Route 11, which continue into New Hampshire.
Form of Government: Town Meeting-Select Board.
Additional resources
Chadbourne, Ava Harriet. Maine Place Names and The Peopling of its Towns.
Treadwell, Olive M. Sesquicentennial History of Acton, Maine 1830-1980. Town of Acton. 198?.
Goodwin, Esther E. Acton and Shapleigh, Maine – Past & Present. Shapleigh, Me. Acton-Shapleigh Historical Society. 1976.
Fullonton, Joseph. The History of Acton, Me. Dover, N.H. W. Burr, printer. 1847.
*Maine. Historic Preservation Commission. Augusta, Me.   Text from http://www.maine.gov/tools/whatsnew/index.php?topic=mhpc_recent_listings&id=522080&v=article.
Petersen, Debbie. Shapleigh and Acton. Charleston, SC. Arcadia Publishing. 2010.
National Register of Historic Places – Listings
Lincoln School
[8 Orchard Road] This 19th century one-room schoolhouse was built in 1884 to serve the students of District# 2, one of 14 districts  in town at the time. Surviving into the 20th century, it was closed when a new multi-grade elementary school opened in 1957. * Photos taken 2014 at N43° 29′ 29.53″ W70° 54′ 39.64″.