| Year | Population |
| --- | --- |
| 1970 | 6,685 |
| 1980 | 6,485 |
| 1990 | 6,746 |
| 2000 | 6,198 |
| 2010 | 5,800 |
Geographic Data
N. Latitude
44:30:48
W. Latitude
69:26:08
Maine House
District 83
Maine Senate
District 14
Congress
District 2
Area sq. mi.
(total) 16.6
Area sq. mi.
(land) 15.7
Population/sq.mi.
(land) 369.4
County: Kennebec

Total=land+water; Land=land only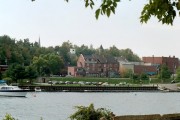 [GARD-ner] now a city in Kennebec County, was incorporated as a town on February 17, 1803 from that portion of Pittston on the west side of the Kennebec River.
In 1630, Pilgrim Governor William Bradford had been granted all land from the mouth of the Kennebec River to Gardiner, extending fifteen miles on each side of the river.
Gardiner became a city on November 26, 1849. Though it annexed land from Hallowell in 1834, it conceded land to form West Gardiner in 1850, and to form part of Farmingdale in 1852.
Named for Dr. Sylvester Gardiner, an early proprietor and developer who brought settlers too the area in 1754, it had been known earlier as Gardinerstown. He was devoted to the Church of England and arranged to erect a parish church, now known as Christ Church Episcopal, a condition then for establishing a town.
Dr. Gardiner, a Tory, had his substantial estates confiscated but later restored to his grandson Robert Hallowell Gardiner who took the latter name as a condition of his inheritance from his grandfather.
In 1896 a great flood destroyed the Gardiner-Randolph bridge. Boats were the only way  to cross the river. The city has experienced floods frequently in recent years, often inundating the downtown area.
During 1902-1903, a series of labor unions were formed in the town: Bricklayers, Masons and Plasterers; Local Firemen; Painters, Decorators and Paperhangers; Carpenters and Joiners; Federal Labor Union; Papermakers; and Team Drivers.
The veterans' memorial at right commemorates those from the Spanish-American War in 1898 to the Vietnam War in 1975.
Notables: Revolutionary War General Henry Dearborn, Dr. Gideon Stinson Palmer, author Laura E. Richards, and poet Edwin Arlington Robinson.
Waterfront Park is a nicely crafted amenity on the banks of the Kennebec. It features a picnic area, a walking path. sculptures and a boat launch.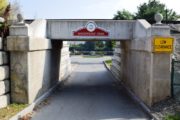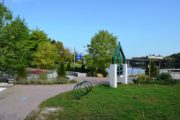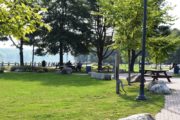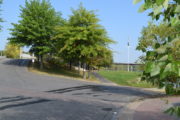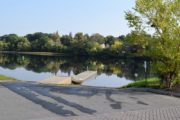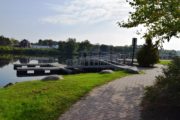 Form of Government: Council-Mayor-Manager.
Additional resources
Dunstan, William A. A Short History of the First Baptist Church, Gardiner, Maine. Gardiner, Me.? W. A. Dunstan. 2002.
Erskine, Robert J., et al. The Gardiner Story, 1849-1949; historical sketches of the plantation, town, city, and noted people. Gardiner, Me. Published by the City of Gardiner. 1949.
Gardiner: its Heritage. Compiled by James Connor. Gardiner, Me. Gardiner Library Association. 1987.
Gardiner (Me.) The Centennial of Gardiner; an account of the exercises at the celebration of the one hundredth anniversary of the incorporation of the town, June 25, 1903. Gardiner, Me. 1903.
Gardiner (Me.). Board of Trade. Gardiner & Bostonians: 55 Years of Progress. Gardiner, Me. The Board. 1951.
Gardiner, Maine. Board of Trade. The City of Gardiner, Maine, U.S.A. Its water power, industries, water front, picturesque avenues, attractions and surroundings. Published in the interest of the city by the Board of Trade. Gardiner, Me. The Board of Trade. 1896.
Gardiner Reflections: a celebration of our bicentennial year. Designed & photographed by Buddy Doyle; edited by Anne Davis. Gardiner, Me. Gardiner Library Association. 2003.
Hanson, John Wesley. History of Gardiner, Pittston and West Gardiner: with a sketch of the Kennebec Indians, & New Plymouth purchase, comprising historical matter from 1602 to 1852; with genealogical sketches of many families. Salem, Mass. Higginson Book Co. 1852. [reprinted 1995]
Isaacson, Dorris. Maine: A Guide Downeast
Maine. Historic Preservation Commission. Augusta, Me.   Text and photos from National Register of Historic Places: http://pdfhost.focus.nps.gov/docs/nrhp/text/xxxxxxxx.PDF and http://pdfhost.focus.nps.gov/docs/nrhp/photos/xxxxxxxx.PDF
Christ Episcopal Church: 73000129.PDF
Edwin Arlington Robinson House: 71000070.PDF
Gardiner Historic District: 80000233.PDF
Gardiner Railroad Station: 82000423.PDF
Laura E. Richards House: 79000151.PDF
The Oaklands: 73000131.PDF
Maxcy, Josiah Smith. Centenary of Christ Church, Gardiner, Maine: historical address. 1920. [Maine State Library]
Palmer, Gideon Stinson, 1813-1891. Papers, 1841-1890. [University of Maine, Fogler Library, Special Collections.]
Richards, Laura Elizabeth Howe, 1850-1943. Laura E. Richards and Gardiner. Augusta, Me. Gannett Publishing Company. 1940.
Smith, Danny D. "A History of Christ Church." June 19, 1995. [Christ Church Episcopal]
Smith, Danny D. Christ Church and Gardiner in 1820. Gardiner, Me. D. D. Smith. 1990.
Souvenir of the Flood of March 2, 1896: with historical sketch of Gardiner. C. H. Beane. 1896? [Maine State Library]
Towns of Gardiner and West Gardiner. New York: H.W. Blake & Co. 1892.
True, Kermit R. The History of St. Joseph's Church, Gardiner Maine, and Early Christianity in the Area. 1976.
National Register of Historic Places – Listings
Christ Episcopal Church
[1 Dresden Avenue] The first Episcopal Church in Gardiner was St. Ann's, but by 1817 it had become so crowded that a new church was needed. Working drawings and elevations were made by the Rev. Samuel Farman Jarvis. The church was completed in 1820.
This style had no precedent in the United States when it was built. The style should perhaps be termed "Gothick" for it comes from 18th Century English architectural forms of that name. The Rev. Jarvis recognized the role that "Gothick" could play in the religious experience. Also the British Episcopal Church was trying to recover from the Revolution and seek a new identity in America. "Gothick" architecture could help attain these goals.
Christ Church pioneered by introducing a new style to America and paving the way for a more academic Gothic that was to dominate America's church architecture for decades.
Gardiner Historic District
[Water Street] Within a mile Cobbossee (also, Cobbosseecontee) Stream drops 126 feet to the high tide level of the Kennebec River. This stretch includes eight natural waterfalls that exerted an enormous influence on the development of the City of Gardiner. In the late 1750's Dr. Sylvester Gardiner became agent of the Plymouth Proprietors and erected a saw-mill on Cobbossee Stream. Soon the population grew and other enterprises were established.
It is against this background that Gardiner's business district along Water Street developed. In its heighday, many ships and barges tied up to the docks and piers at the rear of Water Street warehouses and shops on the stream and river. The railroad ran along the river in the 1860's, adding a boost to the city's economy.
By the end of the 19th century, the prosperity of the city was firmly established. The development of cultural interests and taste had begun, reflected by Gardiner Public Library, a handsome structure designed by Henry Richards, a Boston trained resident and husband of author Laura E. Richards. The impressive Patten Block was executed in the Romanesque Revival Style by Edwin E. Lewis, also of Gardiner, who designed many of the early buildings at the National Home for Disabled Volunteer Soldiers at Togus.
Gardiner Railroad Station
[51 Maine Avenue] The 1911 Gardiner Station is an extremely well preserved building which, through adaptive reuse (it has had several commercial uses) seems unlikely to suffer the fate of so many of its kind. The rugged brick and granite structure is unique in design in Maine as one of the few smaller stations of masonry construction.
Railroad service was begun on January 1, 1852 and the original station remained until replaced by this one built just to the north of it. The station was sold by the Maine Central Railroad shortly after passenger service ended In the late 1950's.
George Burnham was a prominent Portland architect, designer of notable buildings including the Cumberland County Court House in Portland, part of the Portland Waterfront National Register Historic District. This distinctive structure is a local landmark visible both from the town and from the Kennebec River on whose bank it rests.
Oaklands
[South end of Dresden Street] The Oaklands was designed by Richard Upjohn, one of America's leading 19th century architects, for Robert Hallowell Gardiner. The building is not only unusual, it was one of Richard Upjohn's early commissions.
Robert Hallowell, grandson of Sylvester Gardiner, inherited his grandfather's estates on the condition that he take the name of Gardiner. Robert Hallowell Gardiner (1782-1864) was born in England but became Gardiner's wealthiest and most influential citizen. [Maine Department of Parks and Recreation photo]
When the town became a city in 1850, the citizens honored Robert Hallowell Gardiner by naming the city for him and electing him its first mayor. The Oaklands remains as a monument to the Gardiner family who, in many ways, were personally responsible for the 19th century prosperity of Gardiner.*
[The private road begins at the end of Dresden Street; color photos are from Route 24]
Richards, Laura, House
[3 Dennis Street] The Laura E. Richards House in Gardiner is a very fine Federal style residence, dating from about 1810. A frame carriage-house is attached to the west end of the ell. This is two stories high, and it features a lunette window in the half-story facing east.
Married in 1871 to Harvard graduate and architect Henry Richards, Laura enjoyed seventy-one years of married life, during which time the couple became parents of seven children. Henry's architectural career was brought to a halt by the financial depression in 1876 and that year the family moved to Gardiner, founded by his great-great grandfather, Dr. Sylvester Gardiner. His grandfather was Robert Hallowell Gardiner, builder of the great Tudor mansion "Oaklands" in 1836. While her husband helped run the family paper mill, Laura, busy raising children, began her writing career. In 1878 the family purchased and moved into the Yellow House, as they called it. This house had been built by Ebenezer Byram about 1810 on land purchased from Robert Hallowell Gardiner. It was to be the Richards' home for sixty-five years.
Robinson, Edwin Arlington, House, National Historic Landmark
[67 Lincoln Avenue] Edwin Arlington Robinson's family moved into this house in 1870, when he was less than a year old, and it remained his home until his departure for college in 1891, as well as the period 1893-1896. He later returned for visits until 1903, when the house was sold by his brother. Robinson returned frequently to the Gardiner area, and is buried in a cemetery near the house. In 1954 it was purchased by Harold Holt, whose wife was the poet's niece. The Holts rented the house to others until 1965, when they moved into it.